Chicago Bulls: What Does the Signing of Mike James Mean
January 12, 2012

Jonathan Daniel/Getty Images
With Derrick Rose suffering from a sprained toe, the Chicago Bulls went out and signed veteran guard Mike James from the NBA Developmental League on Wednesday.
James impressed scouts on Monday when he scored 25 points and tallied five rebounds and assists in his D-League debut. He wasn't as impressive in his second game the next day, but I guess it was enough for the Bulls.
He got to the UC just in time for the game and actually made an appearance late, playing a minute and hoisting up his first shot in a Bulls uniform 15 seconds after entering the game. Fun fact is his name wasn't even on the back of his jersey during the game.
So what does the signing mean?
Probably absolutely nothing.
With C.J. Watson and Rip Hamilton already out and Derrick Rose sitting this one out, it left John Lucas III as the only healthy full-time guard. Lucas played over 45 minutes on Wednesday night filling in nicely for the MVP, scoring 25 points and was two assists and rebounds shy of collecting a triple-double.
Much like Lucas last season, there's a good chance we will never see James on the court again this year. Remember, Lucas was signed last season when Rose missed a game in Denver. Besides, that game against the Nuggets Lucas only appeared in one other game all season.
Another similarity between Lucas and James is both played in Houston when coach Tom Thibodeau was on the staff there. I am seriously starting to wonder when Steve Francis will sign with the Bulls.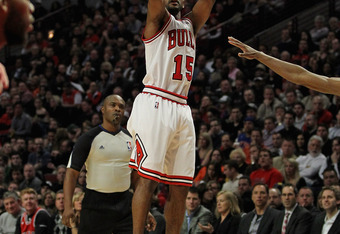 Jonathan Daniel/Getty Images
However, what if I am wrong about the signing meaning nothing?
What if the signing of James is a sign that maybe Watson is not recovering as fast as they would like from his elbow injury? The Bulls have Hamilton and Watson both listed as day-to-day, but with the jam-packed schedule, the injuries have left them very thin in the backcourt.
The Bulls are James', at age 36, 10th team. He has had previous stops in Miami, New Orleans, Washington, Houston, Detroit, Boston, Minnesota, Milwaukee and his most successful run in Toronto. During his one season with the Raptors, he averaged over 20 points in 79 games.
He's also a decent three-point shooter with a career average over 37 percent and has played in 33 playoff games.
Let's hope this is the only game that Rose misses this season, and no offense to Lucas or James, we see much less of them because the victory over the Wizards was ugly.
Game Recap
Bulls won 78-64 with a career game from Lucas but also got big contributions from Luol Deng and Omer Asik. 
Deng had a poor shooting night, going 5-21 from the field, but did grab 15 rebounds while adding a pair of assists and blocks and also stealing three balls.
Asik, who played 28 minutes in relief of Joakim Noah, grabbed 14 boards and also blocked five shots. He and Taj Gibson combined for 17 points and 20 rebounds while the starting duo of Carlos Boozer and Noah only combined for eight points and 10 rebounds. Both Noah and Boozer were again on the bench for the entire fourth quarter.
The Bulls get a much-needed day off now after sweeping their three games in three nights. They join the Thunder as the first 10-win teams in the league.
They next play Friday in Boston. I wonder what we can look forward to as Rose matches up with Ranjo Rondo?