2012 NFL Free Agents: One Potential Stud from Every Team Who Will Hit the Market
January 13, 2012
Norm Hall/Getty Images
What, you say?
We're not even done with the season and Garda won't shut up about free agency?
This is true and while most people are obsessing about how Tebow will far against the Patriots or if the 49er defense can slow the Packer offense, I'm gearing up for two things:
Free agency and the NFL Draft.
I start really peppering you with Draft stuff on January 23rd when I start covering the 2012 Senior  Bowl in Mobile, Alabama. So let's put a pin in that and talk about the other obsession, one which will color how a team Drafts come April.
Free Agency, as I have said over and over again, never really ends. Or rather the process of it never ends.
Not only are teams looking to grab players from other franchises, they're trying to figure out ways to keep their own studs as well.
It doesn't always work out. With the salary cap, you often have to choose between several players. Which position is more critical? Which can we do without? Which needs to be rebuilt? Who is past their prime?
So sometimes, marquee players will find their way out into the free agency pool. Other times, players come out who teams don't think much of, but produce big with a new team.
One man's trash is, after all, another man's treasure, so anyone unceremoniously dumped will often find a home and a new start.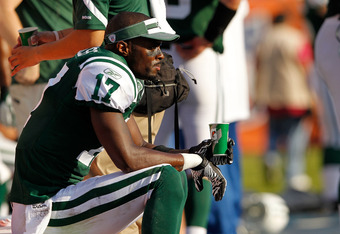 Mike Ehrmann/Getty Images
Some of these guys might not seem like much now, but could be very big. A few of these guys will land in spots where they will play well, but never really be a stud.
Let's face it—a few of these teams only have one or two studs so you can assume they'll overpay to keep them home. So sometimes the potential stud might not seem like one—at first.
Let's take a look at who teams might be losing when free agency starts in March.
AFC EAST
New England Patriots: Benjarvus Green-Ellis
Despite a solid year from 'Law Firm' you could see the writing on the wall last April when the Patriots drafted two rookie running backs. Yes, Green-Ellis is a solid back, but for a team like New England, he's replaceable. However, there are a bunch of teams in need of a good, strong running back and Green-Ellis should find a good market for his skills.
New York Jets: Plaxico Burress
Sure, Burress did all right by the Jets but he isn't quite as effective as they were hoping for and he doesn't have the wheels to go vertical either. He is still a very solid red zone target and made some big catches for the Jets offense. The Jets will look to go younger, and Plaxico will find himself a team which can utilize him closer to his skill set—as a big target in the end zone.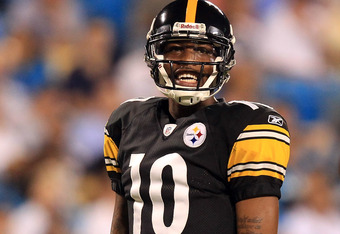 Streeter Lecka/Getty Images
Buffalo Bills: Tashard Choice
OK, so Choice isn't a stud per se, but really the Bills don't have many Free Agents that fit that description. Steve Johnson isn't going anywhere, nor is Demetrius Bell who was hurt often this year and just had surgery. Kirk Morrison just had an awful year and the market may be thin for him. That leaves Choice, who didn't do a ton for the Bills, but has shown in the past that he has the skill in the right situation. The Bills won't likely try very hard to sign him again, especially when Fred Jackson comes back healthy.Choice should be able to catch on somewhere to prove previous carries were not a fluke.
Miami Dolphins: Chad Henne
Henne is a guy I've always liked a lot more than most other folks. He had a hard time even before his season ending injury but that was as much about the terrible offensive line for Miami as it was about poor play on his part. I often say a fresh start can do wonders for a guy and Henne fits the bill, in my opinion. Expect the Dolphins to move in a different direction and Henne to find his next chance out in the free agent pool.
AFC NORTH
Pittsburgh Steelers: Dennis Dixon
In a league where Tim Tebow is winning playoff games and Cam Newton far exceeded expectations, the mobile quarterback with decent accuracy and arm strength could very well find new interest around the NFL. It's a copycat league after all.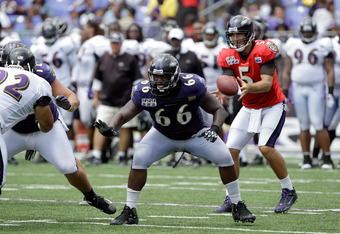 Rob Carr/Getty Images
Dixon isn't as big as either Tebow or Newton and couldn't be expected to run as often as they do, especially Tebow earlier in his time as starter.
Pittsburgh desperately tried to trade Dixon last preseason and he's been a very unhappy trooper since before than. A parting of the ways is likely and Dixon is an intriguing option for teams in need of a quarterback and interested in going a somewhat non-traditional route.
Baltimore Ravens: Ben Grubbs
Grubbs is one of the top offensive guards in the league, yet he may still find himself hitting the free agency trail in March as the Ravens just invested a boatload of money on their right guard, Marshal Yanda. On top of that, Ray Rice will be hitting free agency and the Ravens might not have the cash to splurge on another guard. As good as Grubbs is, he won't last long on the open market.

Cincinnati Bengals: Cedric Benson
Sure, Benson has had three straight 1,000 yard seasons but 1) 1,000 isn't what it used to be and 2) his yards per carry are not awe-inspiring (3.6 over his four years) and 3) he didn't get much done during the playoff loss to the Texans.
There's a belief among writers that the Bengals might go early on one of the top three running backs in the 2012 Draft class and Benson may be shown the door. He might be shown it anyway, as the team gets younger and looks for a more dynamic option either in the Draft or Free Agency.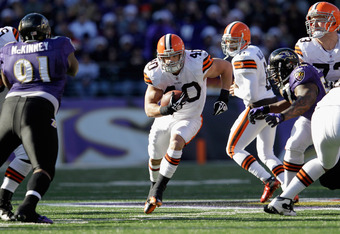 Rob Carr/Getty Images
Cleveland Browns: Peyton Hillis
Hillis seemed as if he wore out his welcome in Cleveland this year with complaints of his contract and some of his actions in and around the locker room and field which caused him to be called out by teammates. The team came out and supported him near the end of the Browns' year but recent word out of Cleveland is he's gone.
While he struggled with injury, attitude and production this past season, Hillis is a determined runner who can put up big numbers and would fit in well with several teams. The Browns might not want him, but undoubtedly others will.
AFC SOUTH
Indianapolis Colts: Reggie Wayne
The percentage likelihood of Wayne reaching free agency is in direct proportion to the possibility Peyton Manning's neck is healthy and he remains with the team. So we're a bit shaky because if Manning is back, he'll likely pitch hard for his receiver.
That said, I feel strongly that Manning will be gone and so will Wayne. This is a team which will have to rebuild and restructure significantly. It's unlikely they will want to sink money into a player who has lost a few steps when they have younger, productive wide receivers to take his place.
Wayne has a lot of value to NFL teams who need a solid starter who can make tough catches and move the chains, as well as bring veteran savvy to an offense in need of it.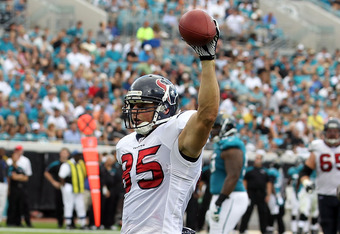 Sam Greenwood/Getty Images
Jacksonville Jaguars: Rashean Mathis
Part of Mathis' value on the open market will be determined on how healthy he is when the time comes to dole out contracts. Before suffering the torn ACL which ended his season, Mathis was an important part of the Jaguars' secondary. If healthy, he'd see a lot of interest from teams looking to put a cork in the huge passing numbers from 2011.

Houston Texans: Joel Dreessen
Dreessen is primarily used as a blocker in part because Owen Daniels is too good for him to pass on the depth chart, but we've seen great numbers from him (like in Week 5 where he caught five balls for 112 yards and a touchdown, a career high) and given more opportunity he could put up solid numbers.
Teams like the Patriots and Ravens are starting to use more two tight end sets. There's a good chance someone will look at Dreessen as someone they can pair with another tight end to replicate those sets.
Tennessee Titans: Cortland Finnegan
Finnegan walked out of training camp and that seemed to set the tone for a bit of a disappointing season as his tackles dropped from 83 in 2010 to just 58. However, he was still pretty productive with a bunch of assists, a sack and plenty of defensed passes.
He's assuming he won't be back as a Titan in 2012, and will likely hit the market. While he won't be as hot a commodity as he might have been post 2010, he's a good enough cornerback to garner plenty of interest in a pass happy league where teams need to slow offenses down.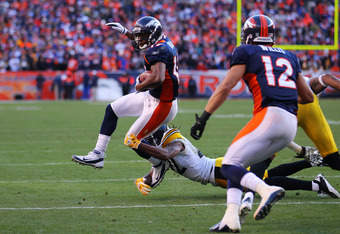 Doug Pensinger/Getty Images
AFC WEST
Denver Broncos: Eddie Royal
With Demaryious Thomas and Eric Decker starters for much of the year, the writing is on the wall as far as I'm concerned. Royal had a single great season as a rookie, but since then has been only sporadically productive at best and doesn't seem to synch up well with Tim Tebow.
Denver reportedly tried to trade him before the deadline but, as was the case for the Orton efforts preseason, were unable to seal a deal. So it's fair to assume he's gone this offseason.
Royal is a terrific punt and kick returner and could fit in another offense much better than in the belly option which Denver likes (though is running less and less) and will find a second wind elsewhere in 2012.
San Diego Chargers: Vincent Jackson
Can AJ Smith find a way to keep Vincent Jackson after one of the ugliest games of contract chicken anyone has ever seen? I don't think so.
Jackson is going to finally get paid. There are tons of teams who will take a chance on him and frankly, they should. As bad an apple as he looked at points during that debacle, a great deal of the fracas is on AJ Smith and I think teams know that. Undoubtedly some will stay away, but Jackson is too dynamic a wide receiver to stay on the market for long.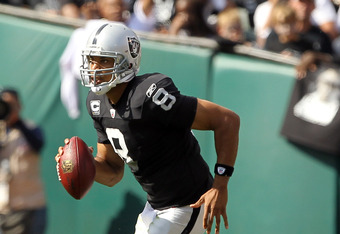 Ezra Shaw/Getty Images
Oakland Raiders: Jason Campbell
Now the caveat to this one is, we don't have a coach yet. Between now and March, someone will sign onto Raiders v2.0: the Mark Davis Experiment. Now Carson Palmer is the starter but will have to defend his job, but will Campbell really risk sitting behind Palmer or anyone else for another year?
There are some openings in the NFL and not all of them will be filled with rookies. Campbell isn't a great quarterback, but he is a solid guy who can hold the fort while a team rebuilds around him. He wants a starting gig—there definitely could be one out there for him.
Kansas City Chiefs: Kyle Orton
The door was left open for Orton to stick around but he feels as though it's Matt Cassel's team which, roughly translated means he wants a starting job.
Now that he's not hamstrung by potentially irrational Broncos trade requirements, Orton should have a much easier time finding that job or at least the opportunity to get one.
Orton can move the chains and in the right system (read: not the 2011 Broncos) can be successful. I don't believe him to be the next Drew Brees or even Matt Schaub. However with the right tools he can be successful for quite a while. Like Campbell, a guy who can hold the fort while you make a run and develop another quarterback.
NFC EAST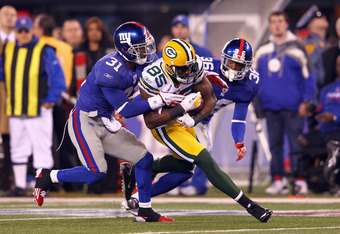 Al Bello/Getty Images
New York Giants: Aaron Ross
The Giants have six—I'll say that again in bold type—six cornerbacks heading into free agency and with Prince Amukamara entering his second year, with a full offseason I believe they let Ross go. 
Ross was banged up a little this year but still put up very good numbers and there will be teams who are very interested in what he brings to the table. The Giants could make a run at him again, but ultimately I think they'll look to put money elsewhere and Ross will be free to move on.

Dallas Cowboys: Anthony Spencer
Anthony Spencer is someone the Cowboys will probably think about bringing back, but they're in no rush. According to sources, the team didn't ever contact his agent about an extension during the season. He had near-career highs in both tackles and sacks and played well across from DeMarcus Ware, drawing attention and freeing up the dangerous Ware to rain havoc on quarterbacks.
Spencer will fit better as a piece of a defensive front rather than the key piece but should still have no problem finding a home and a good paycheck if Jerry Jones won't open his wallet.
Washington Redskins: Rex Grossman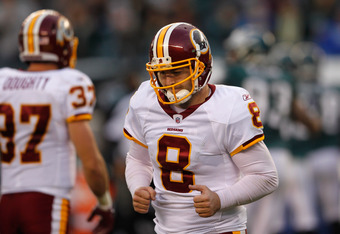 Rob Carr/Getty Images
There are a few options for the Redskins here. Will they risk a big contract for tight end Fred Davis after his suspension for violating the league's drug policy? Do they pay productive London Fletcher the big cash and hope he continues to perform despite age?
Unless the answer to the above are all no (not likely), the best bet to be release and find a home elsewhere is perennial wandering quarterback Rex Grossman. They won't pay him enough to stay and based on this year's mess, he won't be handed a starting job. He's much better than John Beck though and if both are released (and they may be) Grossman will likely get a chance to play elsewhere first.
Grossman is a solid backup with a little upside and there are plenty of teams who can use that in the league.
Philadelphia Eagles: Steve Smith
Why did the Eagles sign Steve Smith? Did they miss on his injury so badly that they bought a broken player? Did they really think he'd just heal faster? Did Andy Reid not like him? Even when DeSean Jackson was imploding, Smith was on the bench in favor of Riley Cooper.
Despite that disturbing trend, Smith will be healthy next season and closer to his old self. As a possession receiver there are few better and plenty of teams need a guy with reliable hands and a fearless attitude.
I wouldn't even be shocked to see him in Giants blue again, though the emergence of Victor Cruz might make that too tight a roster. Someone will grab him if he's healthy though and I expect he'll be 100% by the time training camp comes around.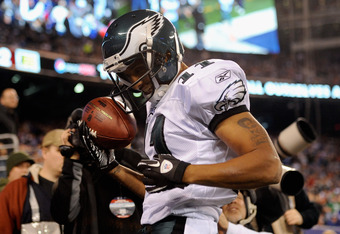 Patrick McDermott/Getty Images
Speaking of Jackson, by the way, I think he might actually stay in Philly. Crazy, huh? There's been some talk that he's not done there now so, who knows? I guess sometimes tantrums get rewarded after all.
NFC NORTH
Green Bay Packers: Matt Flynn
I don't know if you've heard of this guy? He plays on some team in Wisconsin? Threw for a ton of yards against Detroit a while back. Backs up arguably the best quarterback in football? Ring any bells? Bueller? Bueller?
We all know who Flynn is, though let's be honest—we don't really know what he can do. He's the hottest quarterback commodity right now though and as I believe Jermicheal Finley is in for the franchise tag, Flynn will be free to make what money he can.
As far as I'm concerned, I think he'll do OK. The hype is a little over the top right now, though, something that happens quite a lot with back-ups.
Minnesota Vikings: EJ Henderson
I'm not going for Donovan McNabb because, frankly, he's pretty much worthless at this point. Man, did he look awful in his brief tenure as a Viking.
EJ Henderson, meanwhile, still plays the run well even if his coverage skills have declined significantly. The Vikings are looking to get younger in the middle of the defense and Henderson will probably be out, unless he wants to take less money as a backup.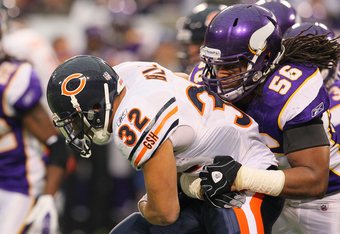 Adam Bettcher/Getty Images
There are plenty of teams looking for a run stopper and Henderson has just enough left in the tank to help a team improve that aspect of their defense tremendously.
Detroit Lions: Stephen Tulloch
I had originally had Cliff Avril slated for this spot as I felt that the Lions had a great, young defensive line and would be more likely to spend money on a porous secondary. On Thursday, a report surfaced which made me shift gears so I'm instead going with linebacker Stephen Tulloch.
There's talk of bringing him back as well, but when you are going to pay big bucks to Avril, rework Calvin Johnson's deal before it's up and desperately need secondary help you don't sink a ton of cash in another position.
Tulloch is a very good player and if the Lions can bring him back, they will. Likely he will see multiple suitors who will pay him much more and move on.
Chicago Bears: Roy Williams
I believe there's a great chance that Matt Forte gets franchise tagged which leaves Roy Williams as my pick to be hitting the bricks this spring. Williams has never sustained any momentum and disappointed at every one of his three stops but could be a solid number two or three wide receiver.
He won't get stud money, but he will find a home on one of many teams looking to add a player who can stretch the field.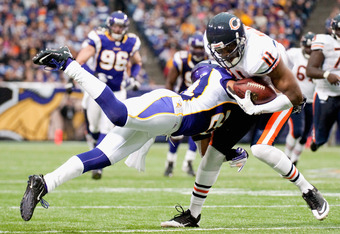 Hannah Foslien/Getty Images
NFC SOUTH
New Orleans Saints: Robert Meachem
Robert Meachem is the jewel of the wide receiver free agent class. I don't see the Saints paying him as much as another team will, especially as deep as they are at wide receiver. Meachem has flashed big time ability and that, coupled with his relative youth, will tempt a team to pay him to be their playmaking wide receiver.
If you can get him on a pass-happy offense, Meachem could put up some huge numbers.
Atlanta Falcons: Brent Grimes
Grimes was hurt much of the season, but in his time in Atlanta, he has been a cornerstone of their secondary. While that should make him a priority, the Falcons have a ton of free agents to deal with and I think they will try to replace Grimes with a younger player.
Grimes should be fine once his knee heals and he's one of my favorite free agent corners this year. Wherever he lands, he'll have an instant impact.
Tampa Bay Buccaneers: Josh Johnson
I thought about Earnest Graham here, but the team needs him to balance out LaGarrette Blount and his inability to pass-block or catch. Josh Johnson seems like a luxury in many ways, and there is a ton of interest around the league in his mobility and arm. He's not as accurate as I thought he'd be coming out of college but I believe that will improve with the right coaching. 
Chris Graythen/Getty Images
As I mentioned with Dennis Dixon, this league will start looking at mobile quarterbacks differently post-Tebow/Newton. Johnson is a little slighter than you'd like for an option quarterback, but is a devious runner who can throw the ball.
Again, I think there will be many teams interested in this type of quarterback.
By the way—Johnson has stated he would love to play for his former University of San Diego coach Jim Harbaugh in San Fran. Depending on Alex Smith's status, that could be an interesting landing spot, though they already have rookie Colin Kaepernick. Food for thought, though.
Carolina Panthers: Dan Connor

After he filled in for the injured Jon Beason, Connor decided he wanted to test free agency and land a starting job. Connor is a very solid prospect who I believe will do more with a bigger role and a good support group. He's big, he's physical and he's a great run defender.
More than likely the Panthers will concentrate on getting Beason back and healthy (he missed the year with a torn Achilles), so expect Connor to be in a new uniform come September.
NFC WEST
St. Louis Rams: Brandon Lloyd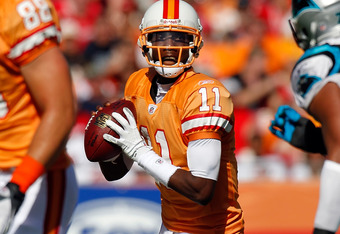 J. Meric/Getty Images
Brandon Lloyd had his best season ever under then Denver Coach Josh McDaniels. McDaniels is back in New England now and poised to be offensive coordinator again next year. Lloyd is a free agent.
Can you connect the dots and see what the picture reveals?
Lloyd was content, but far from happy, in St. Louis and will likely leave as that team tries to rebuild after a disaster of a 2011 campaign. Whether the dots do lead to New England as I speculated or he heads in a different direction, the last few years have proven that Lloyd turned a corner in his career and can play at a high level.
He'll prove it again, with yet another team.
San Francisco 49ers: Alex Smith or Carlos Rogers
I thought long and hard about Alex Smith being my pick here. There were rumors last preseason about then new and shiny Head Coach Jim Harbaugh being interested in Tampa Bay quarterback Josh Johnson. Alex Smith has played pretty well in this offense though, so jettisoning him is hard to see, especially as they are in the playoffs for the first time in forever.
Still count him as 1a—Harbaugh has to be convinced he's the guy and I'm not sure that will be the case.
What I could see is them letting Carlos Rogers test free agency though. Rogers had a fantastic season and deserves to get paid. The question is, can and will the 49ers offer him what he wants?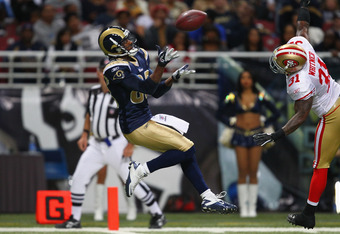 Dilip Vishwanat/Getty Images
I think they may see what he gets offered in free agency and then match it if they like the numbers. The team has already talked to his agent but nothing has happened yet. If they don't make a move first, they might end up losing him. Rogers will probably be very coveted in the free agent market.
Arizona Cardinals: Early Doucet
I had the pleasure, many moons ago, of getting to know Doucet during his training for the NFL Draft and he's a hard working, tough player. He's battled injuries his whole career so far but when he's on the field, he is productive.
With Larry Fitzgerald under a big contract and Andre Roberts on the cheap, I think the Cardinals will hesitate to pay Doucet what other teams will. Especially with the whole offense (one might argue whole team) in disarray.
Doucet is a prime candidate to land in a big passing offense as a number two wide receiver and I believe if he can stay healthy, could have a big year ahead of him.
Seattle Seahawks: John Carlson

After all the Skittles and all the yards, it's unlikely the Seahawks allow Marshawn Lynch to leave Seattle assuming his demands aren't ridiculous.
They won't be, so we turn to tight end John Carlson who, after a good rookie year has spent the next few seasons blocking to make up for a bad offensive line and then got hurt this year.
There has been talk that Head Coach Pete Carroll is interested in keeping Carlson so he can pair him with Zach Miller for a two tight end set (remember what I said about copycats?) but it will depend on whatever other offers Carlson gets I believe.
The lack of production from the tight ends in Seattle have rarely been about the tight ends themselves and often about having to stay in and block. Carlson will get plenty of offers from teams looking to upgrade, who realize he's more than he has appeared so far.