WWE: Why Randy Orton Will Elevate Wade Barrett to the Next Level
June 19, 2016
If you are one of those wrestling fans under the belief that Randy Orton does not get any other talent over, this might not be the article for you.
Critics of Orton have complained that The Viper uses his status as a top-tier superstar to have a high win percentage that makes him always come through in each of his feuds. The common stigma is that Orton will take a beating only to have a comeback, hit an RKO randomly and win. The same has been said for feuds as a whole, with critics complaining that Orton will lose televised matches, yet come through in pay-per-views.
That is just not true.
In fact, in 2011, Randy Orton competed in 14 matches on pay-per-view (one match on each event and also appearing at Royal Rumble). Despite two World Heavyweight Championship reigns in the calendar year, Orton lost half of those matches on pay-per-view. Even in defeating his opponent, Orton has done a good job in making his competitors look strong.
Christian is the prime example of a guy who just could not defeat Orton when it counted. Christian was a man who won a ladder match against an unproven Alberto Del Rio to become the world champion. Orton stepped into the main event on Smackdown and snatched the world title away.
In the months that would follow, Christian would chase the championship, but would only win it back from a kick to the groin. While that may the abridged version, the journey to get there had the two men in what is likely the best rivalry of 2011.
CM Punk also had a feud with Orton, starting at Royal Rumble and costing Orton the WWE Championship in his match against The Miz. Punk would then be dismantled by Orton as we were led toward their great WrestleMania match. Even a rematch at Extreme Rules was favorable to Orton. The belief following that Extreme Rules match was that Punk had been buried terribly and would need months before he could even be relevant again.
Just how, exactly, did that work out for Punk?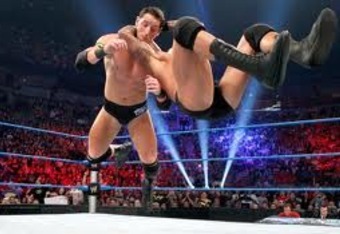 Orton also had a nice feud with Cody Rhodes, which helped to elevate the Intercontinental Champion. Despite the ending seeming a bit premature, Rhodes is on the fast track for heels in WWE and many have overloaded his bandwagon.
To say that he won't be up for world title consideration in the upcoming year is a foolish bet to make.
The feud with Rhodes seemed to be abruptly ended to begin one with Wade Barrett at Survivor Series. The two were named captains in a Traditional Survivor Series match against one another. The decision to make Barrett a captain over Rhodes confused many at first, but would go a long way to making Wade Barrett relevant yet again.
After all, it was Orton's doing that helped make Barrett relevant in the first place.
Back when Barrett led The Nexus in its original run, he had his eyes on the WWE Championship. While a lot of what will be remembered is John Cena having problems with the group of NXT graduates, it was with Orton that Barrett had his championship match opportunities with.
At Survivor Series 2010, Cena was either Free or Fired, but Barrett was nearly WWE Champion. The following night, Barrett also nearly became WWE Champion. He lost that match, The Miz cashed in Money in the Bank, and we never looked back.
This is the first time since that night that we can seriously look at Wade Barrett as a world champion contender. Even with Orton's injury, be it as serious or minor as you may believe, Barrett is getting more heat from the fans than anything he ever got in Nexus or The Corre.
Barrett defeated Orton and his team at Survivor Series in Madison Square Garden. While he lost at TLC to Orton, it was the matches on RAW and Smackdown where Barrett would often get the best of Orton. In the end, it was Barrett who saw the best from that feud.
If Orton is out for an extended period of time, the Barrett Barrage will have to switch to someone, perhaps Sheamus. As superstars jockey for position with the Royal Rumble coming up, Barrett has a special way to elevate himself.
This year's Royal Rumble is in St. Louis, Orton's hometown. His heat will be unique and special. If Orton is well enough for that night, the pop for The Viper will be deafening. Due to that, Barrett will be hated at an all-time high.
If Orton can swing it, he should be in the 30-man Royal Rumble match in a few weeks. His presence alone will send shock waves through the WWE Universe and make Wade Barrett a man to watch in 2012.