2012 NFL Free Agents: 5 Quarterbacks Who Deserve a Starting Shot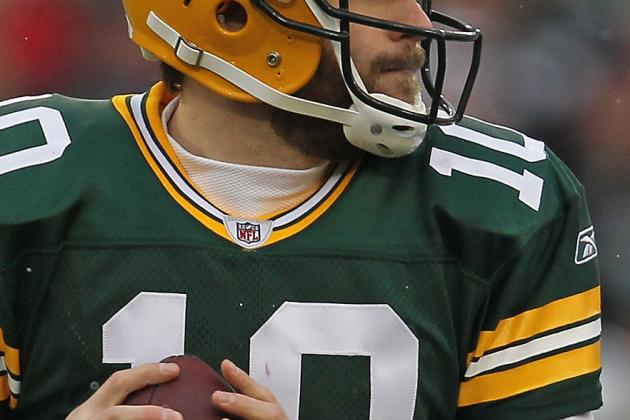 Jonathan Daniel/Getty Images

While most backup NFL quarterbacks are simply not good enough to become long-term starters, there are some exceptions. I see five players who are free agents in 2012 who should get a shot to be starting QBs in the NFL.
Sure they may not be prototypical NFL QBs, but there are a few of those players who have gone on to have good careers. Michael Vick is certainly not the typical quarterback, but he has developed into a better passer in his post-prison days.
Drew Brees was considered to be too short coming out of college, and he has gone on to win a Super Bowl. To top that, he just broke Dan Marino's all-time passing yards record for a single season. There is an exception to every rule, and that holds true here.
Here are five guys who I feel deserve a chance to earn a starting spot. If Tim Tebow and his 47 percent completion percentage got a shot, so should these guys!
Begin Slideshow

»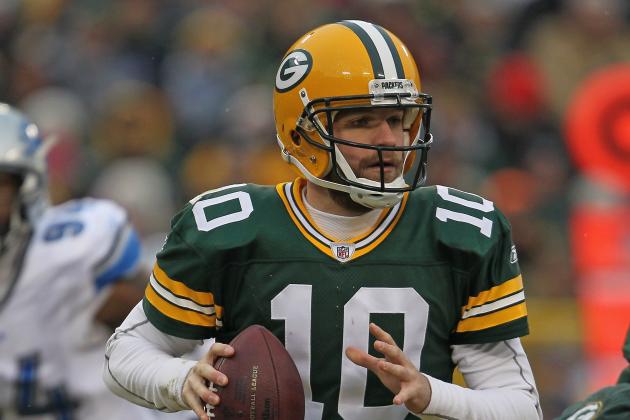 Jonathan Daniel/Getty Images

Matt Flynn of the Green Bay Packers did himself a lot of good in the Packers' regular-season finale against the playoff-bound Detroit Lions.
With starting quarterback Aaron Rodgers getting rested for the playoffs, you could say Flynn had a pretty good day. He set two franchise records with 480 yards passing and six touchdowns en route to a 45-41 victory at Lambeau Field. This kid stepped up big and the offense didn't miss a beat without Rodgers.
This has some people wondering if Rodgers is as good as he looks, or if this is another case of a great offensive system. This reminds me a lot of Matt Cassel and Tom Brady. Cassel thrived in the Patriots offense and led the Patriots to 11 wins with Brady injured. He hasn't been nearly as good with the Kansas City Chiefs, although he doesn't have much help.
The Lions defense isn't very good and it was just one game, but Flynn did a great job. He won a shootout in a game in which Matthew Stafford passed for 520 yards. This was an important game for the Lions, as a win would have earned them the fifth seed in the playoffs. This would have been nice, considering the New Orleans Saints eliminated them from the playoffs with ease a week later.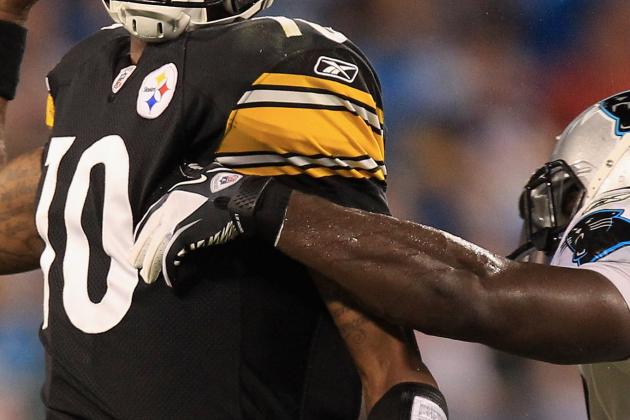 Streeter Lecka/Getty Images

As a Pittsburgh Steelers fan, I'm disappointed that Dennis Dixon didn't get a chance to prove himself much the last few seasons.
Charlie Batch gets all of the snaps when Ben can't go in the regular season, despite being nearly 40 years old and immobile. To me, Dixon should have locked up the backup quarterback role by now. This is a guy who was a torn ACL away from the Heisman trophy and potentially a national championship appearance at Oregon.
He has decent arm strength and accuracy to go along with his athleticism and running ability. This is especially useful considering the Steelers offensive line is in shambles. He played fairly well when he got an opportunity, completing nearly 60 percent of his passes for 402 yards and a TD in four career regular-season games.
He's still only 26 years old and hasn't taken many hits. I hope to see him get a shot somewhere because the Steelers aren't going to bring him back.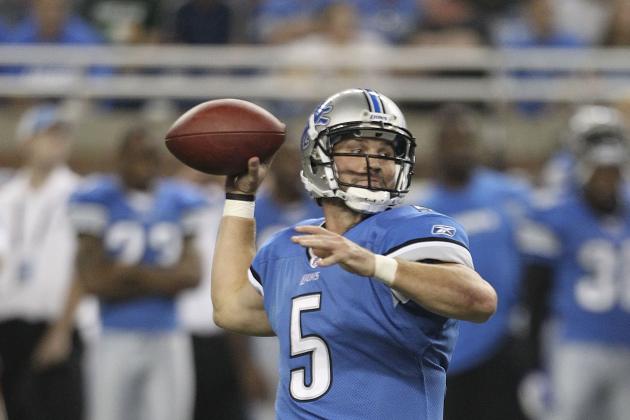 Leon Halip/Getty Images

Drew Stanton is an interesting case. He seems to have the size, tools and ability to be an adequate starting quarterback in the NFL at times. Then there were games he looked so bad he couldn't earn a starting spot on some college teams.
He is still young at 27 years old, and has enough experience to go somewhere and compete for a starting job. I could see him going somewhere like Jacksonville and beating out Blaine Gabbert, who I think is awful. That isn't going to happen, as Gabbert will get another year or two before he is pressured to perform well or be gone. Just a place I could see Stanton fitting in.
He has passed for over 1,100 yards in his career, but would need to improve on his 55.6 percent completion percentage. That stat isn't everything, as Tim Tebow has shown, but accuracy matters eventually. You may win games with a low percentage, but a turnover or two is disastrous for this type of player.
Stanton would need to find a situation similar to what Alex Smith has with the San Francisco 49ers. A team with a good defense who allows him to play within himself and protect the football. I'm not sure he is suited for a team that has to score a ton of points to win.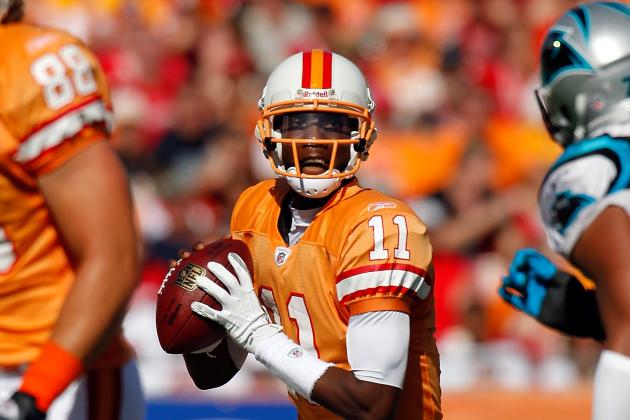 J. Meric/Getty Images

Tampa Bay Buccaneers backup quarterback Josh Johnson is a young kid with a lot of potential.
He posted the best 40-yard dash time (4.44), broad jump and vertical jump of any quarterback in the 2008 NFL Combine. He has a strong arm too, but needs to improve on his accuracy and decision-making. Much like Dennis Dixon of the Pittsburgh Steelers, Johnson hasn't had many opportunities.
In his one start this season, he played well. On Dec. 4, 2011, Johnson started in place of the injured starting QB Josh Freeman against the Carolina Panthers. Johnson completed 16 of his 27 passes for 229 yards, one touchdown pass and one interception.
While one game is no indication of future success, it wouldn't hurt to give this guy a shot. He wouldn't cost much so if it didn't work out a team could easily move forward. If nothing else, he would be a serviceable backup with tremendous upside.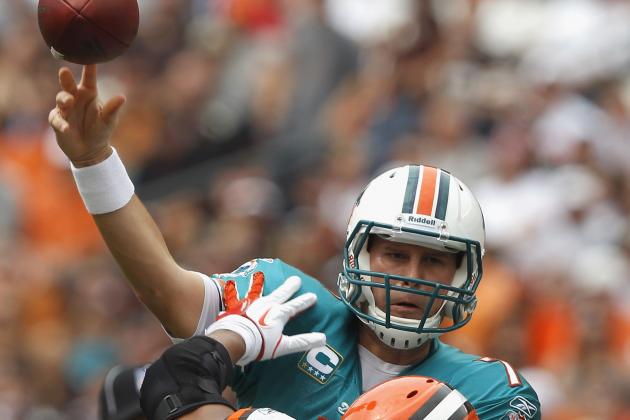 Matt Sullivan/Getty Images

The Miami Dolphins will probably move forward with Matt Moore as the starting quarterback next season. Henne left after just four games with a shoulder injury, and Moore played fairly well in his absence. I think he is a better quarterback than Moore, but I doubt the Dolphins feel the same way.
Chad Henne had a huge game in the opening weekend of the NFL season, as he completed 30-of-49 passes for 416 yards, two touchdowns and an interception. After this, he was mediocre and suffered the shoulder injury that ended his season.
The fans seemed to be on Moore's side and keeping Henne around would probably cause more harm than good for both he and the franchise. One bad game and the fans would be calling for the coaches to be fired, and Henne to be out of town. To me, Henne has a bright future in the NFL.
He's had a gunslinger mentality since his days at Michigan, and isn't afraid to make any throws. His problem has been throwing interceptions, which is something he must improve upon if he is to be as good as he was expected to be in Miami. I see no reason why he can't do this, which is why he should earn a shot somewhere next season.