2012 NFL Mock Draft: Late-Round Gems Teams Can't Pass on
January 12, 2012

Mike Ehrmann/Getty Images
Tom Brady. Terrell Davis. Dwight Clark. Roger Staubach.
What do all these players have in common aside from winning championships?
All of them were late-round draft picks that were a complete afterthought at the time. Some players use the "nobody believed in me" mentality as fuel for their fire. Others got screwed by injuries or other extenuating circumstances and are eager to prove the doubters wrong.  
This year there are plenty of candidates to join this exclusive club. Here are the top four:
Austin Davis, QB, Southern Mississippi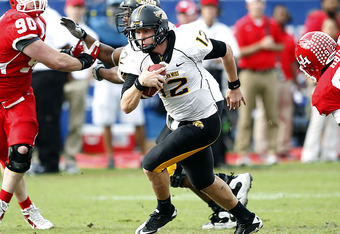 Bob Levey/Getty Images
The only QB to beat Houston in 2011, Davis possesses a cannon for an arm and is quite accurate as well. He completed over 60 percent of his passes in four years as a starter. On top of a promising arm, in his career earned 1,355 yards and 25 TDs with his legs.
While he hasn't faced the cream of the crop in Conference USA, I think Davis has a bright future as a starter just as long as he can learn as a backup for two to three years.
Jake Bequette, DE, Arkansas
Bequette has been the anchor of the Razorback defense for the last two seasons and would be much higher up if it weren't for a nagging hamstring injury that caused him to miss three full games and large chunks of others.
Despite the injury, he still registered eight sacks. His potential to be a feared pass-rusher in the NFL is there.
Vick Ballard, RB, Mississippi State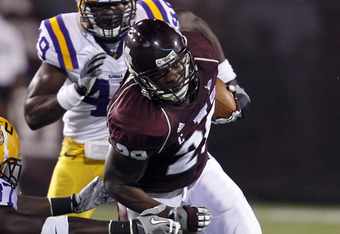 Butch Dill/Getty Images
Ballard racked up 1,189 yards on the ground while averaging more than six yards a pop. The 5'11", 220-pound back is extremely powerful and is at his best when the stakes are the highest.
He averaged 12.9 yards per carry en route to 180 yards in a Music City Bowl win against Wake Forest.
The irrelevancy that comes with playing for Mississippi State is the main thing holding Ballard back.
Jarrett Boykin, WR, Virginia Tech
The all-time leading receiver in Hokie history had a down senior year, but that doesn't mean he won't stick in the NFL.
He is the prototypical size for a receiver (6'2", 220 pounds) and has great hands. He doesn't have breakaway speed and will be better served as a possession receiver.
Boykin will be penalized for not having a single 1,000-yard season but that doesn't matter. He has the body type and hands to be a solid contributor for years to come. 
2012 NFL Mock Draft
Note: The first 20 picks are set in stone (with the exception of a few coin flips). Picks No. 21-32 are based off playoff projections.
1. Indianapolis Colts: Andrew Luck, QB (Stanford)
2. St. Louis Rams: Matt Kalil, OT (USC)
3. Minnesota Vikings: Justin Blackmon, WR (Oklahoma State)
4. Cleveland Browns: Trent Richardson, RB (Alabama)
5. Tampa Bay Buccaneers: Dre Kirkpatrick, CB (Alabama)
6. Washington Redskins: Robert Griffin III, QB (Baylor)
7. Jacksonville Jaguars: Morris Claiborne, CB (LSU)
8. Carolina Panthers (subject to coin flip): Melvin Ingram, DE (South Carolina)
9. Miami Dolphins: Riley Reiff, OT (Iowa)
10. Buffalo Bills: Quinton Coples, DE (North Carolina)
11. Kansas City Chiefs (subject to coin flip): Alshon Jeffery, WR (South Carolina)
12. Seattle Seahawks: Jonathan Martin, OT (Stanford)
13. Arizona Cardinals: David DeCastro, G (Stanford)
14. Dallas Cowboys: Courtney Upshaw, OLB (Alabama)
15. Philadelphia Eagles: Luke Kuechly, ILB (Boston College)
16. New York Jets: Michael Floyd, WR (Notre Dame)
17. Cincinnati Bengals (from Oakland): Cordy Glenn, OT (Georgia)
18. San Diego Chargers: Mike Adams, OT (Ohio State)
19. Chicago Bears: Lamar Miller, RB (Miami)
20. Tennessee Titans: Devon Still, DT (Penn State)
21. Cincinnati Bengals: Stephon Gilmore, CB (South Carolina)
22. Detroit Lions: Kendall Wright, WR (Baylor)
23. Cleveland Browns (from Atlanta): Janoris Jenkins, CB (North Alabama)
24. Pittsburgh Steelers: Dontari Poe, NT (Memphis)
25. Houston Texans: Alfonzo Dennard, CB (Nebraska)
26. Denver Broncos: Vontaze Burfict, ILB (Arizona State)
27. New York Giants: Zach Brown, OLB (North Carolina)
28. San Francisco 49ers: Landry Jones, QB (Oklahoma)
29. Baltimore Ravens: Dont'a Hightower, ILB (Alabama)
30. New England Patriots (from New Orleans): Chris Polk, RB (Washington)
31. New England Patriots: Jared Crick, DE (Nebraska)
32. Green Bay Packers: Markelle Martin, S (Oklahoma State)