Power Ranking Every NBA Team's Sixth Man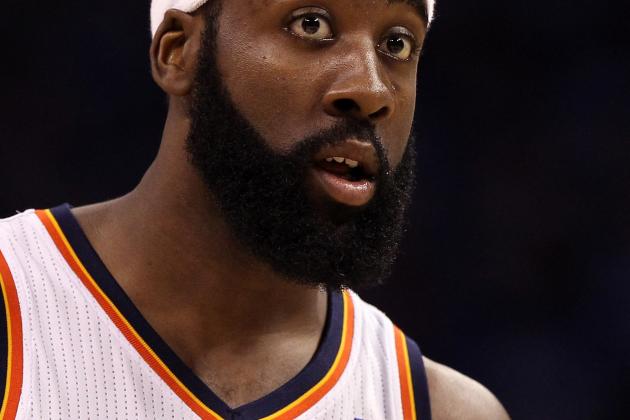 Christian Petersen/Getty Images

We've grown weary here of speaking highly of the NBA's top starters.
Why do the starters get all the credit? Unless they're the Miami Heat, the starters only do half the work and it's up to the players off the bench if that team comes out victorious or not. If you have a bench that has two or three players who can consistently score, rebound and defend, you're going to have a successful team.
There aren't many bad teams out there with a bench that's featuring quality players, since they would be the reason why they wouldn't be a bad team anymore. It's not true in every team's case, though, as many squads can survive without a star off the bench.
It is, however, definitely helpful to have a sixth man who can perform well on a consistent basis.
The sixth man can basically be considered an extension of the starting lineup. The majority of the league's sixth men could find a starting job on most teams and could argued to be switched off the bench with someone in the starting lineup.
However, sometimes it's better just to have a quick spark off the pine, whether in terms of scoring or defending.
So let's give credit to the NBA's sixth men as we rank every team's top contributor off the bench.
Begin Slideshow

»
Mike Stobe/Getty Images

It's going to take some time before we truly experience the talent level that former Washington State Cougar Klay Thompson possesses.
Thompson was drafted with the 11th pick in last year's draft and was expected to play the role of backup to Monta Ellis.
At 6'7", Thompson has the height and length to become a quality guard at the 2 in the future. However, he's still extremely raw and has found the transition to the NBA a little more difficult than he probably anticipated.
In 18 minutes per game, Thompson has averaged five points and two boards. He's converting on 38 percent of his shots overall and 36 percent from beyond the arc.
Al Bello/Getty Images

They certainly weren't lying when they said that the New York Knicks bench was weak.
Then again, it's not all bad, since Josh Harrellson actually isn't that terrible. He was the 45th pick in the 2011 NBA draft and was picked up by the team in order to strengthen the Knicks frontcourt off the bench.
Even though the team boasts a frontcourt of Carmelo Anthony, Amar'e Stoudemire and Tyson Chandler, a defender and rebounder like Harrellson was still desperately needed.
The Knicks are off to a slow start, but don't blame it on Harrellson. He may only be averaging four points per on 32 percent shooting, but he is grabbing four boards and blocking a shot per on a Knicks team that could desperately use any help off the bench.
If New York can hone the talent of the second-round pick, they may have just found a solid enforcer down low.
The San Antonio Spurs have a lot riding on this kid after trading away George Hill to acquire him. With the Spurs three-man core of Tim Duncan, Tony Parker and Manu Ginobili deteriorating, they're going to need a player like rookie Kawhi Leonard to step up.
He's not doing too bad at filling the soon-to-be vacant shoes. Leonard's averaging seven points per on a stellar 52 percent from the field, while also grabbing five rebounds.
Considered one of the most underrated prospects in the draft, Leonard was taken by the Indiana Pacers with the 15th pick after two solid seasons at San Diego State. He averaged 16 points and 11 boards in his final season with the Aztecs.
The Spurs are getting old, which means that players like Leonard, as well as DeJuan Blair and Tiago Splitter, need to quickly progress in order to make up for Duncan's declining stats in the scoring and rebounding departments.
Streeter Lecka/Getty Images

Seems that no one is paying attention to the Milwaukee Bucks. If you did, you'd realize that Shaun Livingston is still in the NBA and is still relevant to an extent.
Since 2009, Livingston has spent time with Miami, Oklahoma City, Washington and Charlotte before ending up in Milwaukee after being a part of the deal that sent former Bobcats teammate Stephen Jackson to the Bucks.
While Jackson is receiving all of the publicity, not too many people notice that Livingston is having a decent season as the Bucks' sixth man.
After struggling to find a niche for the past few years, Livingston may have just found his calling coming off the Bucks bench. He's currently averaging seven points per on 49 percent shooting to go along with three assists and two boards.
Unfortunately, he just won't live up to the expectations that he received as a 19-year-old No. 4 pick in the 2004 draft.
Kevin C. Cox/Getty Images

Sorry, but it just doesn't appear that Austin Daye is going to end up becoming the taller, lengthier version of Tayshaun Prince.
After a solid 2010-11 campaign where Daye averaged eight points and four boards per coming off of the Detroit Pistons bench, he has seen his minutes severely drop as he starts off the season shooting a dismal 21 percent from the field, good enough for three points per game.
At 6'11" and 200 pounds, Daye has the length and versatility to become a strong defender at the 2, 3 and 4. Unfortunately, he can't find a consistent scoring touch and his lack of strength against a player at any position is a gargantuan issue.
That tends to happen when you weight as much as your average six-footer.
Jonathan Daniel/Getty Images

Times have been tough for the New Jersey Nets. Not only is Deron Williams growing peeved with the organization, the fact that Dwight Howard still isn't on the team and Brook Lopez is out for another month or two, they now must come to terms with Jordan Farmar as their sixth man.
After spending his first four years in the league as Derek Fisher's backup with the L.A. Lakers, Farmar departed for New Jersey and would have the best statistical season of his career in his first season, averaging nearly 10 points and five assists per.
Farmar was aided by a career-high 25 minutes per game, as well as 18 starts.
This year, however, Farmar has seen his stats decline as he currently averages six points and three assists per, while also noticing a steep decline in his minutes.
He's not sixth man material, but he is a solid backup and that's all he ever should be.
Ezra Shaw/Getty Images

Not yet a starter as the Sacramento Kings elected to keep Tyreke Evans as the starting point guard, for now, Jimmer Fredette has been putting fans in the seats, but not exactly living up to the reputation he made as a three-point shooting star at BYU.
Still, it's extremely early and Fredette is converting on a three-pointer per game. Even with the 31 percent shooting from beyond the arc, there are still so many reasons to get excited over the the 22-year-old rookie.
Fredette hasn't limited himself as a jump shooter either. He's making conscious efforts to drive as much as possible and is attempting five two-pointers per game. Jimmer is currently shooting 36 percent from the field overall and averaging eight points per.
In time, he'll get his NCAA shooting stroke down in the big leagues. It's just going to take a little more than 10 games for Fredette to get adjusted to a completely new game.
Rob Carr/Getty Images

If you like taking insane shots early into the shot clock, throwing the ball away and never passing it to your teammates, you may just find a spot waiting for you on the Washington Wizards roster.
After all, they do currently employ the likes of Nick Young, Andray Blatche and Jordan Crawford, three players who attempt to take a shot every time they get their hands on the ball.
Crawford has been one of the reasons as to why the Wizards are off to a 1-8 start. He has seen his stats severely decline from last year's impressive 16 points to only eight points per game on an abysmal 33 percent shooting.
To go along with two rebounds and two assists per, Crawford is fitting in well with Washington.
He is receiving 13 minutes less now that he's coming off the bench, but it's still discouraging to see from a second-year player that we saw so much potential from last year.
Crawford has the capability to become a terrific scorer and all-around player, but he'll need some guidance and discipline in order to achieve those types of goals.
Chris Graythen/Getty Images

Surprisingly, it takes more than being athletic and throwing down huge dunks to be a successful player in the NBA.
The recently acquired Phoenix Sun Shannon Brown easily proves this. He may be receiving a lot of time on ESPN for his highlight reel-worthy dunks, but it doesn't exactly translate to individual success at either end of the floor.
For some reason, Brown assures himself that he's a three-pointer. Despite failing to average a three-pointer per game in the past three years, Brown is still nearly attempting three shots from beyond the arc, and has yet to shoot better than 35 percent during that span.
This year, he's currently shooting 27 percent from beyond the arc and 34 percent from the field overall, good enough for a little less than nine points per in 19 minutes of action per night.
Streeter Lecka/Getty Images

Don't let the 36 percent shooting fool you, Kemba Walker can ball like no other.
He's not going to be a pure point guard that averages at least eight assists per game, but I would not be surprised in the slightest if he's averaging 20 points per game by next season. His jump shooting abilities and his ability to get to the rim using a sick crossover and overall speed is second to none amongst rookie point guards.
Walker is currently averaging 10 points per off the bench, but is currently stuck behind D.J. Augustin in the depth chart. Augustin is still playing well above expectations, so we shouldn't expect a change anytime soon, even with the Charlotte Bobcats' slow start.
Kemba is making over a three-pointer per game on 30 percent shooting. He needs to fine-tune his shot selection and defense, but we should see that come along with more experience over the years.
Jonathan Daniel/Getty Images

It's been a long fall from grace for Tracy McGrady.
In 2003, McGrady led the league in scoring with a career-high 32 points per game. In 2004, he led the league in points per game for the second consecutive season. In 2008, he averaged 20 points per game for the last time.
In 2012, McGrady is averaging eight points per game off the bench for the Atlanta Hawks. He has shown some signs of resilience—take a look at the Hawks first game against the Miami Heat—but overall he still appears to be the shell of a former scoring champion.
Averaging eight points, four boards and two assists per as the replacement to Jamal Crawford, McGrady is doing all he can in his limited power to attempt a comeback at the age of 32.
Jared Wickerham/Getty Images

I hope you haven't forgotten about Daniel "Boobie" Gibson yet, because he's still an active, relevant and consistent producer on the Cleveland Cavaliers.
Aside from being an underrated defender for a player of his size at 6'2", 190 pounds, Gibson is also one of the league's top three-point shooters this year, and has been for his entire career, which started in 2006 as a second-round pick.
Gibson is shooting 42 percent from beyond the arc for his career and has yet to shoot below 38 percent in any season. He has shot 40 percent or better in every other season and appears to be well on his way to completing the task once again considering that he's shooting 52 percent from the field, while converting on two three-pointers per.
He's currently averaging eight points per and is coming off a terrific season where he averaged a career-high 12 points.
Elsa/Getty Images

Brought in over the offseason in a deal that sent Glen Davis to the Orlando Magic, Brandon Bass has assumed the role as the new backup to Kevin Garnett.
So far, so good for Bass, as he's currently averaging 13 points and six boards per. He's much like Davis in terms of having a solid mid-range game and is a decent rebounder, but he doesn't have the competitive drive, hustle and hard-work ethic that "Big Baby" brought to every game.
Bass is currently averaging career highs with his new club and has seemed to fit in extremely well with the veteran-laden Boston Celtics.
He's a banger down low and, unlike Davis, can easily finish around the rim with authority.
So much for rookie jitters; Spanish sensation Ricky Rubio has taken the NBA world by storm in only 10 games.
And why wouldn't he? Rubio is one of the most creative rookie passers we've seen since Chris Paul came on the scene in 2006. He's currently averaging eight assists per in 29 minutes off the bench, good enough for nearly 10 per 36 minutes.
Rubio is able to find so much success as a passer because of his ability to penetrate, attracting attention and then finding the open man waiting on the wing.
His court vision and awareness in general are much like that of a veteran already. It turns out that all of those years spent playing in Europe and with the Spanish national team have paid off thus far.
However, not all is right with Rubio. He's still averaging three turnovers per, and seems to resist making the fundamental pass. He's too risky with his passes and tends to go more for of the flash than just making the conventional two-hand pass.
Still, you're not going to get much of a quarrel from me. Rubio averaging 10 points, eight assists, four boards and two steals per is more than anyone could have ever expected.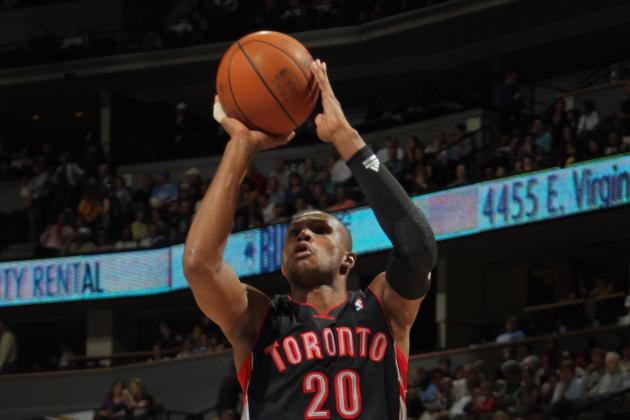 Doug Pensinger/Getty Images

Only five years removed from winning the 2006-'07 Sixth Man of the Year, Leandro Barbosa has dealt with quite the fall from grace since departing the Phoenix Suns for the Toronto Raptors.
Barbosa saw the best years of his career come with the Suns, which includes when he won the award for the league's top bench player after averaging 18 points and converting on 43 percent of his three-pointers.
He'd go on to average 14 points or better the next two seasons before dealing with an injury-plagued 2009-10 season that would result in him being traded to Toronto for Hedo Turkoglu.
Leandro picked up where he left off last year, averaging 13 points per game on a Raptors team that was just overcoming the loss of All-Star Chris Bosh. He's off to a slow start this year, however, and is averaging 10 points per on only 38 percent shooting.
Jonathan Daniel/Getty Images

Being a key component of the Chicago Bulls' notorious "Bench Mob," power forward Taj Gibson leads the way for one of the strongest defensive cores you will ever see come off the pine.
Leading the likes of Ronnie Brewer, C.J. Watson and Omer Asik off the bench, Gibson has quietly emerged as one of the league's better post defenders in only two seasons. He has averaged at least a block per in every season, including this year, and has the athleticism, strength and speed to keep up with any power forward in the NBA.
He has seen his stats decline a bit from last year (seven points and four boards per compared to the seven and six he was averaging last season), but Gibson does a lot of work for the Bulls that you won't see in the stat column.
Aside from being an inconsistent scorer from the mid-range, Gibson is a solid player off the bench and should become a 10-point and eight-rebound type of player if he continues to improve on his overall involvement in the game.
Ezra Shaw/Getty Images

An athletic freak who has received time as a starter and a sixth man, former New Jersey Net Derrick Favors has not fallen off the depth chart with the Utah Jazz.
Even though the Jazz are extremely deep in the frontcourt, Favors is still finding playing time and is currently averaging 22 minutes worth of action per night.
Favors is currently averaging nine points, seven boards and a block per with the Jazz. He's finally showcasing that athleticism and talent that we've been waiting to see, as he dominates the boards with his unbelievable vertical leap.
At only 20 years old, it's scary to think that Favors is only going to improve as the year's go by.
Jeff Gross/Getty Images

One of the more unheralded rookies from last year, the Houston Rockets' Patrick Patterson is attempting to make a name for himself as a possible solution to the team's struggles down low.
Ever since the departure of Yao Ming to either injuries or retirement, the Rockets have struggled down low and have had to go to desperate measures in order to secure rebounds or deter slashers. Patterson hasn't exactly showed off that skill set on a consistent basis, but he is capable of causing some disruption down low.
Patterson isn't athletic, but he is wide and that could make all the difference when the opposition is attempting to drive. He needs to take better advantage of his 6'9", 235-pound frame.
He's currently averaging six points on 41 percent shooting to go along with four boards per. Don't judge him on his stats, however, as Patterson has shown in the past that he is capable of being a power finisher, rebounder and defender.
Harry How/Getty Images

It turns out that Mo Williams wasn't the All-Star. Our suspicions were actually true when we developed the theory that Williams was selected only on account of having LeBron James as a teammate to make him look a lot better than he actually was.
In the 2009-10 season, LeBron's final year, Williams averaged 16 points per, converted more than two three-pointers and shot 43 percent. In the 36 games he spent with Cleveland last year before departing for the L.A. Clippers, Williams was averaging 13 points and converting on 27 percent of his three-pointers.
It's not that Williams is a bad player. It's just that he's a lot better when he's playing the role of sidekick to a player that attracted double- and triple-teams on a nightly basis.
Give credit to Williams, however, as he's emerged as one of the league's top shooters from the mid-range and the perimeter. He did convert two three-pointers per game at a 40 percent clip in the 22 games he spent with the Clippers last year.
This year he's coming off the bench for the first time since 2006 and is basically the only spark off the pine for the Clippers. He's currently averaging 10 points per and converting on only 31 percent of his three-pointers.
Jonathan Daniel/Getty Images

So much for anyone who thought Tyler Hansbrough would end up being a monumental bust after being selected with the 13th pick in the 2009 NBA draft.
After a stellar NCAA career where he averaged 20 points and nine boards per, Hansbrough wasn't exactly as hyped up as that year's other draftees in Blake Griffin, James Harden or Tyreke Evans. He certainly wasn't top-five pick material, but he is proving to the Indiana Pacers that he was well worth the lottery pick.
Hansbrough only got to play in 29 games in his rookie year, but really made his presence felt in his sophomore season when he began receiving significant minutes. In 70 games, 29 of which he started, "Psycho T" averaged 11 points on 47 percent shooting to go along with five boards per. His strength around the rim allowed him to grab plenty of boards on both sides of the court.
Equipped with a solid mid-range jumper and being a presence in the middle, Hansbrough tends to make you forget that he was supposed to be recognized as a bust.
Mike Ehrmann/Getty Images

One of the hardest workers in show business, Udonis Haslem is the glue that's been holding the Miami Heat together since he was picked up as an undrafted free agent in 2003.
Haslem isn't the type to show out in the stat column with a 20-10 game. Instead, he's the type to lay low and play the game the right way.
He's not too great of a scorer and has trouble creating his own shot, but you tend to not notice that when you observe Haslem's work ethic and his work on rebounding the ball.
Averaging 10 boards per, Haslem currently leads all bench players in rebounds per. It's the most he's ever averaged and the most since he posted up nine per as a starter on the 2004-05 squad.
Without a dominant center down low and Chris Bosh still not stepping up to the occasion on the glass, Haslem has filled in well as the Heat's top rebounder.
He's also an excellent defender, hustler and all-around teammate. Haslem is one of the best teammates you can have in the NBA and it's shown if you've observed him play with Dwyane Wade in the years prior to the arrival of LeBron James and Chris Bosh to Miami.
Kevin C. Cox/Getty Images

He's not going to be the hyped player out of high school that the NBA populace anticipated, but O.J. Mayo has at least avoided being too huge of a bust.
Who's to say he's not going down that path, however? After a rookie year where he started all 82 and averaged 19 points per while converting on 39 percent of his three-pointers, Mayo has progressively and consistently seen his stats decline with the lowest totals of his career in the young 2011-12 season.
Mayo is currently averaging 10 points, three boards and two assists per. He's converting on a career-low 33 percent from beyond the arc and 45 percent overall, which is actually a step up from the lowly 41 percent he achieved last season.
He also lost his starting job to the defensive specialist Tony Allen last season after struggling to average only 11 points per.
Mayo is an excellent shooter and a prolific slasher when he feels like it, but he's lacking intangibles and isn't going to live up to the idea of being a number three pick.
Chris Graythen/Getty Images

One of the top bench players you've never heard of, the Philadelphia 76ers Louis Williams is currently devastating opposing teams thanks to his smooth jumper from the mid-range and perimeter.
Williams' shooting numbers are a bit low at 33 percent for his career, but he makes up for it with timely three-pointers and a great understanding to the game on how to make your presence felt off the bench and as a mid-range threat.
Despite shooting only 32 percent from the land of three this season, Williams is still averaging a career-high 15 points to go along with four assists and two assists per. He fills out one of the league's deepest benches that also happens to come equipped with Thaddeus Young and Evan Turner.
Williams leads the forefront off the pine, however, and is one of the Sixers top scorers, as well as one of the NBA's top scorers off the bench.
If he can keep up this pace, I wouldn't be surprised if Williams is up for a Sixth Man of the Year award.
Doug Pensinger/Getty Images

In the midst of a revival of some sort, the 31-year-old Al Harrington has seemed to bathe in the fountain of youth when judging his play in the first 11 games of the season with the Denver Nuggets.
After struggling to average only 10 points in the 2010-11 campaign, Harrington has helped the Nuggets to ease the pain of losing Kenyon Martin, J.R. Smith and Wilson Chandler until their contracts expire in March.
Harrington is playing at the 3 and 4 and has been doing a fine job replacing Martin's toughness and rebounding, Smith's perimeter game and Chandler's driving.
He's currently averaging 14 points per on an impressive 55 percent shooting from the field. If he remains over the 50 percent mark, it'll mark the first time in his 13-year career that he's converted on half of his shots in a season. This coming from a player that's shot 45 percent for his career and is coming off a season where he only shot 42 percent.
With Harrington making his shots and leading the way for a deep bench, the Nuggets find themselves as one of the West's top squads and surprisingly relevant.
Mike Ehrmann/Getty Images

Glen Davis isn't athletic at all, he can barely move and he's extremely immature, yet he can still be considered as one of the NBA's top sixth men.
Davis finds himself this on the list because of how consistent he has been over his short NBA career as a mid-range threat, rebounder and all-around hard worker. He's currently having a little trouble adjusting with his new team in the Orlando Magic, but we should expect that 39 percent shooting to rise at least to the mid-40s by the end of the season.
He's never had one of the best percentages on account of his lack of strength and vertical leap when battling down low, but he makes up for it with a consistent mid-range game that always seems to spark at the right time.
Davis is coming off a season where he averaged a career-high 12 points and five boards per. This year marks the first time in his career that he's played for any team outside of the Boston Celtics.
Stephen Dunn/Getty Images

It's just not right to begin discounting the achievements of Metta World Peace on the court.
Even if he is averaging a career-low six points per and coming off the bench as a sixth man for the first time in his NBA career, World Peace is still doing all the Los Angeles Lakers expect him to do as a perimeter threat and individual defender.
At the age of 32, World Peace is still one of the league's most physical and imposing defenders. His wide upper body allows him to body any shooting guard or small forward, while his quick feet allow him to stick in front of any guard or forward that tends to utilize their speed rather than their strength.
World Peace is off to a difficult start to the 2011-12 season, shooting 35 percent from the field and nine percent from beyond the arc, but we should have anticipated this steady decline coming last season when he averaged below 10 points for the first time in his career.
Even though his offensive game has fallen off, he is still highly valued as a stellar one-on-one defender that can go toe-to-toe with any elite player in the NBA.
Chris Graythen/Getty Images

Without David West manning the middle and the New Orleans Hornets running with a frontcourt that features Chris Kaman as their starting power forward, Carl Landry has decided to take advantage of the situation placed in front of him.
You may not have noticed, since it's happening in New Orleans, but it turns out that this Landry guy actually has a solid game when it comes to playing around the basket. Considering that he's grabbing three offensive boards per, six in total, Landry is truly making his presence felt on both ends of the floor as a sixth man.
He's also averaging an extremely impressive 15 points per, which is among the top when it comes to points per for the NBA's sixth men.
Landry isn't David West. He doesn't have a terrific mid-range game and he isn't that great of a driver, but he is strong and he definitely knows how to finish under the basket, which is something that the Hornets couldn't always look to with West as their starter at the 4.
It seems that no one has been getting off to a great start this year, and that includes stellar sharp-shooters like Jamal Crawford.
Usually looked at as one of the NBA's top perimeter threats, Crawford has come out of the gates in the 2011-12 with a whimper as he has yet to show the Portland Trail Blazers what he is truly made of as a shooter. Currently shooting 37 percent from the field and 31 percent from beyond the arc, Crawford is still attempting to find the jumper that suited him so well in Atlanta the two seasons prior.
Jamal played as the Hawks sixth man as well and it turns out that he's even more effective coming off the bench than as a starter at the 2. He won Sixth Man of the Year in 2010 after averaging 18 points per and converting on two three-pointers per game at a 38 percent clip.
It was the first time he had a significant role coming off the bench since his third year in 2003.
Even with the lowly shooting percentages, Crawford is still one of those shooters that you would prefer not to get hot at any time during the game. Jamal can get into a rhythm that's unlike any other shooter you will see in the NBA outside of Ben Gordon and J.R. Smith.
Brett Deering/Getty Images

Many will argue that he should be starting over Thabo Sefolosha at the 2, but the Oklahoma City Thunder are actually doing the right thing by keeping James Harden as their sixth man.
The Thunder have enough trouble attempting to find looks for Kevin Durant and Russell Westbrook in the starting lineup, and they don't need a third scorer to gum up the works even more. Harden coming off the bench as a quick spark from the perimeter, mid-range and in the paint has worked perfectly for the Thunder thus far.
At the moment, Harden is leading the race for the NBA's top sixth man as he currently leads all bench players in scoring at 17 points per game. He hasn't shown much of his falloff in terms of his shot either, as many other shooters have done after the lockout. He's converting on a career-high two three-pointers per game at a 37 percent clip.
One of the league's most explosive players as well as one of its deadliest shooters, Harden is well on his way to winning his first Sixth Man of the Year award if he can keep up this pace and continue shooting daggers from beyond the arc.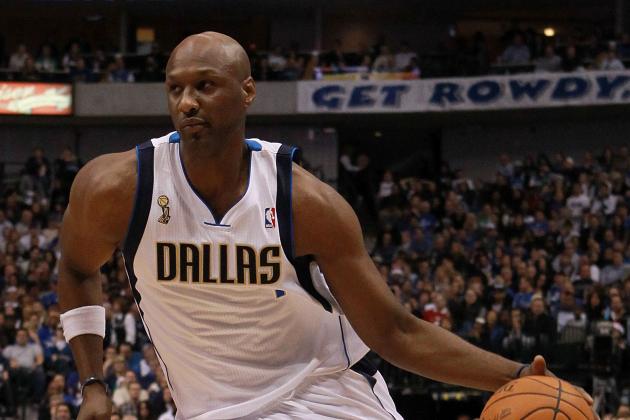 Ronald Martinez/Getty Images

Even if he has struggled to adjust to his new surroundings in Dallas, we still have to reserve a spot for the reigning Sixth Man of the Year at the top of the list strictly because of his versatility.
While some of these other sixth men have him beat in categories like defense or shooting, Odom doesn't restrict himself to being a specialty player. He's an unbelievably versatile player and is possibly the only player in the NBA that can play solid basketball at all five positions and get away with it.
His 6'10" frame allows him to guard players at the 4 and 5, his strength allows him to defend at the 2, 3, 4 and 5 and his speed allows him to keep with the 1's, 2's and 3's.
He also has no problem in playing offense, either, as he can even play the role of a point forward. Odom's height has only enhanced his career as he can see over the defense better than any other guard in NBA history.
He's averaging seven points per on 30 percent shooting, so to get a better look at what Odom is capable of you have to take a look at his numbers over the past few seasons with the Los Angeles Lakers.
He won the award for the NBA's top bench player last year after averaging 15 points on 53 percent shooting to go along with nine boards and three assists per.
Odom's versatility is what allows him to be the number one bench player, as well as his ability to shoot, defend and slash like no other player his size.