Knicks Rumors: Amar'e Stoudemire for Dwight Howard Would Ruin New York
January 11, 2012
Rob Carr/Getty Images
Yes, the New York Knicks are struggling this year, off to a 5-4 start despite having two stars in Amar'e Stoudemire and Carmelo Anthony.
Newly-acquired center Tyson Chandler was supposed to shore up this team's defense, but that hasn't happened so far this season. In fact, Chandler has been hurting the offense more than he's been helping the defense.
Ken Berger of CBS Sports proposes a radical solution: trading Stoudemire to the Orlando Magic for Dwight Howard. In this article, Berger says:
"If the Knicks keep struggling, the focus will spread from the coaching to the roster, and sources advise not to be surprised if the notion of a possible deal sending Amar'e Stoudemire to Orlando for Howard gains traction. If the Magic opt to convert Howard into a superstar of reasonably comparable stature, they could do a lot worse than selling Stoudemire -- a central Florida native -- to their restless fan base."
My response: forget about it. Why would the Knicks want to acquire Howard? It would create more problems than they already have.
First of all, they'd have to trade Chandler. Howard and Chandler provide the same services defensively, only Howard is better at it. And, when it comes to offense, Howard is clearly superior.
So, the Knicks would have to find a trade partner for Chandler, who just signed a pretty expensive contract to come play in New York. In the NBA these days, there aren't many takers for a guy like Chandler.
Then, the next step would be to fire head coach Mike D'Antoni.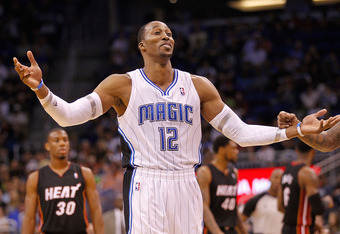 Mike Ehrmann/Getty Images
D'Antoni is already having trouble coaching Chandler, Melo and Stoudemire, guys who like to play a half-court style of offense. Adding Howard wouldn't help him get back to the run-and-gun style he likes to coach.
So, adding Howard would mean a new coach is absolutely necessary in order to maximize the talents of the remaining players, primarily Howard and Melo.
Then, the final step would be to start from scratch in the chemistry department.
Shaking up the team once again would be a major problem for the Knicks. Also, once they trade Stoudemire and find a new team for Chandler, they'd need to find a new power forward. And, they'd still have subpar guards.
They'd have to hope that they receive either Hedo Turkoglu or Jameer Nelson in the Howard trade so that they wouldn't have to completely start from scratch at guard and power forward.
With all three of these factors against them, there's no way the Knicks would win a playoff series in 2012. And, with the slump the team would go into while they trying to sort out the mess, convincing Howard to sign a long-term extension would be nearly impossible.
Sticking with the guys they have now is the best plan for the Knicks now and into the future. Once the team chemistry starts to come together, this team will be just fine this year and for the next few years as well.