Best of WWE: The Phenom Known as the Undertaker (Part 1)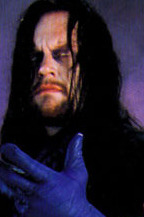 The Undertaker is arguably the most respected wrestler to ever set foot in a WWE ring.
His backstage professionalism and love for the business is almost as legendary as his work in the ring.
The Undertaker debuted in the WWF all the way back in 1990 and has remained there ever since.
While Hogan, Hall, Nash, Piper, Warrior, Austin, Hart, Michaels, Rock and Foley all left only to return at one time or another, it's been The Undertaker who has always been the consistent force that has kept the WWE afloat for 21 years.
The Undertaker has two very different personalities. There is his Dead Man gimmick, which he used from 1990-1999 and again since 2004. Then there is his American Bad Ass/Big Evil gimmick, the one where he portrayed a biker, which he used from 2000-2003.
As of this writing, The Undertaker has accumulated seven World Titles, seven Tag Team Championships, he was the 2007 Royal Rumble winner, a three-time winner of PWI's "Match of the Year" award...and he's 19-0 at WrestleMania!
These clips highlight The Undertaker's career from 1990-1999, and they include matches, promos and everything in between!
Let's begin!
Begin Slideshow

»
The Undertaker debuted at the 1990 Survivor Series as part of Ted DiBias's team.
From the first moment he walked out to the ring, people were already in awe.
Also, if any of you didn't know, The Undertaker's original manager was Brother Love.
I'm sure when Vince McMahon decided to make Paul Bearer Undertaker's manager, he had no idea he was in the process of putting together possibly the most iconic wrestler/manager combination of all time.
I can bet you no one ever thought this match would be this important 20 years later.
This was such a creepy yet cool concert for interview segments.
This particular clip has Hulk Hogan as the guest.
At Survivor Series 1991, The Undertaker faced Hulk Hogan for the WWF Championship.
The Undertaker would not win the title again for six years.
As an episode of Saturday Night's Main Event was coming to a close, Randy Savage and Miss Elizabeth were making their way to the back when, unbeknownst to them, Jake "The Snake" Roberts was hiding with a steel chair.
Before Mr. Roberts could do anything, however, his ally, The Undertaker, held onto the chair long enough for Randy Savage to subdue Roberts.
This was the first time that The Undertaker had turned face, and he would remain that way for almost six years.
This is just such a cool moment.
On January 11, 1993, the "longest-running episodic show in television history" debuted. You may have heard of this show, it's called Monday Night Raw.
The main event pitted a man named Damien Demento against...The Undertaker.
That's right, out of everyone on Vince McMahon's roster, he chose The Undertaker to wrestle in the main event.
To this day, The Undertaker remains the only active superstar who wrestled on the first episode of Raw.
After being jumped by a bunch of Yokozuna's friends, Undertaker was shoved into a casket where he cut a great promo that still gives me chills to this day.
After Mabel legitimately injured The Undertaker's orbital bone, he had to take time off for surgery.
Once he returned at Survivor Series, he debuted a new mask, which struck as much fear into his opponents as it did the crowd.
By the way, the gigantic guy with short, curly hair, hanging with Jerry Lawler...that's Kane.
After months of being attacked by Mankind, Undertaker had finally had enough and at SummerSlam 1996, the first-ever Boiler Room Brawl took place.
As historic as the match was, what happened at the end will always top it.
Undertaker and Mankind's feud hit a new level when they participated in the first-ever "Buried Alive Match."
Watch the end as it takes more than five wrestlers (including Triple H) to bury The Undertaker.
More importantly, make sure you watch the final 40 seconds of the clip.
This clip from the 1997 Slammy Awards is pretty funny if you've never seen it before.
"Patience...is a virtue."
At WrestleMania 13, The Undertaker once again climbed the top of the mountain and became the WWF Champion.
It was pretty cool to see him wear his old attire for this match. Part of me hopes he will bring it back for the final match of his career.
In 1997, this match was as insane and dangerous as it gets in professional wrestling.
Perfect for The Undertaker.
If memory serves me correct, I believe a certain relative of The Undertaker made his WWF debut in this clip as well.
This is, without a doubt, one of the best promos of all time.
This would be the first time Kane and Undertaker faced off at WrestleMania. It's pretty cool to see that this historic moment took place at my hometown arena.
On a side note, anyone else agree this is Undertaker's best entrance?
I'm curious as to how Vince McMahon pitched this match to both participants: "OK, so I want both of you to wrestle in a ring surrounded by fire, and Taker, at about 18 minutes in, go kick Kane into the fire."
How do you prepare for something like this?
It doesn't matter if everything is scripted, one wrong step or fall and your boot, arm or hair could be engulfed in flames.
As much as this match established Mick Foley as a legend who wouldn't stay down, it also made The Undertaker out to be a sadistic man who does whatever it takes to win.
This is just awesome. Plain and simple.
Poor Vince McMahon, he never knew when to just walk away.
After months of taking beatings from Stone Cold, why would he go and tick off The Brothers of Destruction?
By the way, does anyone else laugh hysterically when Vince screams in pain?
It's chilling to see these two join forces.
This would be the first of many moments when Kane and Undertaker teamed up.
Sorry about the quality, I haven't seen the good version on YouTube in ages.
This moment started the beginning for Undertaker's phenomenal 1999 heel run.
This is one of the creepiest moments in WWF history.
If you want to establish yourself as a sadistic monster heel, then you go and do something insane to the top babyface.
I'd love to see people's reaction to something like this happening in 2012.
I think this moment is a lot funnier than it was intended to be. I can't help but laugh every time I see Undertaker laugh in this clip.
After abducting Stephanie, Undertaker decided to marry her until a certain rattlesnake interrupted.
What do you do when you need to take out two superstars named Stone Cold Steve Austin and The Rock?
You form a massive stable that consists of the biggest and meanest wrestlers on your roster with The Undertaker and Shane McMahon at the helm.
Oh yeah, this all took place on the pilot episode of a little show called SmackDown.
I can guarantee we'll never see this happen again!
During an episode of SmackDown in September 1999, Undertaker was fired by Vince McMahon for refusing to take orders. However, this was a coverup because in reality, Undertaker needed time off to heel injuries.
By the way, notice something familiar about The Undertaker's appearance?
Foreshadowing, perhaps?
The video above is what you get when you have a great storyline but screw up the payoff by having the impostor fail in comparison to the real thing.
Anyways, hope you enjoyed part one of The Undertaker. Part two will deal with his career from 2000 onwards and should be available in a few days.
Care to relive some of the past few editions?
Here ya go!
- Shawn Michaels Part 1 and Part 2
- Sting