Miami Heat vs. LA Clippers: TV Schedule, Live Stream, Spread Info and More
January 11, 2012
Jed Jacobsohn/Getty Images
This is one of the most anticipated NBA regular season games to hit the schedule this year, as the Miami Heat (8-2) take on the Los Angeles Clippers (4-3). 
These two teams are loaded with All-Stars in their starting lineups, with Miami bringing LeBron James, Dwyane Wade and Chris Bosh and the Clippers showcasing Blake Griffin and Chris Paul.
There will be a ton of highlights coming from this game tonight between dunks, alley-ops and crucial shots from the team's biggest stars. 
Where: Staples Center, Los Angeles Calif.
When: Wed. Jan. 11, 10:30 p.m. ET
Watch: ESPN
Live Stream: ESPN-3.com
Listen: Miami: ESPN 790 The Ticket, Clippers: KLAC 570 AM
Betting Line: According to SBGlobal, the Heat are a four-point favorite. You should take the Clippers to cover in this game since the Heat are coming into this game after losing last night to the Golden State Warriors.
Key Injuries According to USA Today.com
Miami: C Eddie Curry is questionable with a hip flexor. He still hasn't played a game yet this year; however, he did participate in his first full contact practice on Monday.
F Mike Miller is questionable with a hernia. Miller is still recovering from his surgery that he underwent on Nov. 29, but did participate in his first full practice on Monday.
Los Angeles: G Eric Bledsoe is out with a torn lateral meniscus.
What's At Stake?
A win for Miami will help them stay in first place in the Southeast Division, as the Atlanta Hawks are only one game behind them, while the Clippers need a win to keep pace with the Los Angeles Lakers in the Pacific Division. The Clippers are only one game behind the Lakers for first place in the division and could close the gap with a win tonight. 
What They're Saying
Miami: From the Miami Herald:
The game didn't end until 1:29 a.m. on the East Coast. The Heat plays the Los Angeles Clippers at Staples Center at 10:30 p.m. on Wednesday.

We didn't close and that's what that game came down to, Heat coach Erik Spoelstra said. That game was there to be had with three defensive stops and we couldn't come up with the rebound.
Los Angeles: From the LA Times:
Spoelstra is happier with the team's defensive approach, which he describes as disruptive … not gambling.

At the start of the week, the Heat was averaging 10.1 steals a game while holding opponents under 42% shooting, both ranking near the top of the league. That effort has translated into easy opportunities for an offense that was leading the NBA with a 50% field-goal percentage and 108 points a game.

Sometimes last year, when we got stops, we kind of walked it up the floor, we didn't take advantage of our speed and athleticism, Bosh said. Now, if we force turnovers or if we force misses, we're trying to get it up the court as quick as possible.

When there is no chance to run, James has become more efficient by shooting from the perimeter less often, setting up in the post. As of Monday, he was making 60% of his shots.
  
Miami Player to Watch: Dwyane Wade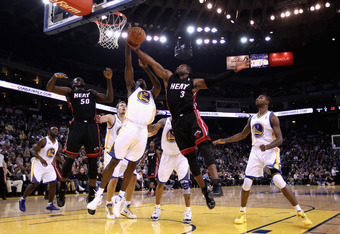 Ezra Shaw/Getty Images
Wade made his return from an injury last night to lead the Heat in scoring against the Warriors. Yes, the team lost; however, seeing Wade back on the court after dealing with an injury was a good thing. 
It will be interesting to see how Wade's body holds up in his first back-to-back game. With the Hawks breathing down the Heat's back, Wade cannot afford to take another night off. 
Los Angeles Player to Watch: Blake Griffin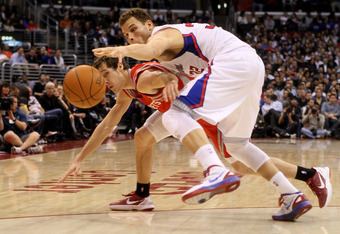 Stephen Dunn/Getty Images
You have to watch Blake every time he steps onto the floor. Aside from LeBron, Griffin is the most talented athlete in this game. 
On the year, Griffin leads the team in points per game, averaging 23.7, and rebounds per game with 10.6. Blake is second on the team in shooting percentage at .558, and if his stats continue the way they are this year, he will end up with career numbers in each of those categories. 
Key Matchup: Chris Paul vs. Mario Chalmers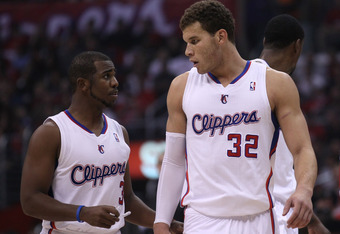 Stephen Dunn/Getty Images
The point guard matchup here will determine a lot in tonight's game. Chalmers has see his minutes increase this month, as he's averaging 31.2 minutes this month compared to 22.3 in December. 
If Chalmers can shut down Paul, it will increase the Heat's chances at winning in a big way. 
However, if Paul can find some open space to find Griffin or his other talented big man, DeAndre Jordan, the Clippers will roll to an easy victory tonight
Prediction
This is a big regular season game tonight, as a win tonight for the Clippers will cement their credibility that they are an up-and-coming team. However, the Heat have too much talent on their roster and have a very deep bench to go with it. 
Miami wins this one big tonight. 
Miami 115, Los Angeles 103