Broncos vs. Patriots: Tom Brady and Wes Welker Will Be Too Much for Denver D
January 11, 2012
Rich Schultz/Getty Images
The Denver Broncos have rode "Tebowmania" to the divisional round of the NFL playoffs. 
No matter the amount of criticism that has come down on Tim Tebow both from inside and outside of the organization, he has continued to win games for the Broncos.
However, the magical ride that Denver has been on will come to a quick stop on Saturday when they head to New England to take on the Patriots.
Tom Brady and company will simply be too much for that Broncos defense.
The Patriots and Broncos met already in Week 15 of the regular season. Tebow and the Broncos got off to an incredibly hot start in that game, as they were rushing all over the Patriots defense. They started the second quarter up 16-7 after a field goal from Matt Prater.
That is where the Broncos success ended.
The Patriots went on to score 27 unanswered points until Tebow ran for a two-yard touchdown in the fourth quarter. New England came out on top in the end, 41-23. Brady was one of the stars of the game with 320 passing yards for two touchdowns, as well as one rushing touchdown. 
Even though the Broncos were able to pull off the upset against the Pittsburgh Steelers, it is hard to imagine they'll be able to do the same against an offense as powerful as the Patriots. 
New England has far too many options for Denver to handle. The Broncos did an excellent job of their first matchup of shutting down the Patriots top two targets in Rob Gronkowski and Wes Welker. The two combined for only eight receptions for 94 yards.
While their numbers weren't horrible, they were far below their average performances. 
However, what resulted was Aaron Hernandez having a huge game with nine receptions for 129 yards and a touchdown. With offenses as dangerous as the Patriots, if you manage to shut down one or two options, someone else will step up.
So how will the Broncos approach this game defensively?
I would be willing to bet that they will not allow Aaron Hernandez to go off like he did in their first matchup. They will be sure to put someone on Hernandez that will be able to contain him similar to how they did against Welker and Gronkowski.
That means that the offense is going to be opened up for the rest of the receivers.
Tom Brady is not afraid to throw the ball to whoever is open, whether it is Wes Welker or Tiquan Underwood. He knows the importance of hitting whichever receiver is open rather than trying to make a throw that could potentially lead to a turnover. In order to shut the Patriots down, you need to slow down the entire offense by playing the receivers physically or give Brady no time to throw.
Denver did have some success putting pressure on Brady, but it wasn't nearly consistent enough to throw off the entire rhythm of the offense. Brady then made it very clear that Denver's secondary was not good enough to stop their passing attack.
All of this happened just four weeks ago. 
The Broncos have the same personnel they did Week 15, and I don't see how any type of game plan could change the amount of success they had the first time around. They were fortunate to be able to stop both Wes Welker and Rob Gronkowski Week 15, but I doubt they will find the same level of success again.
Every defense knows the importance of Welker and Gronkowski to the Patriots offense. Every defensive game plan includes slowing those two down. However, very few teams are actually capable of pulling it off, and even less are capable of pulling it off twice, which is why I see Welker poised for a big game.
Welker reeled in 122 catches this year for 1,569 yards and nine touchdowns. He had his second lowest catch total against the Broncos in Week 15. The only game where he had a lower total was against Kansas City in Week 11.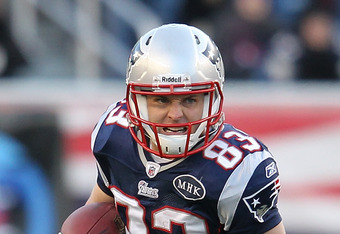 Jim Rogash/Getty Images
Simple averages would project that Welker will have a bigger impact on this game than he did in Week 15. He is simply too good at getting open in tight spaces and will be able to impose his will against the Broncos secondary this time around. 
When it comes down to it, the Broncos do not have enough defense to stop Brady and the passing attack. Denver's passing defense is ranked 18th in the league and has never been considered a dominant force. None of that will change when they take the field against New England on Saturday.
The only way the Broncos will be able to stop this offense will be if the Patriots offensive line cannot handle the pass rush. There would have to be a major breakdown in the blocking scheme for this to happen, and I believe that New England's offensive line is too strong to let this happen for an entire game. 
The Patriots will come in to this game and do what they do best. 
They will spread their receivers out and allow Tom Brady to systematically pick apart the Broncos defense. Wes Welker will find the holes in the secondary and give Denver's defensive backs headaches all game long. 
New England will not only win this game, but win it with ease. As much as the media may dislike it, the Tebow magic ends this weekend.
Follow Andrew McCluskey on Twitter