NFL Rumors: Rams Interviewing Saints' Aaron Kromer Means Jeff Fisher Is Gone
January 11, 2012
Getty Images/Getty Images
With the coaching carousel going on in the NFL, it looks like the St. Louis Rams are moving away from Jeff Fisher and towards New Orleans Saints' offensive line coach Aaron Kromer. 
From Pro Football Talk: 
Instead, the Rams are interviewing other candidates, and next in line is Saints offensive line coach and running game coordinator Aaron Kromer.

The Rams have asked for and received permission to interview Kromer and may conduct the interview in San Francisco while Kromer is there coaching the Saints against the 49ers, Jay Glazer of FOX Sports reports.
This comes after a report from Michael Lombardi of the NFL Network that their original top candidate Jeff Fisher is going to choose the Miami Dolphins. With Fisher heading to Miami over St. Louis, Kromer would be a fantastic pick for the Rams.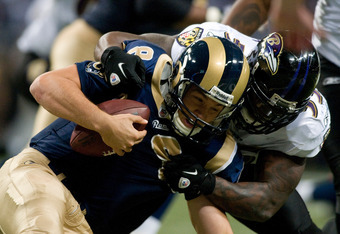 Jeff Curry/Getty Images
Kromer would be able to fix the worst offensive line in the NFL last year. The Rams gave up a league-high 55 sacks, which made them lose 388 yards for the season. The terrible offensive line, made for their No. 1 draft pick of two years ago, quarterback Sam Bradford, missed a significant portion of the season. 
With Kromer being the Saints' running game coordinator, he can help running back Steven Jackson have some of his best years as a Ram. 
Kromer can also help a young Rams offensive line that has top draft pick Jason Smith. With the Rams projected to draft USC's offensive tackle Matt Kalil, Kromer can turn this offensive line into one of the best in the league. 
Along with Kromer's ability to work with the Rams' offensive line, his straight-forward personality would help this Rams team that was penalized at least six times a game in 2011. 
From that same Pro Football Talk piece: 
Kromer was involved in a screaming match with guard Carl Nicks during the Saints' loss to the Rams, and there were reports that center Olin Kreutz quit in part because of an altercation with Kromer. Kromer's no-nonsense approach seems to have worked; the Saints have one of the best offensive lines in the league.
The Rams should take a chance on Kromer instead of trying to bring in a former head coach. It's the right move to make in this instance, since Kromer can help fix St. Louis' biggest needs.