MLB Trade Rumors: Why Cole Hamels Would Be Perfect for the Toronto Blue Jays
January 11, 2012
Dilip Vishwanat/Getty Images
It is no surprise that the Toronto Blue Jays are looking to bolster their rotation. I spoke clearly about their need to do so here and here.
Coming off the news that Cole Hamels—whose contract is up at the end of the season—will unlikely be offered a long-term deal by the Phils, I believe the timing is ripe for the Jays and Alex Anthopoulos to swoop in and trade for the studly 28-year-old lefty.
Hamels is a bona fide ace with excellent playoff experience. It seems as if he has been around forever even though he is only 28 years old. It would take quite the impressive package to grab Cole, but by trading for him and signing him to a Weaver-like extension (5 years, $85 million), the Jays would have an excellent ace for years to come.
Hamels is truly a top notch starter. He went 14-9 with a 2.79 ERA (eighth in the MLB), a ridiculous 0.99 WHIP (third in the MLB) and .214 BAA (seventh in the MLB) in 2011.
Cole knows how to pitch against top notch clubs and has great experience doing it.
Other than one bad year in 2009, his lowest ERA mark since 2007 was 3.39. Moreover, if you take 2009 out of the equation, his ERA has declined every year since 2007.
With over 75 career wins, a lifetime ERA of 3.39 and WHIP of 1.14—all at the age of 28 (and that is with a December 27,1983 birth date, so it is not as if he will turn 29 anytime soon)—the Jays should definitely make a push to acquire this stud.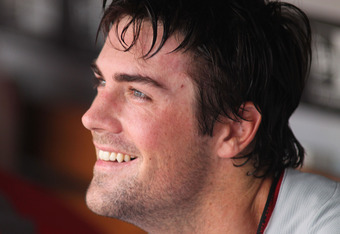 Marc Serota/Getty Images
I am not going to speculate on what it would take to acquire Hamels from the Phillies, but a package of Snider/Thames, McGuire and maybe Adeiny (to learn behind Rollins) could possibly be sufficient. As long as the list doesn't include Drabek or Gose, I would be pretty good with it, personally.
But again, I am not speculating.
I hope AA inquires into Hamels' services, because he would be the exact piece that the Jays need, and we have the money to pay him.
I mean, if nothing else...look at that smile.
Get at me on twitter @the__ste (Double Underscore)