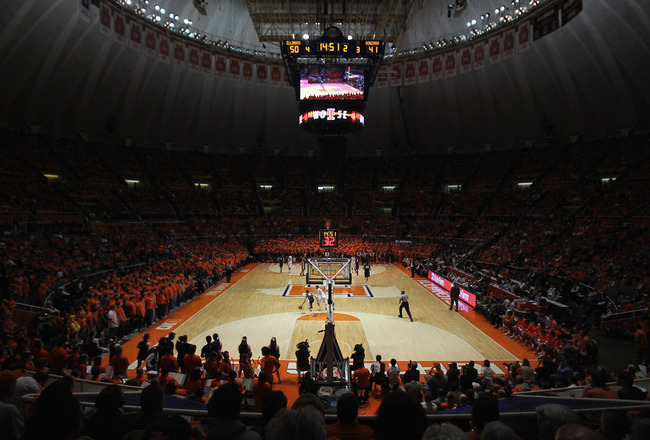 Jonathan Daniel/Getty Images
The Illinois Fighting Illini are 18 games into their basketball season, with 13 left to go. The non-conference season is long gone and the Illini are settling down into their highly competitive Big Ten season.
With their recent win over fifth-ranked Ohio State, many were left wondering whether this was just Illinois catching lightning in a bottle or whether it was an emergence of a dark horse competitor.
To answer those questions, I have analyzed and evaluated the current state of the Illini, and the result is this 2012 Midseason Report Card.
1. Guards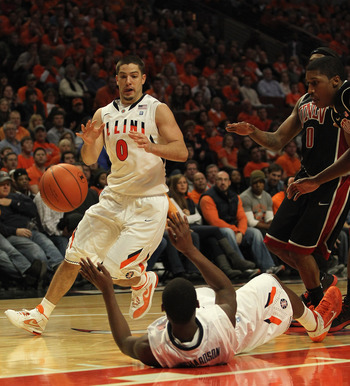 Jonathan Daniel/Getty Images
If there has been one spot that has truly shined for this Fighting Illini team, it's the guard play. Senior Sam Maniscalco has truly been a field general this season.
This is his first year in this offense after transferring from Bradley, but he and coach Weber are obviously on the same page, as he has been averaging about 10 points and three assists per game.
He has been sidelined for the last three games with an ankle injury, but he should be back for the Illini's next game at Penn State.
Freshman point guard Tracy Abrams has been solid in relief of Maniscalco. He plays great defense but is still growing into this offensive system and will make careless turnovers.
Junior sharpshooter D.J. Richardson has been lights-out, as he has led this team at the No. 2 spot, averaging 13 points per game while shooting .407 from three-point range.
Sophomore Joseph Bertrand started off the season as a non-factor, scoring only 14 field goals in 12 games. But recently he has exploded onto the Big Ten scene, highlighted by a 25-point outburst against Nebraska.
Bertrand's athleticism and new-found confidence have turned him into an elite scorer, but it is the last guard on this slide that has prevented the Bertrand hype from going through the roof...
Brandon Paul. I don't know how else to describe him than to simply say wow. Against arguably the best defender in the country in Ohio State's Aaron Craft, Paul posted 43 points.
Yes, 43 points.
Paul has showed that type of potential since high school, but it hasn't been until this year that he has truly come into his own as an all-around player leading the team in scoring, with 13.2 points per game.
Final Grade: A
2. Forwards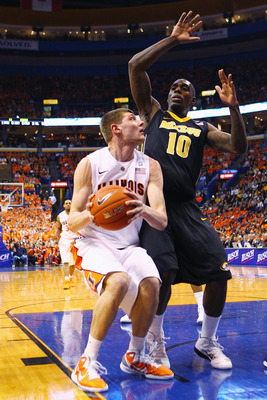 Junior forward Tyler Griffey
Dilip Vishwanat/Getty Images
The play from the forwards for Illinois this year was another question mark entering the season.
Unfortunately, they have failed to deliver.
The Illini only have two true forwards in freshman Mike Shaw and junior Tyler Griffey. Freshman Myke Henry and Devin Langford are officially listed as guard/forwards, but Henry is much more of a guard while Langford is redshirting the 2011-12 season.
Tyler Griffey is three years into his career at Illinois, but he has failed up to the hype that followed him into Illinois from Westwood, MO.
He began this season as a starter, but has been underwhelming (lost his starting job recently due to the emergence of sophomore guard Joseph Bertrand.
6'8" and 230-pound Mike Shaw has struggled to find significant minutes this season (averaging 8.3 per game). Shaw arguably has the most potential out of any of the Illini's numerous youngsters, but until he can consistently crash the boards and dominate in the paint like he did in high school, Weber will not play him in favor of more consistent guards.
Another factor that has played against the two forwards this year has been head coach Bruce Weber's desire to start and consistently play three to four guards.
Although Griffey and Shaw are sure to blame their lack of minutes as the primary reason for their poor production, they simply have not played well enough in the times they have been in in order to warrant praise from the coaching staff.
As a result of their underwhelming play, I cannot give these forwards anything better then an average grade.
Final Grade: C-
3. Centers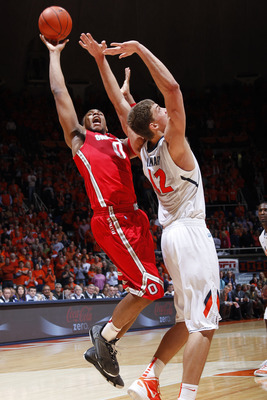 Joe Robbins/Getty Images
Grading the play of the Fighting Illini centers this season was actually much harder then you would expect.
The national hype surrounding starting 7'1" center Meyers Leonard has been deafening at times, but for those who have been consistently watching the sophomore's game, he has left a lot to be desired.
He has vastly improved from the uber-talented yet emotionally fragile freshman that he was last year (averaged 8.2 minutes, 2.1 points, and 1.2 rebounds in 2010-11). Much of that improvement can be attributed to his play this past summer in the USA Under-19 National Team under the coaching of Duke's Coach K.
Where grading this man became difficult was when I started to dissect the intangible aspects of Leonard's game.
When Leonard is being double or triple-teamed, he will get overly frustrated and often makes careless turnovers in an attempt to score.
He will turn, square his feed and face his defender head-on when he should be using his superior size to simply shoot over said opponent.
Also, Leonard can consistently be found on the top of the key setting screens for his fellow Illini instead of being in the paint where he should be. And this has managed to frustrate Illini Nation to no end.
In light of these frustrating aspects of Leonard's game, he has still managed to post quality stats, averaging 29.7 minutes, 13 points and 7.8 rebounds per game, while also posting 38 blocks this season.
And don't forget that Leonard has stepped up and played impressively (on both offense and defense) this season against his two greatest NBA caliber match ups, Ohio State's Jared Sullinger and Gonzaga's Robert Sacre.
It also must be noted that freshman centers Nnanna Egwu and Ibby Dijmde have been working to improve. Their hustle has been impressive for any big man, and while both are extremely raw, there are still talented enough to win minutes in order to give Leonard a much needed breather.
Final Grade: B
4. Bench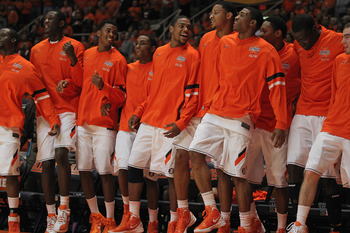 Jonathan Daniel/Getty Images
I know that I have touched on bench players in my previous slides, but I think that it important that I acknowledge the bench play as a whole.
From a depth perspective, this has been an impressive year for Bruce Weber's Illini.
Coach Weber has been known to go as many as 11 players deep at times this season in search of the right combinations in order to combat the lineups opposing teams have thrown at him.
Freshman guard Tracy Abrams has highlighted the bench early this season and has recently been starting while Sam Maniscalco has been sidelined due to his ankle injury.
Six of the players on Illinois' bench are averaging over eight minutes per game, with three of those earning double-digit figures in terms of minutes played.
Although the Illini bench has not been dominant from a scoring position this season (no one is scoring over six points per game). Their ability to come in, relieve starters and play quality, high-energy minutes has gained them respect throughout the program.
There is some serious, young potential sitting on that Illini bench, and I fully expect this team to have one of the best—and deepest—teams in the Big Ten in the coming seasons.
Final Grade: B-
5. Coaching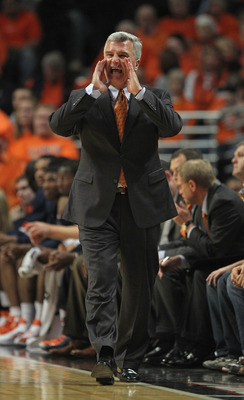 Jonathan Daniel/Getty Images
Although head coach Bruce Weber has had his fare share of critiques (including mine at times), I believe this season has showcased just how good of a coach Weber is.
Expectations were reasonably low going into this season. Even with my typically optimistic outlooks, I would have been pleased with 20 wins and a NCAA tournament berth.
With four senior starters departing and only three upperclassmen left on the roster, Weber has done a great job of bringing this team of talented youngsters together and posting a 15-3 record thus far in the season.
The Big Ten is so good this season that no one really expected the Illini to contend, but they are currently 4-1 in the conference and sitting in second place behind Michigan St. And I believe that this is largely due to this coaching staff.
Weber has been able to teach his complicated half-court offense to this group of freshman, and has shown his coaching flexibility by starting unique combinations with up to four guards and one center.
Some of Weber's coaching moves still manages to leave Illini fans scratching their heads, like when he calls a timeout after his own team makes a big three.
He is not afraid to sit a player when he is not playing well, and although he has been criticized for doing this, the results have often been beneficial for not only the player but for the team as a whole.
Assistant coach Jerrance Howard also deserves some credit for his amazing ability to recruit, as he has been one of the major factors in the Illini's recent recruiting success.
Don't be surprised if you see Howard as a head coach for another team very soon.
Final Grade: A-
Conclusion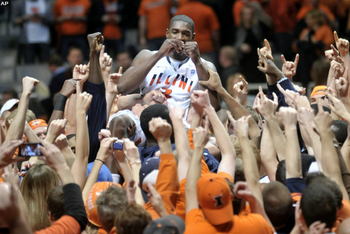 In conclusion, I think that this team is going to continue to make noise on a regional and national level.
They have shown the toughness to win when it matters, and although the Illini consistently play to the level of their opponents, they have shown the ability to win those games, which has alluded them for the past four to five seasons.
The veterans on this team have played lights-out, but the combination of savvy veterans with high-potential youngsters and quality coaching has been what has lead this team to its early season success.
While I don't see Illinois winning the Big Ten this year, I fully expect them to continue to upset some more top-ranked teams, finish in the top five in the Big Ten and earn a seed in the in the five-to-seven range for the NCAA tournament this March.
Keep an eye on these Illini, they are an exciting team to watch and have what it takes to be a major force in the Big Ten for years to come.
Final Team Grade: A-
Keep Reading

Illinois Fighting Illini Basketball: Like this team?
Load More Stories