Ronaldo vs. Cristiano Ronaldo: Why the Brazilian Wins Every Time
January 11, 2012
Denis Doyle/Getty Images
When Cristiano Ronaldo walked out onto the field of the Santiago Bernabeu on July 6th, it was difficult to differentiate between him and the Brazilian who once wore the famous white of Real Madrid.
Both players were identical on paper: the name 'Ronaldo' supported by the No. 9, and, of course, the expectation that spawned from the enormous transfer fees that brought them to Madrid.
There can be no denying the Brazilian's extraordinary playing ability. Perhaps the finest goal scorer of his generation; one which included Thierry Henry, Andriy Shevchenko and Raul Gonzalez. His phenomenal adaptability to continue his exploits in front of goal no matter which league he played in should be endlessly admired.
While Cristiano Ronaldo possesses an equally impressive list of personal and club achievements, he may never have that same effect that the Brazilian had on the international stage. A leading scorer in World Cup finals and one who has scored in three World Cup competitions, he set an extremely high bar if the Portuguese is ever to emulate that record.
What is interesting to note about Ronaldo's playing career is the injuries he picked up. There's every reason to believe that Ronaldo was not performing at his maximum ability due to the injuries he had in his career.
Yet, judging by his records prior to his move to Inter Milan, he could have further enhanced his glowing reputation had he been able to avoid these injuries. Had it not been for the lengthy spell on the sidelines in Italy, could we be looking at perhaps the greatest footballer of all time?
The Portuguese flyer still has many years of playing at the top level ahead of him. He has been at the centre of the football world's focus for a number of years due to his duelling with Lionel Messi for top spot amongst footballers.
He was brought into Florentino Perez' second assembly of The Galacticos as the foremost star, one who would propel Madrid into first place in Spain and Europe and, in turn, above fierce rivals Barcelona.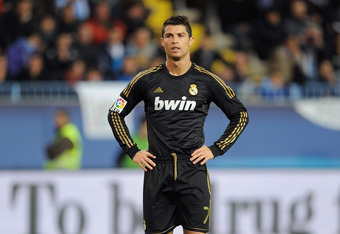 Denis Doyle/Getty Images
He is equally able to capture the magic of his namesake; stunning strikes in both the English league as well as the Spanish have earned him rightful praise as one of the most complete forwards in football. His stunning ability in the air, from set pieces and as one to assist others have been trademarks of his ability as one of the world's elite athletes, and yet, sadly for him, he still manages to fall short against his closest rival, Lionel Messi.
Is a comparison of the two Ronaldos a fair one?
They have both been icons for their generation as footballers. They, whilst playing at the top of their game, won almost everything there is to win in football—the Champions League being the only title that has eluded the Brazilian, just as the World Cup may be out of reach for the Portuguese.
However, for now, Ronaldo Luis Nazario de Lima remains the standout figure among the two.
Maybe in time, Cristiano Ronaldo will equal that of the Brazilian and we can look back and assess both players' careers once Ronaldo's time has come to an end. But at this moment, we can, and should, look to one of the greatest footballers to ever emerge from the breathtaking factory that is Brazilian football.