UFC: Dan Henderson's H-Bomb and the Top 15 Deadliest Weapons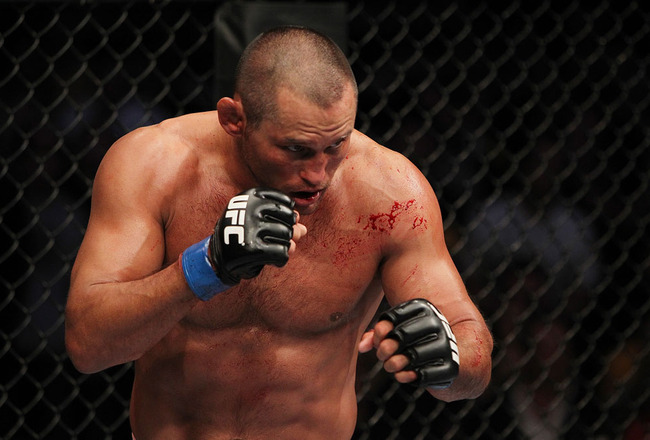 UFC.com

The UFC has served as America's mixed martial arts forefront for nearly 20 years.
And with groundbreaking television deals and pay-per-view exploration poised to create even a bigger splash across the world in the coming decade, MMA is starting to gain the top-notch recognition it wholeheartedly deserves.
When you try to weigh that potential and magnitude of the sport heading into the future, it's important to understand what skill sets fighters bring to the ring, and how those strengths stack up against other divisional opponents.
From spinning elbows to devastating knees, to unmatchable longevity and unremarkable power, the UFC incorporates some of the most dangerous Octagon arsenals in the world.
Here are the top 15 deadliest weapons in the UFC today.
15. Brian Stann's Right Hand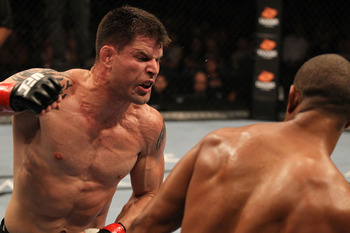 UFC.com
By process of elimination, Brian Stann's TKO victory over Chris Leben at UFC 125, a guy who just so happened to out-strike Wanderlei Silva at UFC 132, puts his power in a league of its own .
Stann's right hand simply packs more punishment than any other fighter in the division, albeit he must find a way to land it.
Sure, Mark Munoz and Anderson Silva can straight-up pop guys, but Stann's display of power against Leben showcased his ability to KO the hardest chin at 185 lbs.
As far as Stann is concerned, based on pound-for-pound power, his right hand may be the biggest punch in the UFC today.
14. Jose Aldo's Knees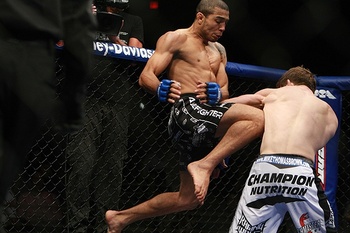 sherdog.com
Jose Aldo is one of the greatest fighters in MMA today.
The kid can do it all.
But at some point, certain skills have to outweigh other ones, right?
Most certainly. And unfortunately for his opponents, Aldo's indefensible knees take the cake.
Whether it's straight to the head, in a close-up clinch, or one of the flying variety, the UFC featherweight champion packs more striking ability in his knees than some guys do in their hands.
Simply put, one of the best pound-for-pound fighters in the world also possesses one of the most dangerous pound-for-pound weapons in the UFC today.
13. Cung Le's Spinning Back Kicks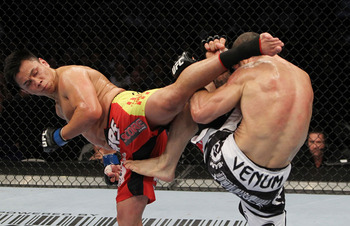 UFC.com
It honestly never gets old to watch Cung Le sling spinning back kick after spinning back kick at his opponents.
The 39-year-old veteran recently dropped his UFC debut to Wanderlei Silva back in November, but Le's display of technical back kicks has culminated into one of the most impressive skill sets in the middleweight division.
It's arguably indefensible, especially when you have erratic strikers like Silva trying to chase him down.
At this point, Le's devastating kicks aren't going anywhere. And it's only a matter of time before he wins a fight after landing this rib-cracking finishing move.
12. Frankie Edgar's Chin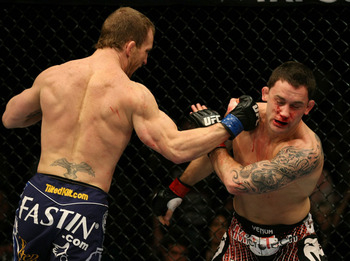 fiveouncesofpain.com
It may not be an offensive weapon at all, but Frankie Edgar's chin does more good than bad.
Let's be honest. It's the main reason why he didn't lose his UFC lightweight championship to Gray Maynard in their second bout.
It's also the reason why he's been able to overcome size and strength in a division full of more powerful strikers.
His chin has withstood the test of time, and Edgar's success heading into 2012 is going to be decided by his ability to take a shot, especially in his upcoming title defense against Benson Henderson at UFC 144.
For any fighter willing to stand and bang with solid strikers and good takedown artists, a polished chin is the winning recipe.
11. Urijah Faber's Guillotine Choke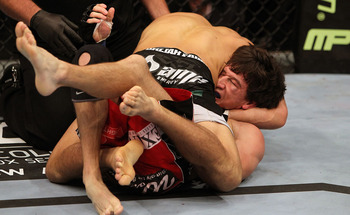 UFC.com
Urijah Faber's guillotine choke is borderline infamous.
He has sunk it in during times when his positioning has seemingly deemed it impossible.
More importantly, Faber's excellent wrestling and compact build enables him to hold his go-to guillotine longer than your usual fighter.
It's been said that if Faber gets a hold of the neck, the fight is over. That may be a little too drastic, but the proof is in the pudding.
Look at his submission victory over Brian Bowles at UFC 139.
10. Chael Sonnen's Takedown Repertoire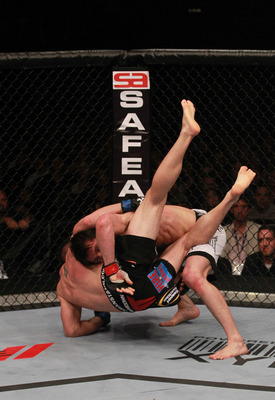 UFC.com
Whether it's dragging his opponents to the ground, or stuffing a well-timed shoot, Chael Sonnen's takedown repertoire is second to none.
Since his first UFC victory back in 2006, Sonnen has been taken down a grand total of two times in 30 rounds.
If that's not dominance, I don't know what is.
Not to mention, he literally suffocated the best fighter in the universe, Anderson Silva, for 20 straight minutes.
Sonnen has landed 62 percent of his takedowns in his UFC career while defending opponents 70 percent of the time. Those wrestling skills are responsible for the 34-year-old's spot among the best middleweights in the world.
And it could be the perfect complement to finally knock off Silva in an eventual rematch if he doesn't get caught in a fifth-round triangle choke, again.
9. Jon Jones' Spinning Elbow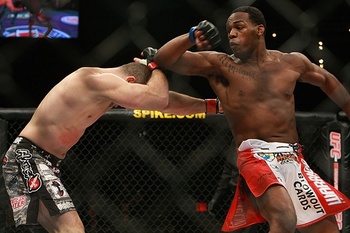 sherdog.com
There's something about Jon Jones' spinning elbows.
They seem revolutionary.
Sure, guys have thrown and landed them in the past, but nothing close to the light heavyweight champion's consistency and effectiveness.
Jones has such a diverse stand-up game that his opponents have trouble gauging his lengthy range and unorthodox strikes, which is the main reason why those popular spinning elbows land so frequently.
Against the cage, in the middle of the Octagon or while chasing down an opponent, Jones is capable of throwing these devastating strikes at any point in the fight, making his dangerous weapon one of a kind.
8. Mauricio 'Shogun' Rua's Leg Kicks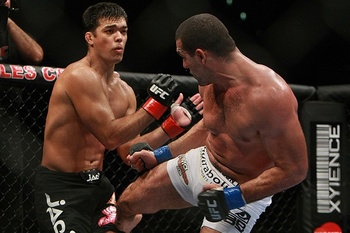 sherdog.com
I'm in no way an MMA fighter, but I can surely guarantee that leg kicks hurt more than people would like to think.
And by people, I mean the average fight fan.
Regardless, Mauricio "Shogun" Rua's leg kicks are downright filthy. Lethal at that.
His unmatched leg power and formidable technique have transformed Shogun into arguably the most proficient striker in the UFC.
If fights weren't wrongly scored in the fashion that they are, I'd be sitting here telling you the story of the time Rua leg kicked his way to the light heavyweight title at UFC 104.
But that isn't the case, and Lyoto Machida just so happened to limp off with a championship decision between his legs.
7. Georges St. Pierre's Conditioning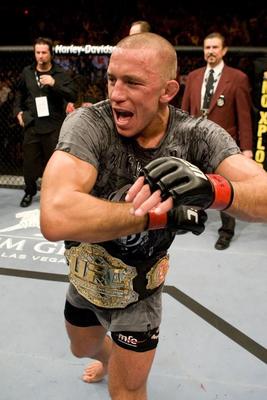 UFC.com
Similar to Frankie Edgar's ironclad chin, Georges St. Pierre's top-notch conditioning serves as one of the most dangerous weapons around.
And while these "weapons" don't completely translate to inflicting damage on their opponents, each asset helps these elite champions maintain their UFC glory.
St. Pierre's inability to finish fights in the past has been highly scrutinized, but how can you point fingers at a legendary fighter who survives all five rounds against the top competition in the world and retains his title?
You really can't. And that's why St. Pierre's conditioning and longevity should help the Canadian withstand the test of time.
Something that even the best of fighters often struggle to do.
6. Junior Dos Santos' Boxing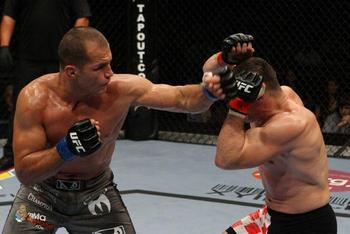 UFC.com
Pound for pound, Junior dos Santos may be the best boxer in mixed martial arts.
His destruction of powerful strikers like Shane Carwin and Cain Velasquez has commanded some much-needed respect.
In a sport that often clashes heads with the likes of Floyd Mayweather and Manny Pacquiao fans, it's good to see a legitimate champion using his boxing skills to destroy the UFC's best.
Dos Santos' combination of speed, power and technique is by far the best in the heavyweight division, which is highly significant, considering nearly every contender at that weight class likes to stand and bang.
Like or not, boxing has made its way onto the list.
5. Alistair Overeem's Body Kicks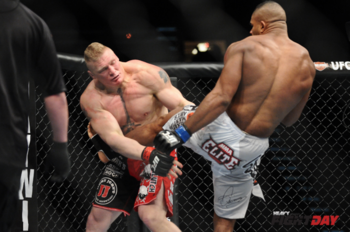 heavy.com
What happens when a 6'5", 256-pound kickboxer goes balls to the wall in his UFC debut?
Brock Lesnar's retirement. That's what happens.
The arrival of Alistair Overeem to the American MMA scene has captured a lot of people off guard.
The Dutchman arguably sports the most well-rounded striking skills of any heavyweight ever, let alone in a division with little to no kickboxing abilities.
Lesnar felt the pain of Overeem's deadly body kicks, shrinking in a moment when his career literally hung in the balance.
At this point, Overeem's power, speed, size and aggression easily complement his heavyweight title contention.
4. Kenny Florian's Elbows
mmamania.com
Kenny Florian has some of the most dangerous elbows in the game.
They're not only lethal in the clinch, but Florian's razor-sharp bows have culminated into one of the best ground-and-pound attacks around, let alone in the UFC's smaller weight classes.
And while many people wouldn't consider the Massachusetts product as a legitimate TKO finisher, you can't argue that Florian hasn't inflicted serious fight-ending damage when he's been on top of his opponents.
Just look at what he did against Joe Stevenson and Diego Nunes. Dude's elbows are like glass.
3. Frank Mir's Submissions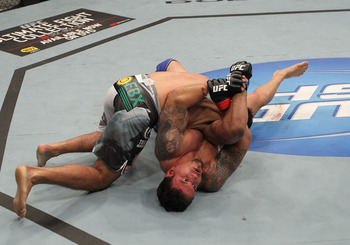 UFC.com
There really has never been a more dominant Brazilian Jui-Jitsu specialist at the heavyweight level than Frank Mir.
Seriously. The guy has literally snapped two arms on two different occasions.
One being the infamous Tim Sylvia arm bar at UFC 48 to win the heavyweight championship, and the most recent occurrence being his perfected kimura of Minotauro Nogueira at UFC 140, giving "Big Nog" his first career loss by way of submission.
The point here is that Mir's ability to capture an arm, or a leg, and break it has to be atop any list involving the most dangerous weapons in the UFC.
Honestly, I don't see Mir losing anytime soon.
2. Anderson Silva's Front Heel Kick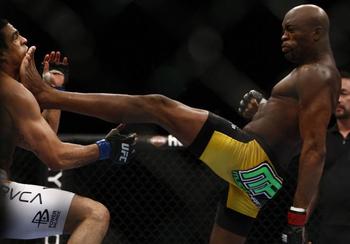 falkenblog.blogspot.com
The picture alone explains it.
Anderson Silva has revolutionized the sport of mixed martial arts to the point that he's more than likely going to be considered the greatest fighter in history.
On top of that, Silva may have secured the greatest KO of all time with his unprecedented front heel kick to the face of Vitor Belfort at UFC 126.
This kick has literally served as the forefront for attracting new UFC fans who had often been blinded by their own beliefs of MMA being a tug of war on the ground.
Who doesn't want to see fights end by one guy punching his heel through another guy's chin?
What makes this kick even more special is that Silva is one of a few fighters who has the correct mixture of size, speed, strength, discipline and unworldly timing to land this heralded finisher.
Even more so, the ease in which he does it often makes you wonder if he's actually trying.
1. Dan Henderson's H-Bomb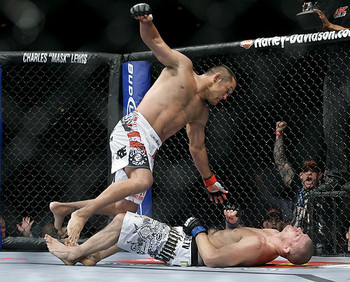 sbnation.com
For me, there's nothing more dangerous in MMA than a guy who can turn the lights off with one punch.
So it only seems natural to put Dan Henderson's famous "H-Bomb" on this list.
"Hendo" has been smashing faces for literally 14 years, including memorable TKO victories over Wanderlei Silva, Michael Bisping, Renato Sobral and Fedor Emelianenko.
Henderson's right hand is the reason why fans watch him. He throws his inhibitions to the wind and simply cocks back and lets loose.
Arguably the most feared punch in MMA, Henderson's wild bombs are evidence that you don't need to throw kicks, break arms, land elbows or take down your opponent to win a fight.
The "H-Bomb" is exactly what fans want to see and fighter's don't. One punch that can stop the clock and send the crowd into a frenzy.
For more UFC/Sports coverage, Follow @DHiergesell
Keep Reading