2012 NFL Draft Projections: Ryan Tannehill and Stars Who Will Fall on Draft Day
January 12, 2012

Darren Carroll/Getty Images
The NFL draft is all about the surprises. We love knowing that Andrew Luck is going to be the No. 1 overall pick, but it is what will happen after Indianapolis picks that make the event memorable. 
Every year, we sit back and watch as players drop because they didn't have a good workout, come with character questions, and/or don't fill the need of the teams picking. You feel bad for the player, but it is a sad reality of the draft process.
So which players in this year's class will further than their talent suggests they should?
Ryan Tannehill, QB
Normally, quarterbacks in the draft are a valuable commodity that teams are going to reach on. It happens every year. But this will be one of those years where a talent like Tannehill, who has prototypical size and solid physical attributes, falls into the second or third round. 
The biggest problem with Tannehill in college was his focus on the field. He could look like a superstar on one play, then come back the next play with a throw that makes you wonder if he has ever played the position. 
Physically, he should get a first-round grade. But his intangibles, and the fact that he is a powder keg, make him a risk that a lot of teams won't take early. 
Jared Crick, DT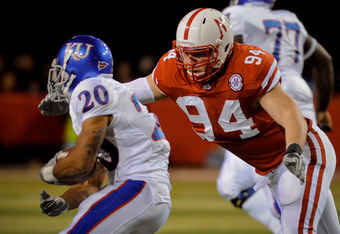 Eric Francis/Getty Images
Before the 2011 season started, if you would have said that Crick would fall out of the first round, most analysts would have laughed at you. 
But when Crick tore his pectoral muscle in early-October, everything changed. His stock has dropped, and it is entirely possible that he will end up being a second-round pick. 
The workouts and scouting combine will be a critical test for Crick to prove that he is back and ready to go as soon as he is drafted, but teams will look at that torn pectoral muscle as a red flag. 
David Wilson, RB
Chris Graythen/Getty Images
Wilson is a true first-round talent. He has good size for a running back and is one of the fastest players available in the draft. 
But as we have seen in recent years, unless you are a truly elite talent at running back, like Trent Richardson, teams are not going to take you until the second or third round. 
Wilson will likely be a second-round selection, but he will look like a bargain for whatever team snaps him up. He is going to make a difference right away, and could be even more valuable than Richardson relative to where they get taken.