New York Jets: How Did Mark Sanchez Get to This Point?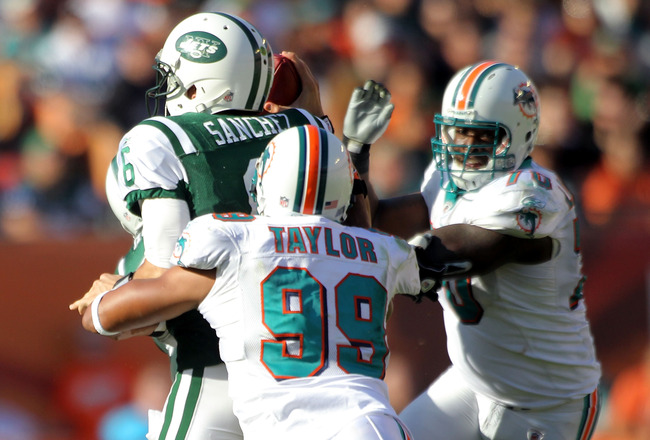 Marc Serota/Getty Images
In August I wrote a column elaborating on a statement by Greg Cosell that chastised Mark Sanchez and exploited all type of flaws that I have noticed in his performance, as well as the presentation from his coaches and the media.
I was very strong in my statements with little statistical backing. I expected to be villainized by the Jets fan base for calling out the next Broadway Joe when all they could recall about him were back-to-back championship game appearances in his first two seasons.
But what I saw in Sanchez was not something that could be pinpointed through numbers, but simply watching the game of football. I saw a "front runner," as Tedy Bruschi properly labeled him after one game in 2010. I saw a guy that was prone to letdowns after poor performances, and would constantly need to be bailed out by his running game, defense or a game against a lesser opponent to get back on track.
I was right.
I'm no dummy, and when I wrote this I knew I'd be criticized by seemingly overt bias against a team and a player. It was a justified retort, considering the harshness of my statements for a guy that hadn't even played 40 games yet. But after seeing him lauded over and over for four road playoff games and all that bologna, I felt the need to step up on behalf of what was right and what was wrong.
Let's reflect on the developments that have occurred and are most certainly ongoing. After failing to make the post-season for the first time in his brief career, the focus this off-season will be on the Sanchize's shortcomings because there are no championship game appearances to mask his blatant flaws.
I stand by my theory that Sanchez did not improve in 2011, nor did he regress. I do believe that the expectations created by a successful first two seasons have stunted his development, as it has become apparent he is terrified of committing a game-changing turnover. His insecurity as a quarterback was made evident in an interview late in the season where he cited improvement in every statistical category except interceptions as validation for progression.
Then, as Manish Mehta noted in Wednesday's alarming story, Sanchez bragged that he was "light years ahead" in recognizing defenses and managing the clock, a truly laughable statement. To prove how bad some of his clock management was, even Rex Ryan, who defends Sanchez as vehemently as Joseph Stalin would the Communist system, called his timeout against the Patriots "the stupidest thing in football history."
And it isn't even noteworthy anymore how abysmal Sanchez is at reading defenses. As I noted in my article in August, Sanchez does not go through his progressions, and when he does, he panics. His last interception of the year indicates just how reluctant he is to avoid throwing to his first target.
On 3rd-and-6 in the red zone, Sanchez dropped back and immediately saw a Dolphins linebacker hovering over Shonn Greene, his primary read on the play. So what does he do? He keeps his eyes locked on to Greene, a poor receiver at running back that will most certainly not break away from tight coverage, hops back several steps in the pocket, and throws a pick that was promptly intercepted.
It was vintage Sanchez. Reluctance to look elsewhere on the play, happy feet even with no threat of a pass rush and a poor result.
I could go on and on dissecting all of Sanchez's flaws in the game, but at this point they are all very well understood. The biggest issue is how can the Jets handle Sanchez moving forward?
Every time I consider Sanchez's future, I think back to a quote that Ryan dropped in his book about how highly he thinks of Sanchez.
"Honestly, the kid is unbelievable," Ryan writes. "He's not just a guy with GQ good looks and a good arm. He's the real deal… I refer to him as 'my baby.' I know that may not be the most masculine way to put it, but it's the truth, he is absolutely my baby.
He wasn't just my first draft pick as an NFL head coach; he was the first of many important decisions I was going to make for this franchise. He's my guy, and I'm damn proud of it! I still have his draft card at home, tucked away in a drawer. I plan to get it framed one day."
I wonder how much that draft card is worth now, Rex. All joking aside, this statement is among hundreds where Rex either exhibits how delusional he is or how he is the best liar on the planet. But quotes like these are why Tannenbaum and Rex refuse to acquire a serviceable backup for Sanchez.
I mean seriously, Mark Brunell? If Sanchez suffered a serious injury, and no, I don't mean the ones he embellishes on a seemingly weekly basis, Tannenbaum could have been on the chopping block with Jerry Angelo and Jim Irsay for going out of his way to make his franchise quarterback feel secure in his job. That's a joke. And players have noticed.
"They see the organization babying him," said a Jets source. "They see him with a sense of entitlement. He's been given all this and hasn't done anything. They call him 'San-chise.' They make him the face of the organization. They gave him the captain tag. He's not a captain. He should have never been a captain."
Regardless of the unnecessary and exaggerated steps the Jets have taken to avoid hurting Sanchez's feelings, the Jets can no longer postpone questions about his development by saying "two championship games" and closing the discussion. This is a current and relevant issue. And because the Jets have gushed and gushed over Sanchez the last few seasons, there is no way they get rid of him within the next season.
They are essentially stuck with him, for better or worse. And at this point, it looks like the latter.
This article is
What is the duplicate article?
Why is this article offensive?
Where is this article plagiarized from?
Why is this article poorly edited?

New York Jets: Like this team?