NFL Playoff Predictions: San Francisco 49ers Will Be Embarrassed by Saints
January 11, 2012
Ezra Shaw/Getty Images
The San Francisco 49ers finished up their fairy-tale 13-3 season with three straight wins, but the bye week and playing the New Orleans Saints may have just doomed the dream.
As good as San Francisco's season was on paper, the 49ers benefited from arguably the easiest schedule in the NFL this season and the weakest division in football by far. With all that said, the 49ers still came out and pulled the trigger when they had to.
The 49ers earned their home-field advantage, but that will all be out the window when these two teams square off on the field. The better team will walk away victorious.
That team will be the Saints.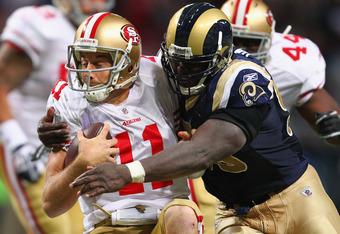 Dilip Vishwanat/Getty Images
Starting with the San Francisco offense, 49ers fans have to be so happy with the way Alex Smith has played this season. While he is still not living up to the No. 1 pick spent on him, he is limiting his turnovers and capitalizing on the chances he is given. Seventeen touchdowns are mediocre at best, but only 10 turnovers all season is what helped the 49ers win so many games.
The 49ers' problem is that the passing game is based off play action and without a consistent run game, Smith tends to disappear. While the Saints defense is ranked in the bottom third of the NFL, their 12th-ranked run defense is still solid enough to stifle Frank Gore and force Smith to air it out.
With all that considered, the most San Francisco will score on a porous Saints defense would be 27 points.
Will New Orleans outscore the 49ers?
You better believe it. Not only are we talking about a New Orleans offense that is the second-best in the whole league, but this is a team that has won nine straight games and is the hottest in football. Five of those last nine victories were against playoff teams as well.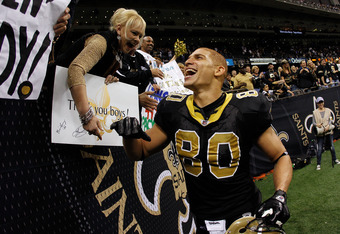 Chris Graythen/Getty Images
With the new NFL single-season passing champion Drew Brees slinging the ball to standout tight end Jimmy Graham and the stellar wide receiver crew, it will be easy for the Saints to make San Francisco's 16th-ranked pass defense look like it's ranked 26th.
The Saints will have to move the ball through the air and around the edges because the middle is full of elite run stoppers like Patrick Willis. New Orleans needs to get the run game going via the screen passes and tosses that will keep their speedsters from the 49ers' tough linebackers.
I see this game being close in the first half, but New Orleans blowing San Francisco out in the second half like it did against the Detroit Lions. Sorry 49ers nation, the truth hurts.
Check back for more on the National Football League as it comes, and check out Bleacher Report's NFL Page to get your fill of all things football.