Is the Los Angeles Lakers' Kobe Bryant the Best Scorer Right Now in the NBA?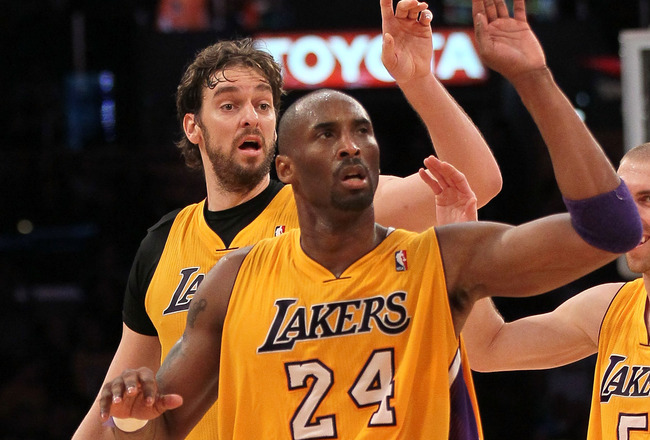 Stephen Dunn/Getty Images
Los Angeles Lakers future Hall-of-Fame shooting guard Kobe Bryant scored 48 points in a 99-83 win over the Phoenix Suns at the Staples Center on Tuesday night.
Kobe has been on fire in 2012, scoring over 30 points in three out of the last five games and one bucket shy of 50 points on Tuesday night. Over the last five games, Kobe is averaging 36 ppg and has moved into second place overall in scoring (as of Jan. 11, Kobe is trailing LeBron James by 0.2 ppg).
LeBron James has become even more dangerous this season. Kevin Durant is the two-time defending scoring champion. And Blake Griffin has received the Chris Paul statistical boost.
The question is, could 33-year-old Kobe Bryant still be the most lethal scorer in the NBA?
Here is a look at the top 10.
10. Ray Allen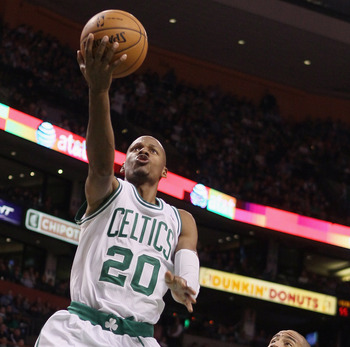 Elsa/Getty Images
Dwight Howard, Dirk Nowitzki and Kevin Love will not be on this list. Crazy? Maybe, but let me explain why I have Ray Allen at No. 10.
Quick sidenote for all the Toronto Raptors fans: I have not forgotten about Andrea Bargnani. I debated putting him in this slot. Bargnani is quietly at 23.5 ppg with 51.5 percent from two and 30 percent from behind the arc. The seven-footer is playing the best basketball of his career.
Nowitzki will heat up as the season goes on, Howard is still the most dominant big man and Love's 42.4 field-goal percentage (but a surprising 40.7 percent from deep) were not enough to crack the top 10.
So, without further ado, here is why Ray Allen starts my list.
Allen is at 20.4 ppg. He shoots 57.5 percent from two and a remarkable 63.4 from three-point range.
The 36-year-old Allen is truly like a fine wine, becoming better with age. He can still get his shot off with minimal space, and his endurance is like a marathon runner, making him seem 10 years younger than he is.
9. Monta Ellis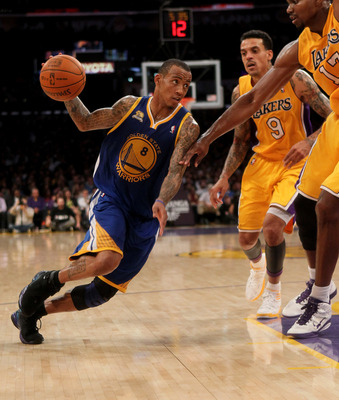 Stephen Dunn/Getty Images
I think Monta Ellis's career will be an extremely confusing one to review in 10 years. We will remember this era for Kobe Bryant, LeBron James, Dwyane Wade, Dwight Howard or even the younger guys like Derrick Rose, Kevin Durant and Blake Griffin.
But Monta Ellis?
I bet most casual, or even hardcore NBA fans, would list at least 20 players before Ellis' name comes up.
However, Ellis is No. 5 in scoring right now. He's finished in the top 10 for scoring in each of the last two seasons, and although streaky, when Ellis is on one of his hot nights, he is capable of scoring in the 40s.
8. LaMarcus Aldridge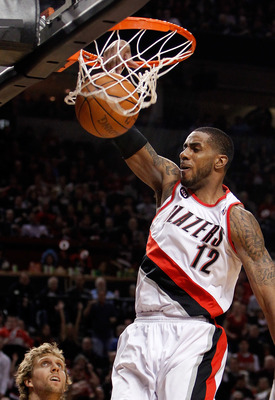 Jonathan Ferrey/Getty Images
LaMarcus Aldridge should get far more attention for what he has done the last couple seasons in Portland.
Brandon Roy, Greg Oden and LaMarcus Aldridge were supposed to be the Trail Blazers' Big Three. Two-thirds of that has not worked out. But under Aldridge's leadership, the Trail Blazers have been a playoff team, and this season, the Trailblazers look poised to make a run at the Western Conference Finals.
Aldridge is a polished low-post scorer with a great mix of back-to-the-basket moves (his baby hook is the smoothest in the league) and a quick step in his face-up game.
Aldridge is scoring 22.1 ppg and should go toe-to-toe with Blake Griffin for the right to start as the power forward in this year's All-Star Game.
7. Derrick Rose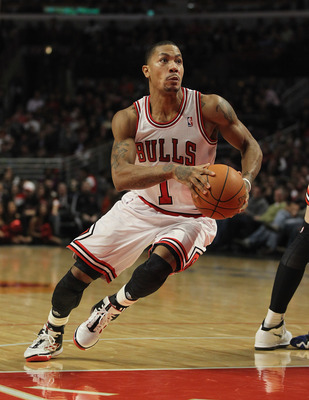 Jonathan Daniel/Getty Images
Derrick Rose's ppg numbers will more than likely go down this year from his MVP marks last season (they are currently about 5 ppg lower). But do not mistake the statistical dip as Rose having a setback.
The fact of the matter is the Bulls are even better this year than they were last season. They have a much more balanced offense.
Last season, starting shooting guard Keith Bogans averaged 4.4 ppg. This year, his replacement Rip Hamilton is at 12.4 ppg. Luol Deng and Carlos Boozer are each around 15 ppg, and the Bulls have six guys giving them between six to nine ppg.
Rose can still get to the rim with ease and has shown a greater ability to hit from outside. He does not have to do everything on his own this year, but if the game is on the line and the Bulls need a basket, Rose is still one of the most dangerous players in the league.
6. Blake Griffin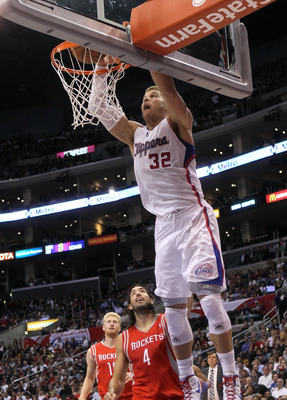 Stephen Dunn/Getty Images
Blake Griffin was an All-Star without Chris Paul. With the elite point guard now on the roster, Griffin is that much more dangerous.
Griffin is sixth in the league in scoring at 23.7 ppg.
What makes Griffin harder to defend this season is the pick-and-roll option and the ability for Paul to get in the lane. As a defender, if you see Paul coming toward the basket, you are left in no-man's land trying to decide, "Do I step up and give up the lob, or stay back and let Paul get a floater?"
The whole experience is a nightmare defensively because you are constantly having to be aware of Griffin, whether he has the ball or not.
5. Dwyane Wade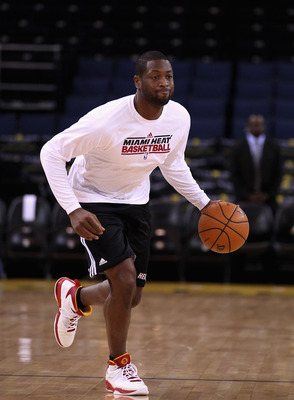 Ezra Shaw/Getty Images
After sitting out for three games, Dwyane Wade came back in a big way Tuesday night scoring 34 against the Golden State Warriors.
Now that we are in the top five, the gaps between players becomes almost non-existent.
Can a case be made for Wade at No. 1? Absolutely.
However, he hasn't been able to get his rhythm going yet this season to justify a higher ranking.
Keep an eye on who starts taking more shots and scoring more points down in Miami. Either way, the Heat look tougher than they were a year ago.
4. Kevin Durant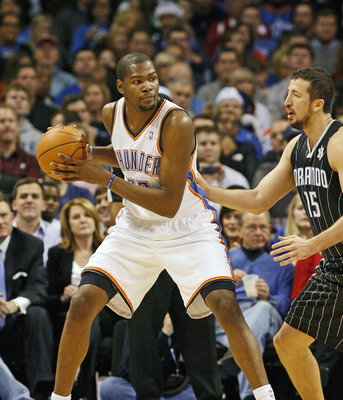 Brett Deering/Getty Images
In a similar situation as Derrick Rose, the Oklahoma City Thunder are a better team now and do not need Durant to score as much as he did during his scoring-champion years.
Russell Westbrook and James Harden are both 17-plus ppg guys, and the Thunder may be in the NBA Finals in a few months.
But even when Durant was scoring champion, I still thought LeBron James and Carmelo Anthony were more lethal scorers.
Durant is a better outside shooter than LeBron, but he can't physically dominate his opponent the same way. Carmelo can shoot just as well from outside, but he has the size to go back to the basket in ways Durant can not.
At 23 years old, Durant is further along than almost any superstar was at the same age. I'd like to see him continue to get stronger and develop a more physical aspect to his game.
3. Carmelo Anthony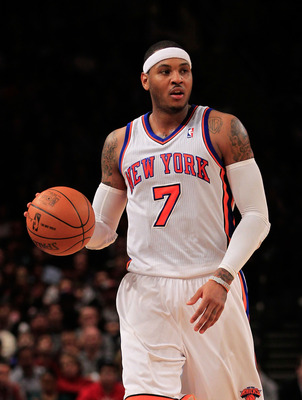 Chris Trotman/Getty Images
Carmelo Anthony is at 26.6 ppg. He is shooting a high percentage from all spots on the floor and has made the New York Knicks his team.
If you forget about the messy Denver Nuggets trade situation and Carmelo's history of playing less than intense defense and focus solely on his offensive skills, you will see Carmelo is as good as anybody.
There's a reason he led the Olympic team in scoring during the gold medal run in 2008.
Carmelo is a better outside shooter than LeBron James and is comparable to Kobe Bryant and Kevin Durant. Carmelo has the best post-up game of any of the small forwards. He has a highly effective, quick jab step that allows him enough space to create shots.
If you want to see why I put Carmelo at No. 3, revisit the film of Game 2 vs. the Boston Celtics in last year's playoffs.
2. LeBron James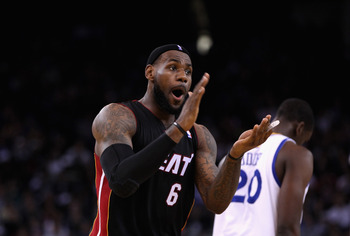 Ezra Shaw/Getty Images
Best offensive player? Yes. Best overall player? Yes. Best Scorer? Not quite.
Right now, LeBron James is at 29.7 ppg, 7.6 apg and 8.0 rpg. Those are MVP numbers.
I think his scoring will dip a little bit now that Wade is back, but I still expect him to end up around 27, 8 and 8 on the season.
I want the ball in LeBron James' hands because I know he can either get to the basket, create a shot for someone else with all the attention he attracts or make a bullet pass to a guy I didn't even know was open.
James is a dominant force and is playing some of his best basketball this season.
LeBron has also shown us his work with Hakeem Olajuwon in the offseason was highly beneficial. He is a much better back-to-the-basket player, and giving LeBron more ways to beat his defender is scary.
The problem is he has not developed that three-point shot. He is yet to hit one this season. There are still questions left to be answered about him in the final minutes, but make no mistake, LeBron is well on his way to being the MVP this season.
Which means our No. 1 scorer right now is ...
1. Kobe Bryant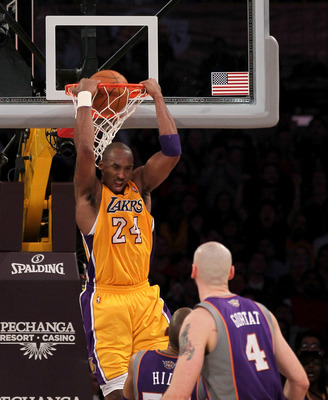 Stephen Dunn/Getty Images
Kobe Bryant's 16-point performance on Jan. 1 against the Denver Nuggets led to a lot of criticism. Kobe heard it all and let it motivate him. He has scored 36 ppg ever since.
Kobe is not at full strength either, but he knows that without him in the lineup, the Lakers are probably not even a playoff team. He is willing the Lakers along and could pass LeBron in scoring during the week.
If you watched the postgame interview Tuesday night, you could see that Kobe is bitter and has a chip on his shoulder. He hates seeing himself ranked as No. 7. He is tired of hearing that he's too old. And he wants to prove everyone wrong.
An angry Kobe is a very dangerous Kobe.
The offense is actually built better for Kobe this season, and he can still beat his defender from the outside with a drive to the rim or back-to-the-basket play.
Keep Reading

Los Angeles Lakers: Like this team?