Predicting Top 10 Heisman Candidates for Next Season
Leon Halip/Getty Images
Now that Robert Griffin III has declared for the NFL draft, next year's Heisman Trophy race is wide open.
It is still eight months until the 2012 regular season starts, but it is never too early to discuss college football's most prestigious award.
The contenders will mostly consist of players who had good seasons but are on the brink of becoming elite. Next year these players should make that jump.
With 10 of the last 12 Heisman Trophy winners being quarterbacks, the list will focus mostly on that position with players who can lead their team to plenty of victories.
10. Tyler Wilson, QB Arkansas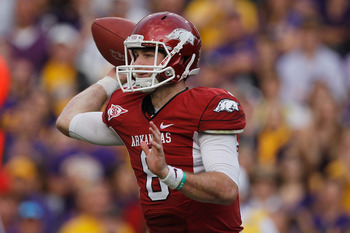 Chris Graythen/Getty Images
Arkansas finished in the Top Five in both the AP Poll and Coaches Poll, and Tyler Wilson was a big reason for the success.
The Razorbacks did not miss a beat when starting quarterback Ryan Mallett left for the NFL.
In his first full season as a starter, Wilson was very efficient with 24 touchdowns to only six interceptions.
The problem is that the junior struggled against elite competition this season, with his two worst games against LSU and Alabama.
Wilson will need to improve against these teams if he wants to be considered among the best in the nation.
9. Sammy Watkins, WR Clemson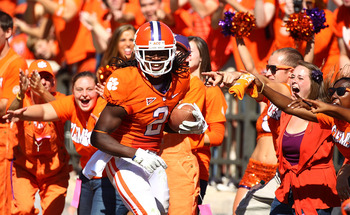 Scott Halleran/Getty Images
Though he was only a freshman, Sammy Watkins proved this season that he is one of the most dynamic players in college football.
He had 1,219 receiving yards with 12 touchdowns, but that is only part of the story. Watkins also added 826 return yards and 231 rushing yards.
His versatility is the reason that Clemson won the ACC this season and will be contenders going into next year.
8. Geno Smith, QB West Virginia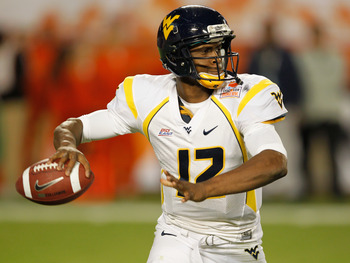 Streeter Lecka/Getty Images
There is still a question about whether West Virginia will be in the Big East or Big 12 next season, but wherever the team is, it will be successful because of Geno Smith.
The quarterback did not receive a lot of press this season, but he was one of the most successful players in the nation.
Against the tough LSU defense, Smith threw for 463 yards and two touchdowns. In the Orange Bowl, the junior had six touchdown passes.
This talented player cannot be ignored any longer.
7. Aaron Murray, QB Georgia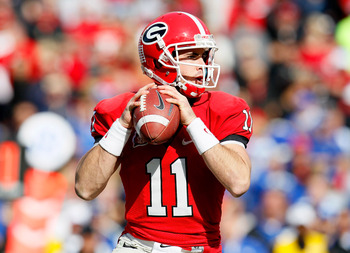 Kevin C. Cox/Getty Images
Aaron Murray still has some growing to do, but there is little doubt he will eventually become one of the best players in the country.
The quarterback has thrown for over 3,000 yards in each of his first two collegiate seasons and led Georgia to the SEC Championship Game this year.
The Bulldogs are returning a lot of talented players and can be an outside contender for the national title next season.
A good year by Murray will take Georgia over the top and put the quarterback on many Heisman ballots.
6. Collin Klein, QB Kansas State
Brett Deering/Getty Images
I do not know if there was a more underrated player in college football this season than Collin Klein.
Kansas State won 10 games for the first time since 2003 and had a better conference record than more publicized teams like Oklahoma and Baylor.
Klein is an impressive dual-threat quarterback that finished second in the nation with 27 rushing touchdowns. He was also one of only three quarterbacks to rush for over 1,000 yards this season.
With other talented quarterbacks leaving school, Klein immediately becomes one of the best players in the Big 12 at his position.
5. Denard Robinson, QB Michigan
Matthew Stockman/Getty Images
Denard Robinson did not have the best performance on the national stage in the Sugar Bowl, but the important thing is that Michigan won the game.
That win will be key heading into next season as Brady Hoke will try to make the Wolverines back into national title contenders.
Robinson is one of the best running quarterbacks in the nation and will attempt to be the first one to win the Heisman trophy since Eric Crouch of Nebraska in 2001. (Troy Smith and Tim Tebow were both successful runners, but had much better passing statistics)
Voters already are aware of what the junior can provide, so Robinson's chances of winning the Heisman will be heavily tied to the success of Michigan.
Every win will equal more votes for the quarterback.
4. Tyrann Mathieu, CB LSU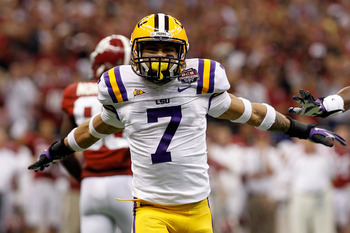 Chris Graythen/Getty Images
The hardest thing for a defensive player to do is get noticed by voters.
Tyrann Mathieu took care of that problem by always being in the spotlight. He was constantly causing turnovers and returning punts and generally being wherever the ball was.
The attention helped him become a Heisman finalist and finish fifth in the voting.
Next year the cornerback will come in with enough hype that he might be able to get over the top and become just the second defensive player to win the award after Charles Woodson in 1997.
The "Honey Badger" could also play some offense as well if he wanted to increase his chances of winning.
3. Landry Jones, QB Oklahoma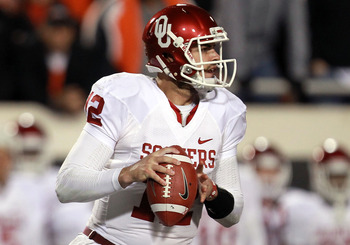 Ronald Martinez/Getty Images
Halfway through the season, Landry Jones looked like one of the favorites to win the Heisman Trophy and a future first-round pick in the 2012 NFL draft.
Unfortunately a poor finish to the season will have to delay both of these honors.
Jones has decided to remain at Oklahoma for another year, and it is probably a good decision. In the last four games, the quarterback threw six interceptions and only one touchdown.
Hopefully next season he finds the magic that allowed him to throw for over 12,000 yards so far in his career.
2. Montee Ball, RB Wisconsin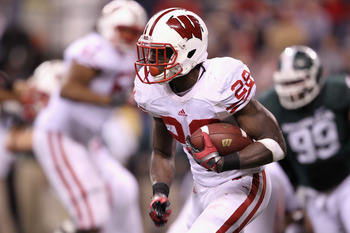 Andy Lyons/Getty Images
Few people expected Montee Ball to have the type of season he had, but college football fans will be able to watch him do it again next year.
The Wisconsin running back led the nation with 1,923 rushing yards and 39 total touchdowns.
Although the wide consensus was that Trent Richardson was better because he produced against better defenses, it will be hard to ignore Ball if he can duplicate his performance next season.
He will also most likely have the honor of being the highest placing Heisman finalist to be returning next season.
1. Matt Barkley, QB USC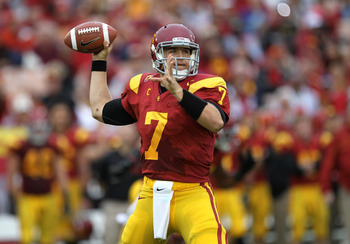 Stephen Dunn/Getty Images
Matt Barkley played the last two seasons in obscurity, serving out a probation that neither he nor anyone else on the team was responsible for.
Fortunately the postseason ban for USC is now over, and the entire roster is ready to prove that the Trojans are one of the best teams in the country.
This season Barkley took his team to a No. 6 ranking in the AP Poll, defeated Oregon and narrowly lost to Stanford in triple-overtime.
Individually, the quarterback was third in the nation with 39 touchdowns but threw only seven interceptions.
He also could be an early favorite for the top pick in the 2013 NFL draft.
If USC can accomplish what it is capable of, Matt Barkley will take home the 2012 Heisman Trophy.
Keep Reading