Sarah Burke: Olympic Medal Contender's Fall Shocks Ski Community
January 11, 2012
Doug Pensinger/Getty Images
Five-time X-Games medalist Sarah Burke is in critical condition and a coma after a fall at a sponsor's event in Park City, Utah.
The Canadian freestyle skier is largely considered a medal contender at the 2014 Winter Olympics in Sochi, Russia.
According to Canada.com's report of the incident, she was airlifted to a hospital in Salt Lake City:
Early reports indicated that Burke had to be resuscitated on the hill before being flown to hospital. The rest of the Canadian team is currently training at Whistler.

Canadian Freestyle Ski Association CEO Peter Judge said he and his organization were in a state of shock when they got the news.

Judge wasn't fully aware of the details but said he thought she'd done a trick and landed at the bottom of the pipe. She apparently bounced sideways onto her head.

"Apparently it didn't look like it was that bad of a fall but she must have hit right in the worst place," Judge said.
Burke won gold at the Winter X-Games from 2007-2009 and again in 2011. 
She is married to a fellow Canadian freestyle skier, Rory Bushfield, who was on his way to Salt Lake City late Tuesday night after struggling to find a flight.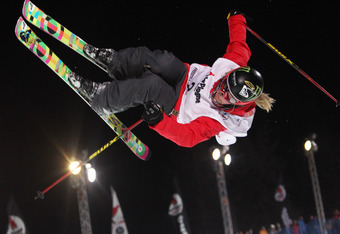 Christophe Pallot/Agence Zoom/Getty Images
She finished fourth at the 2011 World Championships at Park City and is considered a pioneer in the sport.
Judge talked of her competitive drive saying, "She never rested on her laurels. She was always willing to take the competition and make it about what she could do and not about beating other people."
The 2014 Games only added ski half-pipe in April of 2011, with Burke playing an in "instrumental" role its inclusion.