NFL Draft 2012: Minnesota Vikings and Squads That Will Whiff on Draft Day
January 11, 2012
Hannah Foslien/Getty Images
Every year in the NFL draft, there are teams that make you scratch your head with their picks.
A good first-round pick can set the tone for a great draft day; a bad pick can do just the opposite.
So, in the 2012 NFL draft, which teams will set themselves up to fail?
Let's take a look at three teams that will botch their first-round picks this April.
Minnesota Vikings
The Vikings could really use a guy like Justin Blackmon, but the St. Louis Rams will probably take him at No. 2.
If the Vikings added Blackmon to their offense that already features Adrian Peterson, Percy Harvin and Christian Ponder, they'd be pretty dangerous.
Instead, they'll probably have to settle for Matt Kalil, a tackle from USC.
Kalil would definitely be an upgrade over Charlie Johnson at left tackle, but he's not worthy of a top-three pick.
He'll help out a little bit, but the Vikings will end up wishing they had taken someone else or traded down.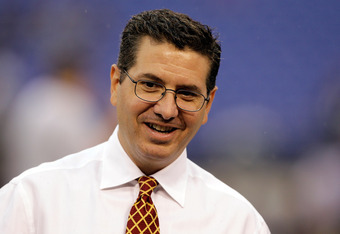 Rob Carr/Getty Images
Washington Redskins
The Cleveland Browns will probably take Robert Griffin III at No. 4. And, if they don't, another team might try to leapfrog the Redskins for the chance to get him.
I don't see RGIII being available when the Redskins pick at No. 6.
So, what will they do? Trading back to get Ryan Tannehill or Kirk Cousins would be a mistake. So would taking Trent Richardson.
But, I don't see Dan Snyder and Mike Shanahan being able to pass on a guy like Richardson, even though they already have Roy Helu, Tim Hightower, Ryan Torain and Evan Royster.
The smart pick would be Alshon Jeffery, but Snyder hasn't done many smart things since buying the Redskins.
Buffalo Bills
The Bills could really use some help in their receiving corps, on the offensive line and defensive line.
A guy like Whitney Mercilus from Illinois, who led the nation in sacks last year, would look like a good pick, but he wouldn't fit into the Bills' system.
They really need someone like Courtney Upshaw, who can play the other OLB position opposite Chris Kelsay.
Mercilus is more of a 4-3 defensive end, not a 3-4 guy.
Still, expect the Bills to botch this pick at No. 10.