2012 NFL Draft Projections: Andrew Luck and Studs Who Won't Meet Expectations
January 11, 2012
Donald Miralle/Getty Images
The 2012 NFL draft is coming fast, but there are many questions that need to be answered before the final picks are made.
While there are studs and locks all through this draft, many of the picks deemed NFL ready may actually be the furthest thing from it at this point.
Andrew Luck, Robert Griffin III and Justin Blackmon are all huge names that won't live up to the hype, and here's why.
Andrew Luck
The No. 1 overall pick in the NFL draft comes with enough pressure already, but add the fact that Luck will have to back up or replace a future first-ballot Hall of Famer in Peyton Manning, and the job is damn near impossible.
Luck has all the things NFL teams are looking for: the strong arm, the pocket presence and the field vision to make the right play in key situations. Judging from his film at Stanford, Luck looks ready to play in the NFL right now.
The problem is that no matter how good he is, the comparisons to Manning will always be there. The expectations set forth by the organization for Luck will be based off what Manning was doing under center. That may be too much for Luck to handle.
Robert Griffin III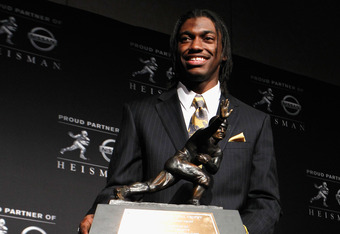 Jeff Zelevansky/Getty Images
Robert Griffin III showed this season that he can be the most dominant college football player in the nation, but a Heisman Trophy won't save him from crushing expectations in the NFL.
When a coach like Mike Shanahan gets his hands on a dual-threat quarterback like Griffin, he will throw the book at him. As it always is, the problem with Shanny is that he tries to outsmart everyone, and that will kill Griffin's chances of being a successful NFL quarterback.
After time in Washington, I could see the star reviving his career elsewhere, but he will not succeed in D.C. with the kind of expectations Shanahan and the organization will put on him.
Justin Blackmon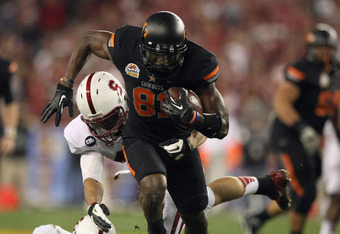 Donald Miralle/Getty Images
The Oklahoma State Cowboys' star wide receiver is one of the best wide receivers to come out in the last five seasons. His size and ability to catch anything thrown his way will make him a valuable asset to whichever team grabs him.
As good as Blackmon is, he showed that when he is caught against a tough coverage cornerback he can be shut down. There are many good cornerbacks in the NFL on every team, so if he had trouble in college, I imagine the issues will carry over.
While he can turn into the slot receiver type Anquan Boldin has become in Baltimore, Blackmon will end up on a bad team with a terrible quarterback situation. With a whole new level of coverage and a lack of playmaker at quarterback, expect a rough start to Blackmon's career.
Check back for more on the National Football League as it comes, and check out Bleacher Report's NFL page to get your fill of all things football.