Red Sox Rumors: Could Johnny Damon Return to the Boston Red Sox in 2012?
January 11, 2012
Elsa/Getty Images
Low risk with a high reward.
Isn't that the type of player Ben Cherington is showing Red Sox Nation he is interested in signing this year? Aaron Cook, Carlos Silva and Justin Germano fit that bill.  They've traded for Mark Melancon, a pitcher that I'm willing to bet had 90 percent of Red Sox Nation scratching their heads wondering who the heck he was.
The biggest splash thus far has been Andrew Bailey. 
If the season started today, the Red Sox would roll out a starting rotation of Jon Lester, Josh Beckett, Clay Buchholz, Daniel Bard and either Silva or Cook.  It isn't exactly ideal, but there are still 39 days until pitchers and catchers have to report for spring training, so things can change.
Be that as it may, the Red Sox would have a starting five rotation to roll out.  You can argue the strength of it all that you want. That's not my point.  
The greater point is that there is still a pretty big question mark remaining in right field.
With Ryan Kalish out for the beginning of the season, the Sox have two options. They can start the season platooning Darnell McDonald, Ryan Sweeney and Mike Aviles trolling Pesky's Pole, and while it could work, I'm not sold on it.
This, my friends, is where I speculate.  Why not bring back Johnny Damon to start the season in right field?
Let's get the negative out of the way.  I am well aware that he is 38 years old.  I am aware that in 147 games playing right field he posts a -0.6 UZR with a .981 fielding percentage.  I am also aware that he posted his lowest batting average in 2011 since 2001.  He doesn't have the same speed he once did, nor does he have an incredibly strong arm.  
Did I get it all, or did I miss something?
On a positive note, Johnny Damon would only really need to play a majority of the time at the start of the season.  McDonald and Sweeney could spell him a rest from time to time.  However, since being a full time player, Damon has not played in fewer than 141 games during his career.  I doubt he would need much rest.  
In Boston, we know Damon is tough.  He'd run through walls to make a play and nearly did on several occasions for the team.
Damon is a career .286/.353/.435/.739 batter.  In Fenway Park his career numbers are a bit better than that: .307/.379/.443/.822. And that includes his numbers as an opponent to the Sox.
Against the Red Sox AL East opponents, Damon posts a career .281/.347/.436/.784 batting line.  He has played the Orioles, Yankees, Rays and Blue Jays a total of 777 times.  During that time he has managed 868 hits, 92 home runs and 378 RBI.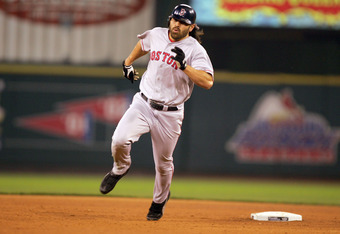 Ezra Shaw/Getty Images
If you want to play with the numbers and divide that 777 by 162 games, it works out to roughly 4.8 seasons of play against said teams.  His average offensive numbers would work out to 181 hits, 19 home runs and 79 RBI.  
Not bad against the toughest division in baseball. 
The reality is, Johnny Damon knows Boston.  He knows the city, the fans and the ballpark. 
He would also come at a fairly cheap price.
From 2009 to 2010, Damon took a 38 percent pay cut.  He went from making $13 million with the Yankees, to signing a one-year deal with the Tigers that paid him $8 million.  From there, in 2011 he signed a one-year deal with the Rays for $5.25 million — a 34 percent pay cut from the previous year.
The way I see it, the Red Sox might be able to acquire Damon's services for a year at a 30 percent pay cut from 2011— or $3.665 million.  
I would consider that a bargain.
While Damon's numbers in 2011 were not career highs for him, the man still drove in 73 RBI off of 152 hits, adding 16 home runs in just 150 games.  Damon is a line drive hitter that gets on base.  The Red Sox could do a lot worse than bringing Damon back.
A lot worse.