Hines Ward: Willing to Do Whatever It Takes to Be a Steeler
January 11, 2012
Justin Edmonds/Getty Images
One of the hardest things for a professional football player is to know when to retire. Pittsburgh Steelers wide receiver Hines Ward is now at that crossroads in his career.
However, he is not ready to stop playing football and he is willing to do whatever it takes to stay with the only team he has ever played for, and the team should abide by restructuring his contract.
Hines turns 36 years old on March 8th, and because of a clause in his contract that has him signed with Pittsburgh for at least two more years, the club has to let him know by March 1st if they are going to bring him back for another year.
If they do not, then they can release Ward, making him a free agent. 
However, Ward recently spoke with the Pittsburgh Post-Gazette about his contract situation:
"I'd probably have to restructure my contract," Ward said of the pay cut. "That's fine with me. I recognize that. I'm telling you I want to be here, I'm telling you I'm willing to do that. And I understand the ramifications -- we have the cap number and stuff, but I want to be here." 
Ward is a smart player and understands that if the Steelers want to move into another direction with younger players, then he will move on as well saying, "It would be weird, not how I want it to happen. But I do want to play. I still think I can play. I'm not even thinking like that -- what if. If that scenario happens, I'll be devastated, but I do want to play football."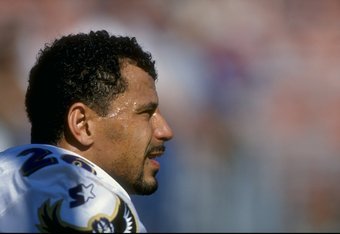 David Taylor/Getty Images
Seeing Hines in another uniform would be weird. However, it wouldn't be the first time that Pittsburgh has cut an aging veteran only to see him in another uniform.  
Who could forget seeing Franco Harris in a Seattle Seahawks uniform, or Rod Woodson in a San Francisco 49ers, Baltimore Ravens or Oakland Raiders jersey?  
It's hard to fathom Ward playing in a city other than Pittsburgh. However, that is the nature of the beast. Hines is this generation's greatest Steeler; in fact he is the '00s version of Terry Bradshaw, Lynn Swann, Jack Lambert and Harris.  
Yes, Hines will be one the oldest players on the roster if he is brought back next year. However, he has come to grips that he isn't the main guy, or even a starter, saying:
"Obviously, I was a starter, and then it went the way it did. That's fine, I don't have a problem with not starting. But I want to play, I want to try to win another Super Bowl. I want to do it for this organization. I want to help this team out. I still think I can help this team, on the field, off the field with the younger guys, still be there for the team. I'm willing to do all that."
Hines will go into the Hall of Fame when his career is done. Hopefully for Steelers fans, and for Hines, the only team that will go next to his name will be the one he's called home for the last 14 years.