Viktor Stalberg's Hat Trick First Sign of Stepping Up for the Chicago Blackhawks
January 11, 2012
Jonathan Daniel/Getty Images
The Chicago Blackhawks were in dire need of some players to matter on the scoreboard in the aftermath of an injury to Patrick Sharp. With a void in the top six for the next few weeks, a call is going out throughout the roster.
If Tuesday night's 5-2 defeat of the Columbus Blue Jackets is an indication, the call has been answered by several players.
Viktor Stalberg was the game's first star after posting the first hat trick in the United Center by a member of the Blackhawks in almost two years. But that was just the beginning of the Chicago push.
Dave Bolland got the scoring started in the second period with a short-handed goal off a feed from Marian Hossa. Ben Smith celebrated his return to the team with a backhanded shot that found the twine.
For a team going through a rash of injuries at the moment, it was heartening to see the 'Hawks get such production out of the supporting cast. Especially after we all saw Jonathan Toews being helped from the ice.
The captain returned to the game with a pair of stitches, serving as an ominous reminder of how quickly things can turn in hockey. Winning teams need depth to weather the storm when the big boys miss time.
Stalberg definitely led the charge in this respect, playing top-line minutes in Sharp's stead. The swift Swede got himself to the net, converting on a pass from Patrick Kane in the second period.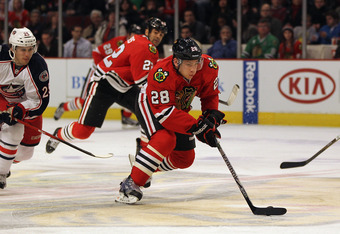 Jonathan Daniel/Getty Images
The same attitude led him to flipping a rebound over Curtis Sanford to give the Blackhawks a two-goal advantage in the third period. Stalberg also drew a delayed penalty that gave his team an extra man on the attack leading up to the goal.Stalberg's third goal came on an empty net, but showcased the hustle displayed throughout the game. Naysayers can lament the absence of Sanford in net as well as the fact that seven of Stalberg's 12 goals this season have come courtesy of the hapless Blue Jackets.
On the other hand, if lighting up Columbus is so easy, why didn't anyone else do it?
In just 40 games, Stalberg has set a new career-high in scoring. He's currently on a pace to score 20 goals. Stalberg is also picking up time on the power play with Sharp on the injured list.
The last time the Blackhawks posted a hat trick in front of a home crowd was March 7th, 2010. Andrew Ladd, a player many 'Hawks fans still covet from the Cup squad, lit up the Red Wings for the trifecta. Could Stalberg be rounding out into a player with Ladd's presence before our eyes?
If so, it comes at a very opportune time for the Blackhawks.