2012 MLB Free Agency: Every Team's Move That'll Backfire Immediately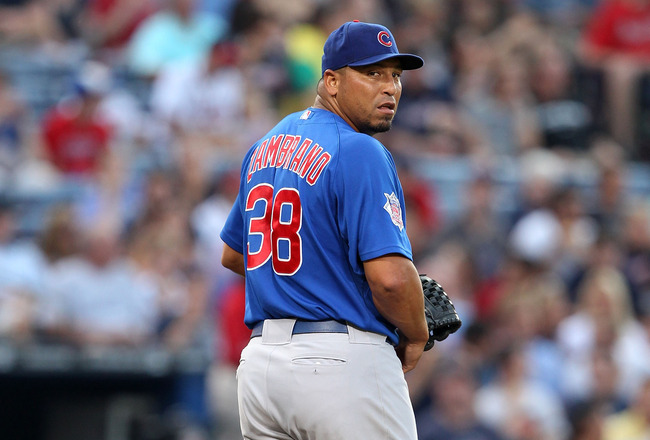 Mike Zarrilli/Getty Images
Your favorite MLB team made a mistake this offseason and I have the slides to prove it.
I'm not talking just any mistake, I'm talking about the kind of errors so egregious you'll know as soon as July rolls around that the deal was bad one.
These are the trades, signings and curious bouts of inaction that will have you ranting on message boards and call-in shows for years to come. They are the moves stoking that defiant little voice in your head that says you could run a MLB team just as well as any of the front office neanderthals.
So go ahead, mark these down as losses in the winter standings and hope they don't torpedo your chances in the summer ones.
Philadelphia Phillies: Signing Jonathan Papelbon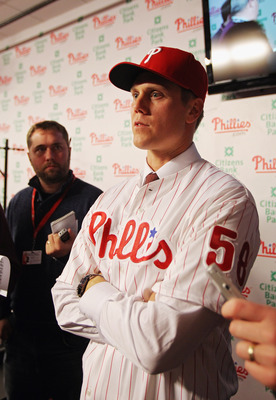 Len Redkoles/Getty Images
How do I know that closers aren't worth four years and $50 million? Because no one has ever paid that much for a closer…ever.
Even if Jonathan Papelbon performs well, the Phillies committed too much of their over-committed payroll to a guy that pitches one inning every third game.
Closers don't have any special voodoo magic other relievers don't have, and the Phillies should know that from the way Ryan Madson* stepped seamlessly into the role last year.
And if Papelbon gets injured?
What else would you expect from a 31-year-old reliever with 430 major league innings on his odometer?
*Late Note: Ryan Madson just signed a one-year deal with the Reds worth $8.5 million. If the Phillies weren't already losers in the Papelbon deal, they're now total saps.
Atlanta Braves: Doing Nothing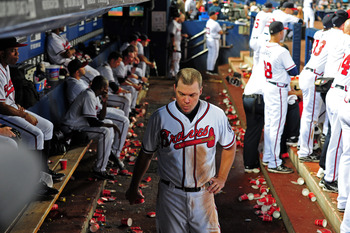 Scott Cunningham/Getty Images
If ever there was an offseason for the Atlanta Braves to make a big move, this would be it.
The Braves have tons of assets—highlighted by their surplus of arms—and motivation to trade those assets after one of the worst collapses in the wild-card era.
Statistical guru Nate Silver explained five years ago that the value of a win increases many times over when a team is on the verge of making the playoffs. The additional revenue and interest created by a playoff bid more than offsets the cost of overpaying for a player that gets said team over the hump.
Apparently the Braves haven't gotten that message.
Although they were as close to the promised land as any of 22 teams that didn't make the playoffs last year, they've done near nothing to improve their chances in 2012. And while the Nationals and Marlins have made big plays for new talent, Atlanta hasn't worked out a deal for Jair Jurrjens or Martin Prado or found a way to add an outfield bat in free agency.
The Braves had the impetus and the resources to act this offseason and so far they've stood idle. If that holds, Atlanta fans should consider the winter a major failure.
Washington Nationals: Re-Signing Chien-Ming Wang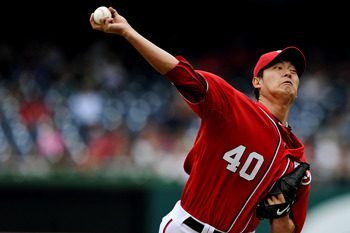 Patrick Smith/Getty Images
Since I can't rename Jayson Werth to this post, I'll instead lampoon the Washington Nationals' stubborn insistence on resurrecting Chien-Ming Wang.
Wang's first two years in Washington resulted in near nothing—unless you want to call 62.1 innings pitched and four wins "absolutely nothing," which I'm also fine with.
By re-signing him it's as if the Nationals forgot that they're no longer the kind of bottom-feeding team that needs to take on injury-riddled project players.
Treat yourself, Washington, take an Edwin Jackson and leave the scraps for the Mets.
New York Mets: Signing Frank Francisco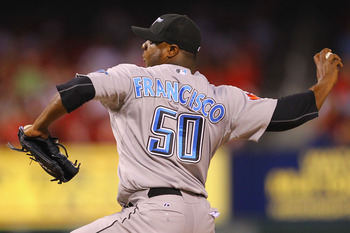 Dilip Vishwanat/Getty Images
I don't think Frank Francisco is a bad pitcher, but I do think the Mets reached to get him.
Francisco's last free-agent deal checked in at two years and about $7million.
After three consecutive seasons of falling SO/9 rates and SO:BB ratios, a rebuilding New York team decided to give a post-prime Francisco two years at six million per.
The math doesn't make sense.
Relievers with ERAs in the mid-3.00 range aren't worth that kind of dough, especially when they block young arms from gaining valuable experience at the big-league level.
Miami Marlins: Trading for Carlos Zambrano
Jonathan Daniel/Getty Images
Insane pitcher links up with insane manager and we're supposed to believe it's destined to work because they're countrymen and have some prior friendship?
I'm not buying it.
Not only will Zambrano further poison an already poisoned well in Miami with his desultory attitude, but he isn't a good enough pitcher anymore to make it worth the Marlins' time.
Zambrano matched a career low last year with 6.2 SO/9 and posted his highest ever ERA (and FIP).
At the rate he's going now, Zambrano is a serviceable fifth starter. That's before he pulls a groin kicking Ozzie Guillen in the face and convinces Hanley Ramirez that Jose Reyes really is the boogeyman.
Milwaukee Brewers: Signing Alex Gonzalez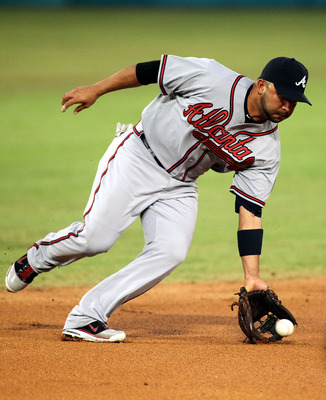 Marc Serota/Getty Images
Alex Gonzalez and Yuniesky Betancourt are basically the same player—low-OBP, decent power, capable middle infield defense—except Betancourt is five years younger.
For whatever reason, the Brewers took that to mean they should sign Gonzalez for double what they would have spent on Betancourt.
Not only is Gonzalez's age a concern, he doesn't help the Brewers where they need it most. With Prince Fielder gone and Ryan Braun likely out the first 50 games, Milwaukee needed to bolster their defense in order to support a pitching staff that should be their strength.
Gonzalez—career 0.9 defensive WAR—doesn't do that to the degree they need and isn't worth the extra investment.
St. Louis Cardinals: Letting Pujols Walk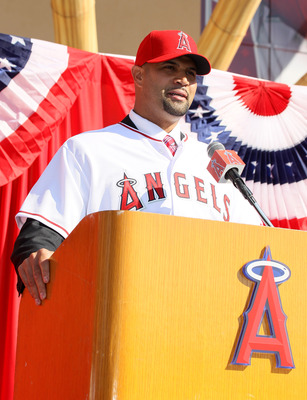 Stephen Dunn/Getty Images
Writing too much on this feels like a waste of pixels, but I'll humor the debate.
Cardinals fans, you will regret your team didn't pony up the money for Albert Pujols when:
- Carlos Beltran leaves a runner on third with less than two outs;
- Lance Berkman realizes he's old and has no business being good;
- People start calling Allen Craig a "centerpiece" player;
- Pujols hits his 500th, 600th, 700th and 800th career home runs.
Losing Pujols makes the defending champs weaker in the short term, but more importantly it ruins the possibility of Albert Pujols the St. Louis Cardinals lifer.
Franchises don't get many opportunities at that kind of relationship with a player, and the Cardinals just blew theirs.
Cincinnati Reds: Trading for Sean Marshall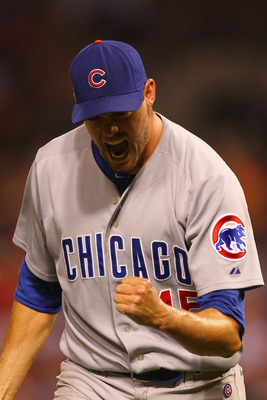 Dilip Vishwanat/Getty Images
Sean Marshall is a relief pitcher—a good relief pitcher, but a relief pitcher nonetheless.
Each of the prospects Cincinnati gave up to get him have potential well beyond that.
Travis Wood is a talented young southpaw who showed early flashes of rotation potential over the last two years in Cincinnati. Dave Sappelt is nice-looking gap hitter with enough speed to handle centerfield. Ronald Torreyes is an undersized teenager who has been so inexplicably good at Single A that folks are starting to overlook his size and project him as a starting second baseman.
All three won't pan out, but if even one of them does then the Reds got killed in this deal.
And so what if Travis Wood can't cut it as a starter? The Cubs can always stick him in the bullpen and turn him into the next Sean Marshall.
Pittsburgh Pirates: Not Extending Andrew McCutchen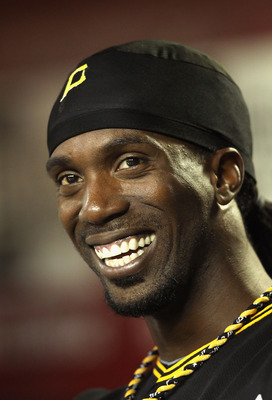 Christian Petersen/Getty Images
When a team with the Pirates' track record of trading away top talent lets their best commodity linger into the arbitration years, the narrative begins to write itself.
It starts with, "The Pirates aren't ready to commit all that money to one player," before it goes to, "The Pirates will probably test the market on him" and ends with, "The Pirates are taking offers for Andrew McCutchen."
If the Pirates don't prove they're committed to McCutchen early in the process, his eventual departure becomes a self-fulfilling prophecy.
Right now Pittsburgh is missing a rare opportunity to build on the positive momentum of last year and ink the best young player they've had in years to a prominent extension. The longer that line holds, the harder it becomes to break the cycle of develop and dump.
Chicago Cubs: Trading DJ LeMahieu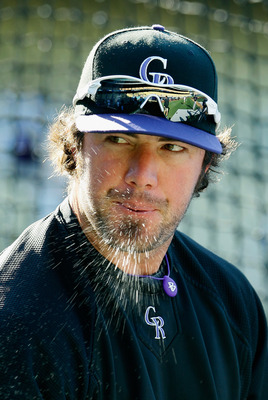 Jeff Gross/Getty Images
Maybe it's because I expect too much of Theo Epstein, but if I were a Cubs fans I would have hoped to get Ian Stewart from the Rockies without losing prospect DJ LeMahieu in the process.
To be clear, I like the gamble on Stewart as a high-upside bat at a key position.
But I'd have rather seen the Cubs move Darwin Barney instead in order to make room for the similarly skilled LeMahieu on the big-league roster.
Both are contact-hitting middle infielders with solid minor-league numbers, LeMahieu's are just a tad better. If the Rockies would have taken him, Barney should have been the one to go.
But I bet you can tell I like what Epstein's done overall in his first offseason, since my beef with this deal comes down to parts instead of design.
Houston Astros: None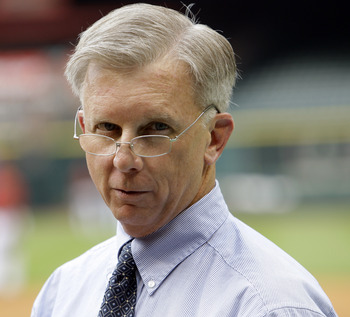 Bob Levey/Getty Images
Have the Houston Astros done anything this offseason besides hire/fire general managers?
Oh that's right, they traded Mark Melancon for Kyle Wieland and Jed Lowrie—a move I liked for both sides with the added caveat that it really wasn't a move worth discussing.
As Bob Dylan said, "When you ain't got nothin', you got nothin' to lose."
The Astros "ain't got nothin'" right now—and until they do they won't be pulling the kind of moves that require analysis.
Arizona Diamonbacks: Signing Jason Kubel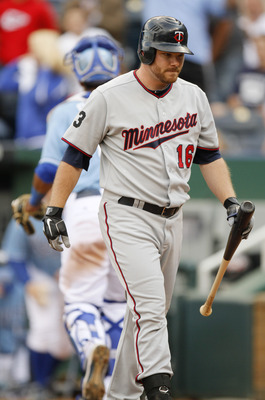 Ed Zurga/Getty Images
It isn't make-or-break money—two years, $15 million—but I don't know how signing Jason Kubel makes the Arizona Diamondbacks better.
He has more pop than incumbent left fielder Gerardo Parra, but Parra is five years younger (almost to the day) and the far superior fielder. At best, they cancel each other out. At worst, Arizona threatens to stifle Parra's potential by siphoning off his at bats.
True, Kubel gives Arizona more flexibility with their lineup and potentially more power, but if it was flexibility they were after, the D-Backs could have done it for cheaper than two years, $15 million.
San Francisco Giants: Trading for Melky Cabrera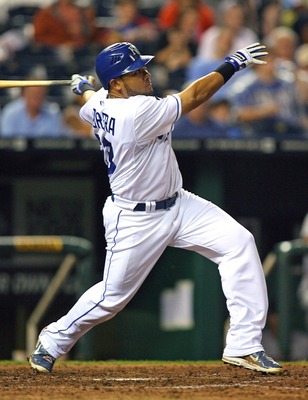 Tim Umphrey/Getty Images
What at the time looked like the Giants' opening move in an active offseason ended up as their crown jewel.
Not good.
Even worse, that opening move was a blah-for-blah trade that added another average outfielder (Melky Cabrera) to a roster already brimming with them.
Now if one looked solely at Melky Cabrera's performance last year, one wouldn't call him an average outfielder. But one should also note that Cabrera's .305/.339/.470 line benefited from a career-high BABIP and an unsustainable spike in his ISO.
The other disheartening truth behind Cabrera, is that even at his best he takes far too few walks and his strikeout totals climbed to a career high last year.
I like the idea of the Giants trading Jonathan Sanchez for lineup help, but to get an outfielder with inflated value in return stinks of a bad move.
Los Angeles Dodgers: Signing Aaron Harang and Chris Capuano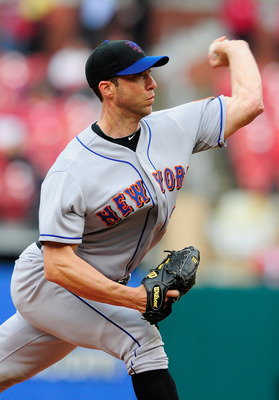 Jeff Curry/Getty Images
Back when the Dodgers had money, GM Ned Colletti had free rein to buy up as many aging, overrated players as he wished.
Andruw Jones, Juan Pierre, Manny Ramirez, Jason Schmidt—each could be his for an ungodly sum and a handshake agreement that they would immediately begin to suck upon signing.
Now that the organization is strapped for cash, Colletti has to find new, creative ways to quench his thirst for players on the verge of disrepair.
This offseason he managed to grab not one, but two free-agent starters over 30 and on the mend.
Just when you think it's been beaten out of him by bankruptcy and embarrassment, Colletti re-emerges to remind us that he will never, ever let the Dodgers rotation get any younger.
Colorado Rockies: Trading Chris Iannetta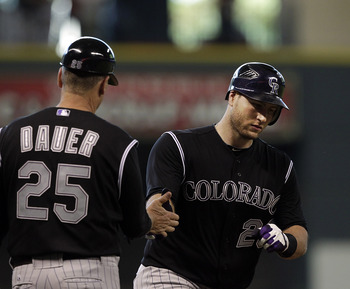 Bob Levey/Getty Images
If I told you I had a 28-year-old catcher with 15-HR power and a career OBP above .350, would you trade him?
Of course not.
Problem is, Chris Iannetta's pesky .235 lifetime batting average obscures all the things he does well and leads people to overlook his considerable production at a thin position.
Now I don't know if his low batting average was the reason Colorado traded Iannetta this offseason, but they'll regret it as soon as new starting catcher Ramon Hernandez starts to show his age.
To make matters worse, the Rockies traded Iannetta for his SABRE opposite—a pitcher (Tyler Chatwood) who managed a decent ERA despite awful peripherals (1.04 SO:BB ratio).
Traditional stats gave Chatwood too much credit, while selling Iannetta short. The Rockies will soon wish they listened to their inner Bill James.
San Diego Padres: Trading Anthony Rizzo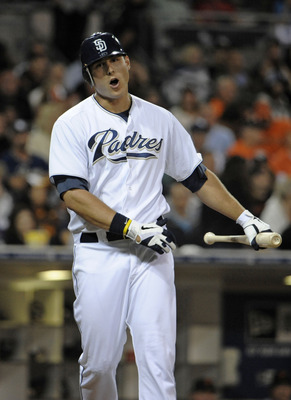 Denis Poroy/Getty Images
The Padres give us another deal long on good intentions, but short on execution.
After landing Yonder Alonso in the Mat Latos four-for-one, all of baseball knew the Pads would unload fellow first base prospect Anthony Rizzo. The only question was what they would get in return for a prospect so good he was once the main piece in a deal for Adrian Gonzalez.
The answer: not much.
San Diego managed to pry hard-throwing middle reliever Andrew Cashner from the Cubs in exchange for the power-packed Rizzo. Let me know if you can't detect the sarcasm in that last statement.
To be fair, Rizzo's poor showing in the major leagues last season probably hurt his value. But if that's the case, the Padres should have kept Rizzo and started him at Triple A to drive his asking price higher while giving Alonso the first base job.
It's not as if San Diego, a likely non-contender in 2012, should have been in any hurry to deal Rizzo if the market wasn't there.
Now, by the associative property (or whatever), the Padres basically just traded Adrian Gonzalez for Andrew Cashner. Not good.
New York Yankees: None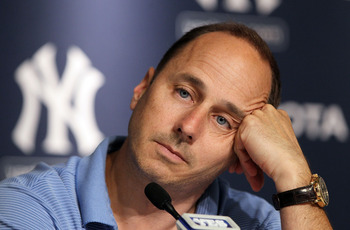 Jim McIsaac/Getty Images
What happened to you, Yankees?
You used to lay dozens of myopic deals at our feet, daring us to come up with words hyperbolic enough to capture their stupidity.
Now what? Another smart, one-year flier on Freddy Garcia? A prudent C.C. Sabathia contract extension?
I can't lampoon those things.
If it hasn't already been said, let me say that this new-found respect for money doesn't suit you.
I want my spendthrift Yankees back—they made the offseason more fun.
Tampa Bay Rays: Signing Fernando Rodney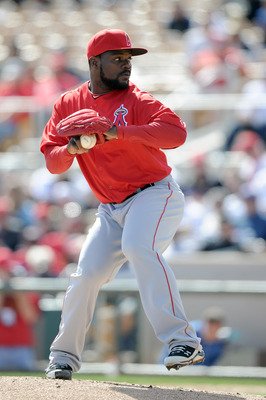 Harry How/Getty Images
The Rays have been so adept at signing veteran relief pitchers off the scrap heap that I probably shouldn't question them, but I don't see it with Fernando Rodney.
Rodney, who has always had control issues, walked more batters than he struck out last year. At 34, he looks like he's pitching on borrowed time.
Maybe there's something in the scouting report I don't see, a hitch the Rays think they can correct or an unmentioned injury at the root of Rodney's woes.
Because on paper, there's no way Rodney deserved even the $2 million Tampa gave him.
Boston Red Sox: Naming Bobby Valentine Manager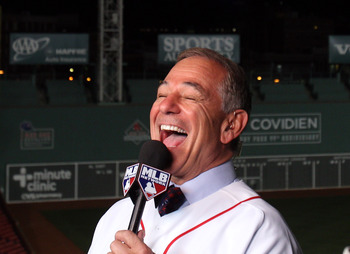 Elsa/Getty Images
The Red Sox made the same mistake with Bobby Valentine that each and every one of us has at some point made in our love life: They went for the opposite because it was the opposite, not because it makes them happy.
Just because the Red Sox collapsed at the end of the year doesn't mean that hiring Valentine—the anti-Terry Francona—can cure what ails them.
They'd get a lot more mileage, for instance, out of upgrading a rotation that posted a 5.84 ERA over the season's last month. Instead, they press forward under the faulty logic that if players won't respond to one manager, they'll necessarily respond to his polar opposite.
Now add to that the fact that on paper the just hired a manager who's talked his way out of two head positions and won two fewer World Series than the guy preceding him, and you have the anatomy of a bad hire.
Toronto Blue Jays: Signing Darren Oliver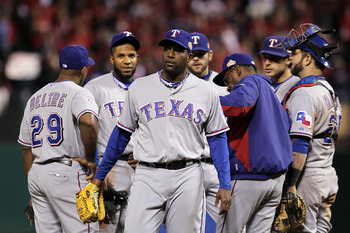 Ezra Shaw/Getty Images
I love the Darren Oliver story, but I don't like the Darren Oliver deal.
Fun as it is to pull for a guy in his fourth decade who manages a solid ERA and a sparkling SO:BB ratio, giving a 41-year-old LOOGY a contract worth $4 million in 2012 with a $500,000 buyout for 2013 is absurd.
Compare those numbers to what other non-closer relievers got this offseason:
- Jon Rauch 1 year, $3.5 million
- Takashi Saito 1 year, $1.1 million
- George Sherrill 1 year, $1 million
- Octavio Dotel 1 year, $3.5 million
All four of those guys compare favorably to Oliver and only Saito is as old. Like I said, good story, but not the best use of money.
Baltimore Orioles: Signing Tsuyoshi Wada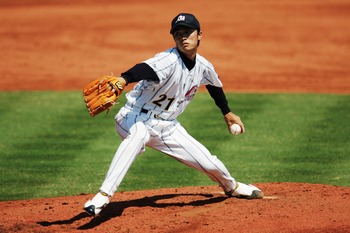 Jamie Squire/Getty Images
Looking at how Japanese pitchers described as "crafty" in their scouting reports have fared in the major leagues, I wouldn't pencil Tsuyoshi Wada into the Orioles' starting rotation just yet.
Wada sounds like a left-handed version Kenshin Kawakami or Koji Uehara, sporting the kind of exceptional control that makes up for his lack of velocity.
The Uehara comparison doesn't sound so bad, until you consider that Wada's two-year, $8.5 million salary would make him a mighty expensive relief pitcher for a team that needs to make the most out of its investments.
Though I'm holding the Orioles to a higher standard of economy when I say it, if Baltimore doesn't get starter value out of Wada, this investment will have been made in vain.
As the Rays have shown, the less fortunate in the AL East can't afford to waste any cents.
Detroit Tigers: Doing Nothing About the Platoons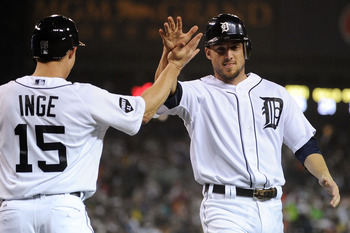 Harry How/Getty Images
A platoon in baseball is a sign of weakness.
It says: I'd rather pick my poison every day than give the starting job to any of the Joes on my roster. I don't trust any of these guys enough to not suck, much less do well.
The Tigers had two of them last year and at critical positions—second and third base.
Right now it appears they're willing to stand pat with that arrangement, shuffling between Ryan Raburn and Ramon Santiago at second base while some permutation of Don Kelly and Brandon Inge mans third.
To go into another season with World Series hopes and that sort of instability on the infield should trouble Tigers fans.
Cleveland Indians: Re-Signing Fausto Carmona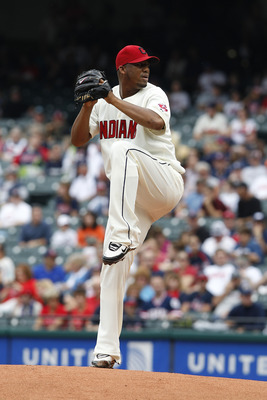 David Maxwell/Getty Images
I don't know what to make of a pitcher with tremendous "stuff" who can't strike hitters out.
Translation: I don't know what to make of Fausto Carmona.
In the four seasons since his breakout campaign in 2007, Carmona hasn't approached the potential he flashed as a 23-year-old sensation. Even more puzzling, Carmona's SO/9 seems stuck around five with a walk rate that yo-yos from decent to atrocious.
The Indians had a chance to cut their losses with the inscrutable righty this offseason and move forward with an otherwise strong rotation. Carmona could have been replaced on the cheap by a veteran free agent and the team would have been better off for it.
Instead, the Indians exercised his $7 million option with their fingers crossed. They could have gotten a safer bet for the back of their rotation at a safer price.
Chicago White Sox: Extending John Danks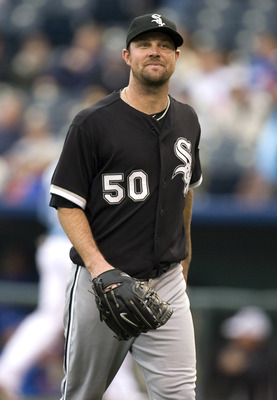 Ed Zurga/Getty Images
After trading Sergio Santos, White Sox GM Kenny Williams, at long last, used that dreaded word "rebuilding" to describe the state of his team.
The tone made sense for a team many moves off the pace in the AL Central with little hope of improvement. Williams followed that up by trading away Jason Frasor and Carlos Quentin.
Rebuilding was in full swing, right?
Wrong.
Williams threw the ultimate change-up by giving starter John Danks a five-year, $65 million mid-fire sale. Now, I'm not suggesting Williams had to jettison everybody decent, but that's a lot of years and money for a number two/three starter on a team looking to begin anew.
In the context of the rest of the offseason, the Danks deal didn't make sense and it still doesn't. I can't figure Kenny Williams out right now, and until I do, this deal is suspect.
Kansas City Royals: Signing Yuniesky Betancourt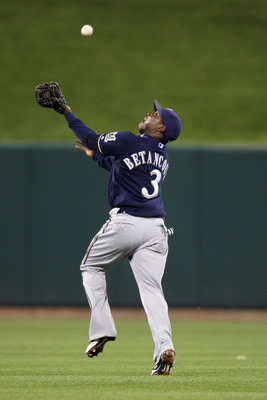 Jamie Squire/Getty Images
Yuniesky Betancourt and Kansas City GM Dayton Moore, a romance for our modern age.
Moore traded for the most hated man in Sabermetrics in 2009 where the two formed a bond over Betancourt's serial misplays in the field and endearing lack of patience at the plate. It was with a heavy heart that Moore traded Betancourt to Milwaukee before the 2011 season, but it was the price he had to pay for young shortstop Alcides Escobar.
But you knew then, as you know now, that as soon as Betancourt reached free agency, Moore would court his jilted lover.
Now Betancourt is back in Royal blue on a one-year, $2 million deal as Escobar's backup and a potential platoon candidate with third base super-prospect Mike Moustakas.
That last bit, as Jeff Zimmerman of Royal Review points out, should worry Kansas City fans.
Why on earth would the Royals consider platooning Betancourt, who has a career .300 OBP against lefties, with their third baseman of the future? Is that the kind of judgment that makes for winning baseball?
Wait…wait…I just remembered these are the Royals. I think I answered my own question.
Minnesota Twins: Signing Jamey Carroll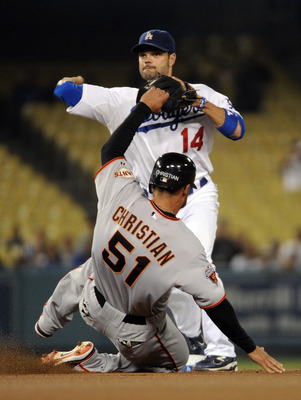 Harry How/Getty Images
It's a joy watching the 5'9", 37-year-old Jamey Carroll play baseball, and from all indications he's a heckuva nice guy.
But looking at what the other utility infielders on the free-agent market got, he isn't nice enough to merit the two years and $6.75 million Minnesota gave him.
We are, after all, talking about a player who hasn't hit a home run since 2009.
Let me reiterate, Jamey Carroll: nice guy, amazing fielder, high OBP, incredible at baseball considering his age and height. Not worth almost $7 million.
Texas Rangers: Signing Joe Nathan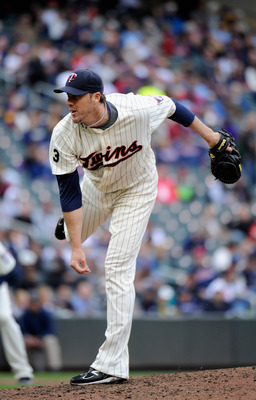 Hannah Foslien/Getty Images
I didn't see enough from Joe Nathan in his final year with the Twins to convince me he's ready for the closer's gig in Texas or that he's worth the $14.5 million the Rangers just gave him.
All the things I look for in a closer on the mend—strikeouts, strikeout-to-walk ratio, WHIP—weren't there for Nathan.
The Rangers could have just as well saved their money and promoted one of their many great internal candidates (Mike Adams, Alexi Ogando, Koji Uehara) to take the ninth-inning spot vacated by Neftali Feliz.
Nathan's a risk in that role, and an unnecessary one.
Los Angels Angels: Nothing, Duh.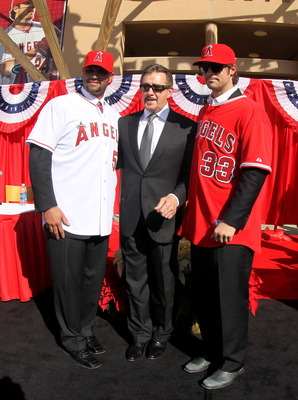 Stephen Dunn/Getty Images
So, yeah, it's been a pretty good offseason for the Los Angeles Angels.
And while it's very possible that years from now we'll look back upon their indulgences as reckless, in the short term the moves are spectacular.
Heck, I even like the smaller plays they made for LaTroy Hawkins and Jorge Cantu.
GM Jerry Dipoto's final task is to sort out who between Mark Trumbo, Kendrys Morales and Bobby Abreu he wants to keep and who gets packaged in a trade.
In their present position, though, the Angels are in no rush to decide.
Oakland Athletics: The Whole Miserable Mess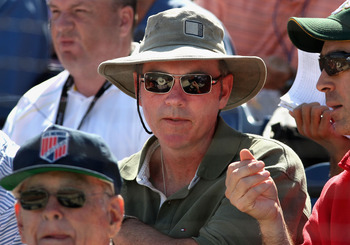 Christian Petersen/Getty Images
Rebuilding is a good thing, but what the Oakland A's are up to right now feels much more sinister than that.
As rumors swirl about a possible move to San Jose, the gutting of the A's feels more like a fire sale than a Billy Beane Moneyball moment.
Letting Josh Willingham, Hideki Matsui and David DeJesus walk—I get that. I can even understand trading Andrew Bailey, since closers generally take on inflated value.
But turning young, affordable pitchers like Trevor Cahill and Gio Gonzalez into even more prospects leaves me baffled. At what point does rebuilding meet running in place? Or more appropriately, when does rebuilding meet tanking?
Maybe I'm too hopped on conspiracy theories to see the Beane magic behind all of this, but this offseason feels more like a ransom note to the commissioner's office to get the A's out of Oakland than it does an attempt to build a winner.
Seattle Mariners: Trading Josh Lueke for John Jaso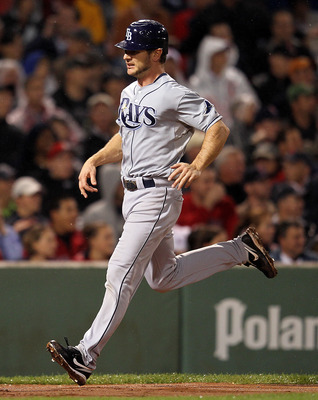 Jim Rogash/Getty Images
The Seattle Mariners have done so little this offseason, there isn't much good or bad to dissect.
I do think they got the worse end of a trade with the Tampa Bay Rays that netted them backup catcher John Jaso in exchange for pitching prospect Josh Lueke.
Lueke had nice peripherals in the minor leagues and had the makeup of a solid reliever. Let him thrive in the comfy confines of Safeco Field and he might be worth more than a backup catcher down the road.
Of course I'm nitpicking, but Seattle isn't giving me much to work with here.
Keep Reading