Will Rex Ryan Ever Win a Super Bowl with the New York Jets?
January 11, 2012
Christopher Pasatieri/Getty Images
Love him or hate him, if you follow NFL football then it is almost a guarantee you know who Rex Ryan is.
Rex Ryan took over the New York Jets in 2009 and instantly became one of the most outspoken coaches in the league. He has guaranteed Super Bowl victories several times in his short head coaching career, but has yet to even make an appearance in one, despite reaching the AFC championship game two years in a row. 
With his Jets missing the playoffs this year, there is question as to whether or not he will ever win a Super Bowl.
Ryan is a players' coach. His coaching philosophy revolves around forming great team chemistry, which includes himself. Ryan sees himself as part of the team, and wants his players to know him as a human being.
We've seen countless Jets' players come forward and say that they love playing for Ryan.
There is no doubt that he carries quite a bit of respect in that locker room. However, it has appeared at times that he doesn't always have complete control.
When the Jets lost to the Dolphins Week 17 and were officially eliminated from playoff contention, everything appeared to break down.
Rex Ryan was reportedly crying in his final speech to his team and several of the Jets' most important players left the locker room before the media even arrived. 
The Jets, who have been one of the most unified groups in the league, never looked more shattered.
Now, with rumors swirling about big changes on the roster and on the coaching staff, there is question as to whether or not this will even be the same team next year (via News 10). I question whether or not this same squad can even find success next year with the way this season ended.
There almost has to be changes in order for them to get back on track.
Just yesterday, we saw offensive coordinator Brian Schottenheimer announce that he won't be returning to the Jets in 2012, according to NBC Sports.  Much of the criticism fell on his shoulders this offseason, and it appeared that he was one of the first in line for the chopping block.
Schottenheimer's departure from the team may be the first of many changes.
ESPN discussed how backup quarterback Greg McElroy come forward after the season ended and talked about a "corrupt mindset" in the Jets locker room. 
McElroy discussed how many of the Jets players—including wideout Santonio Holmes—were more focused on their individual statistics rather than the final outcome of the game. He made it clear saying: "It's the first time I've ever been around extremely selfish individuals."
When your backup quarterback who was injured all year long is coming forward to talk about the troubles in your locker room, you know you have some serious issues, especially when your head coach is preaching a team mentality. The way the season ended for the Jets shows that the "team" Rex Ryan had been claiming they were maybe is not much of a team at all. 
There are also questions as to who will be the Jets starting quarterback come the start of next season.
Even though there has been public support for current starter Mark Sanchez—including from Rex Ryan—there are a slew of rumors that the Jets are unhappy with him as their long-term option (via Gang Green Nation). They also suggested that the Jets no longer see him as their franchise quarterback.
Now with the situation in Indianapolis, Pro Football Talk suggests that the Jets have a huge interest in Peyton Manning. There are members of the Jets' organization that feel Manning would be a serious upgrade over Sanchez at this point.
Acquiring Manning from the Colts is unlikely—as owner Jim Isray has stated publicly that they will not trade him even if they draft Stanford quarterback Andrew Luck first overall in the draft (via Stampede Blue). Even if the Colts changed their mind about moving Manning, I highly doubt they trade him within the AFC.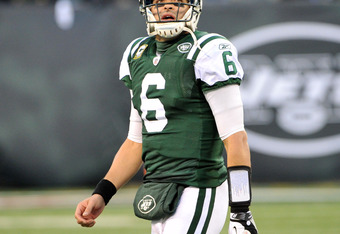 Christopher Pasatieri/Getty Images
Still, the Jets' feel Sanchez needs to be pushed.
The same report that suggests the Jets want Manning also says that Sanchez is "content" knowing that he won't be benched and it makes him lazy.
The quarterback is such a crucial position on a football team as both a playmaker and a leader that if your starter is lazy, you will have a ripple effect throughout the entire club. 
All of this falls back on Rex Ryan.
Somewhere along the line, the ultimate players' coach lost control of his players. They didn't respect him enough to play for the team, and in turn looked out for themselves.
Rex Ryan isn't necessarily on the hot seat at this point, but in brutally tough sports city like New York, he will face heavy criticism if he can't turn this team around. He has already taken some heat from the media over this year's collapse, and there is no doubt that they will smell blood in the water if the Jets get off to a poor start next year.
At this point in his coaching career, Ryan needs to prove that he can overcome adversity. He needs to prove that he can stand up and take control of his team. He needs to regain that respect in the locker room before even thinking about making another Super Bowl guarantee.
This season hasn't crippled his chances of winning a Super Bowl by any means, but it has certainly put a black mark on his resume.
If Ryan cannot "right the ship" in New York, then he can kiss his shot at a Super Bowl championship there goodbye as well.