Chicago Blackhawks: Is Nick Leddy in a Sophomore Slump?
January 12, 2012
Bruce Bennett/Getty Images
During the first quarter of the season, Nick Leddy was a pleasant surprise for the Chicago Blackhawks. In my grading piece through the first 25 games I gave him an A.
However, over the last 20 games and more specifically the last seven have been a bit of a different story.
Over the last four games it has seemed like he has been on the ice for every goal scored. For the most part that is true as he is a minus nine over those games, and the Hawks have allowed 14 goals, and he has been on the ice for 10 of them. Because of his recent struggles he is a minus nine on the season.
Considering he has 20 points on the season that is pretty bad.
Leddy has now played in 94 games over the last two seasons including the playoffs. He appeared in 46 last season and so far 43 this season.
Down the stretch last season we saw Leddy struggle, which left many wondering if he would be able to hold up a full season at his age. Remember he is only 20 years old.
Last season he finished the year a minus three, but down the stretch during the month of the season he was a minus six. So from game 30 to game 46 he was a minus six, and in the playoffs he was a minus one.
Now let's look at the last 13 games this season. So from games 30 to 43 Leddy is a minus 11. Since December 14 against the Minnesota Wild, conveniently the Hawks opponent on Thursday, Leddy has been awful and because of it the defense has struggled overall.
These numbers personally shocked me.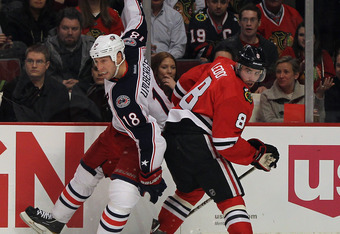 Jonathan Daniel/Getty Images
When I began this article I thought maybe it was just a slump that happens to a player during their second season, but looking at the numbers make it seem like a much more serious problem.
While Leddy is a very promising young player, his status in the organization may change rather quickly if he cannot rebound from these struggles.
An interesting thing I have noticed is there has been no drop in Leddy's minutes. Over these last 13 games he has played well over 20 minutes all but three games. Actually this season he has played less then 20 minutes only 10 times, with most of those coming early on in the season.
Maybe that is the key. Maybe Leddy needs to play fewer minutes, or maybe he needs to be paired with Duncan Keith more since that was his partner early in the season. Maybe Leddy needs a more veteran partner like Keith or Brent Seabrook, rather then Niklas Hjalmarsson.
Whatever the cause of his struggles, I believe the numbers show it is more then just a sophomore slump, it is a trend. 
How Leddy bounces back from this, if he can, may ultimately determine the rest of his career. Let's hope he can, because his future with the Hawks could be very bright.