College Basketball: Brandon Paul Nets 43 Points as Illinois Upsets Ohio St.
January 11, 2012
Brandon Paul knows that some games are just too big for words, and that was why he struggled to formulate a sentence as the post-game cameras began to roll.
That statement couldn't be any more true than tonight with the Illinois Fighting Illini's 79-74 win over the No. 5-ranked Ohio State Buckeyes. 
Brandon Paul put the team on his back as he scored 43 points, went 8-for-10 from behind the arc and then scored the Illini's last 15 to close out the game.
Meyers Leonard stepped up, showcased his potential and contained a player who is arguably the Big Ten's best in Jared Sullinger—even though the stat line doesn't show it (Leonard: 14 points, five rebounds, Sullinger: 21 points, five rebounds). Note: Six of Sullinger's points came on two unlikely and uncontested three-pointers.
At the post-game press conference, Leonard summed up Paul's performance best when he said, "Brandon Paul played like a pro tonight."
No bench points were scored by either team. Statistical highlights include Deshaun Thomas' 23 points and six rebounds for Ohio St. and 10 points from both D.J. Richardson and Joseph Bertrand for the Illini.   
The first half left Illini fans content with the fact that their team was only down five, and other than the plus-8 turnover margin, the Illini were playing about as well as they could have.
But then, Ohio St. came out and scored six straight to put the score at 45-34. Many would have thought that was the moment the Illini would curl up and surrender, but Paul would not have it.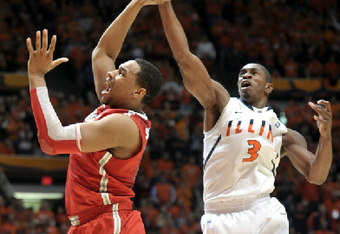 The Illini went on a run of their own. Illinois rattled off seven straight, pulling to within two at 48-46 on a three-pointer by D.J. Richardson.
But, Ohio State managed to stage another run, going up 52-46 when Sullinger made a short baseline jumper over Leonard with about 14:25 left in the half. 
The Illini then scored eight straight of their own as fans erupted when Leonard sunk a baseline jumper, taking the lead, 55-54, with 11:18 to play. 
So, where was Paul during all of this?
He was right in the middle of the action, scoring six of those eight with two of his eight three-pointers and bringing his point total for the night into the 30s.
The two teams traded shots and managed to tie it up at 61, but William Buford capitalized on a Leonard turnover and sunk a long three-pointer to make it 64-61 with 6:18 left in a quieted Assembly Hall. 
The next three minutes were an uncharacteristic slow spot in the game.
Richardson sunk a three in transition to tie it up at 64 with 5:04 left. 
Shots were traded between various Ohio St. players and Illinois' Paul when the junior guard decided to make his statement play of the game.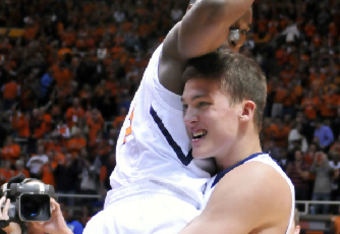 The Illini offense had stagnated, leading 71-70 with 43 seconds left in the game, as they let the shot clock tick to four seconds left. Bruce Weber called a timeout seeing the possession was about to be lost.
The ball was inbounded to Paul, and with Aaron Craft all over him and the clock ticking down, he threw up a deep three only to see it get nothing but net.
Illini fans and the Orange Krush went nuts, smelling victory, as their team went up two scores, 74-70, and they never relinquished the lead.
Hall officials moved aside as the Krush rushed the court, lifting Brandon Paul with his 43 points over their heads like a champion.
As a fan on the court taking part in one of the greatest games of the decade, I was truly taken aback by what this team of unappreciated, talented youngsters managed to do.
Illinois made a resounding statement with this win. They are not going to just go away, and this group of young men is going to be a force to be reckoned with in the Big Ten and in March later this year. 
Illinois is now 15-3 overall and 4-1 in the Big Ten, while Ohio St. drops to 15-3 overall and 3-2 in conference play.