New York Yankees: 5 Best Contracts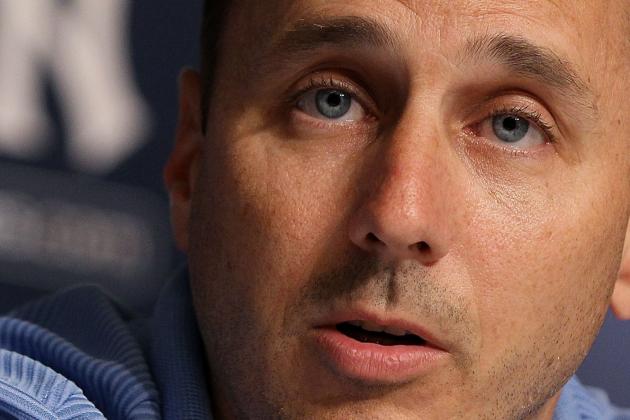 Jim McIsaac/Getty Images

Brian Cashman, the Steinbrenners and the New York Yankees are known for dolling out hundreds of millions of dollars for players in free agency. As I outlined in an earlier article, not all of them have been successful, but how about the ones that did? How about the younger, homegrown players?
The Yankees may be a team that has a payroll at or above $200 million in 2012, but that does not mean they do not get a bargain every once in a while.
Begin Slideshow

»
Chris Trotman/Getty Images

Remaining Contract: five years, $117 million with $25 million vesting option ($5 million buyout)
Acquired: signed as free agent in 2008
CC Sabathia is the highest-paid pitcher in the majors after signing a five-year $122 million extension, so how is he cost-efficient?
Sabathia has won 59 games and posted a 3.17 ERA in his first three seasons in New York despite the pressure and hitters' ballpark.
He is also a perennial Cy Young contender and even posted a 2.55 ERA in his first 24 starts before Joe Girardi created a six-man rotation. He may not be that good in 2012 but if he can keep winning 20 games and post an ERA at or below 3.00, he will be well worth the money because without him, where would the Yankees rotation be?
Sabathia is worth it because he is the only Yankees starting pitcher I trust wholeheartedly in a must-win game.
Chris Trotman/Getty Images

Remaining Contract: two years, $29 million
Acquired: signed as international free agent in 2001
Robinson Cano is the heart and soul in the Yankees lineup and on the defensive side of the ball as well. He hits for average and power in the middle of arguably the most dangerous lineup in the majors. He will get a new big contract after 2013 with Scott Boras as his agent, but in the meantime, the perennial MVP candidate is a steal.
Cano plays Gold Glove defense and is a Silver Slugger; what more do you want for $14.5 million? Cano has also played 159-plus games in five straight seasons; even a great player can be worth much less if he is not on the field very much.
He also steps up when it matters most. Cano had a huge postseason in 2011 by hitting .318 with a 1.057 OPS (his third postseason with an OPS above 1.000), two home runs and nine RBI in only five games against the Detroit Tigers.
Runners on Base: .303/.352/.545, .897 OPS
RISP: .318/.373/.636, 1.009 OPS
Bases Loaded: .444/.409/1.167, 1.567 OPS
All he does is produce in big moments.
Cano is the best middle infielder in the game and at only $25 million for two years, he is a bargain.
Patrick McDermott/Getty Images

Remaining Contract: one year, $10 million with club option for $13 million
Acquired: three-team trade that sent Austin Jackson, Phil Coke, Max Scherzer and Daniel Schlereth to Detroit, and Ian Kennedy and Edwin Jackson to Arizona
Curtis Granderson was an MVP candidate in 2011 with a $10 million salary.
Granderson hit 41 home runs, drove in 119 runs, scored 136 runs, hit 10 triples and stole 25 bases for his salary. That is unbelievable. You can nitpick at his .262 batting average and 169 strikeouts but the fact is he led the AL in both runs batted in and runs scored. In my opinion, those are the two most important stats out there because the point of baseball is to score runs.
This is not the Tampa Bay Rays, who find young breakout players for pennies seemingly on a yearly basis, but it seems as if the Yankees have to pay tens of millions of dollars for MVP-type seasons.
While $10 million is not cheap, it is for an MVP candidate and it is for the Yankees.
Jeff Zelevansky/Getty Images

Remaining Contract: league minimum; still hasn't reached arbitration
Acquired: signed as undrafted free agent in 2004; selected in 2008 Rule 5 draft by San Diego and then returned to New York
Where would the New York Yankees be without Ivan Nova?
At the beginning of the season, the Yankees rotation consisted of CC Sabathia and four question marks.
Phil Hughes failed while Bartolo Colon and Freddy Garcia struggled down the stretch, but Nova created a dynamic duo atop the Yankees rotation.
In only his first full season in the majors the 24-year-old righty went 8-0 and posted a 3.18 ERA after the All-Star break when the Yankees needed him most.
The New York Yankees are reportedly looking at Edwin Jackson, Hiroki Kuroda and Roy Oswalt. They will all cost more than 25 times what Nova will cost in 2012 and in my opinion, right now Nova is the best of the four.
Nova will again be a bargain in 2012 if he can even come close to his performance of last year, which I believe he is more than capable of.
Nick Laham/Getty Images

Remaining Contract: first year of arbitration, $1.5 million projected arbitration
Acquired: selected in the 17th round of the 2006 MLB draft
Even at 26 years old, David Robertson was the best reliever in the majors in 2011, and at less than $2 million, he is an absolute steal. He was so good he garnered a Cy Young and even an MVP vote in 2011.
Robertson is the heir apparent of Mariano Rivera, and after last season, it looks like he is up to the job.
A 1.08 ERA and 100 strikeouts over 66.2 innings is incredible, but he was also cool under pressure. Robertson posted a 0.25 ERA on the road and struck out 14 of the 19 batters he faced with the bases loaded, giving up zero runs on those occasions.
If Robertson can pitch anywhere near like he did in 2011 he will be among the top relief pitchers in the majors.
Christopher Pasatieri/Getty Images

Remaining Contract: first year of arbitration; $3.3 million projected arbitration
Acquired: selected in the third round of 2005 MLB draft
Brett Gardner stole 49 bases and should have won a Gold Glove last year.
Yes, he had a low batting average and not much power, but he did his job; he drew a bunch of walks, played excellent defense, and was a menace on the basepaths.
If Brett Gardner keeps playing like he did in 2011 he will once again be the best defensive player in the entire majors and arguably the best bottom-of-the-order hitter as well.
For the time being, Gardner is a bargain and will be for years to come.