Broncos vs. Patriots: Why Josh McDaniels Will Hurt New England's Chances
January 11, 2012
Chris McGrath/Getty Images
Much has been made of Josh "The Junior Hoodie" McDaniels' return to the New England Patriots, and there are rumblings that his presence could be disastrous for the Denver Broncos.
On the surface, it would seem like a former head coach of a team, only about a year removed from holding that position, heading to the sidelines of an opponent in the playoffs is highly suspect.
For that to be true though, the former team of the coach would have to at least slightly resemble the team that was taking the field on Sunday.
In the case of the Broncos and how much they resemble the team that was taken from Josh McDaniels last season...there is no comparison.
Names on the roster may be ones that McDaniels knows, and in many cases even signed or drafted, but none of those players are the same as they were this time last year.
If the New England Patriots are hoping to gain some insight to the Broncos organization and how to match up with its personnel from McDaniels, they might be better served by sending a cameraman to Dove Valley for practice this week.
Actually, McDaniels may be able to help facilitate that!
The truth is that John Elway and John Fox have taken this roster of "players" that McDaniels may be familiar with, and turned it into a team that couldn't be more different from the one that he left behind.
Players like Robert Ayers, Demaryius Thomas, J.D. Walton and Zane Beadles have grown into true NFL-caliber players, but only under the tutelage of John Fox and his staff.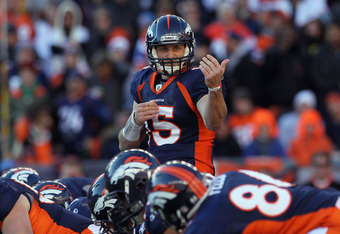 Jeff Gross/Getty Images
In many ways, looking to Josh McDaniels for help in understanding this years Denver Broncos, would be like the 2003 St. Louis Rams hiring George Seifert to gain insight about their divisional round opponent that year, the Carolina Panthers.
A lot can be said about John Fox as a head coach, but one thing is for sure, he wastes no time turning a team into his own.
The idea that the New England Patriots would actually bring in Josh McDaniels because they thought it gave them information about the Broncos is mostly conjecture and hyperbole.
The actual scenario is that New England knows they have an offensive coordinator out the door in Bill O'Brien, and they are wasting no time in bringing their new coordinator into the fold before next season.
It seems to make sense, but O'Brien is not out the door yet and he has proven that his ego is not so small that he won't call out Tom Brady on the sidelines. So, what happens when Brady and Coach Belichick are whispering to McDaniels on the sideline about upcoming offensive series?
Both Bill O'Brien and Josh McDaniels have strong showings as a coordinator, especially in the passing game.
With McDaniels, Randy Moss set a record for receiving touchdowns and under Bill O'Brien it was Rob Gronkowski who set the touchdown record for his position.
Clearly, O'Brien and this years Patriots have a strong reliance on the tight end in the passing game, which is something that has not been a hallmark of a Josh McDaniels-led offense.
Will that cause a problem on the New England sideline this weekend?
The smart money says no. Bill Belichick is a shrewd leader and can ensure that any type of distraction this may cause is nipped in the bud early.
Still, McDaniels has already done his damage on the Broncos and the Rams since leaving New England. The question now is whether he will bring destruction to the Patriots?
And how long will it take for the decline to begin?