NFL Playoffs 2012: 49ers Harbaugh's West Coast Offense Can Neutralize the Saints
January 11, 2012
Ezra Shaw/Getty Images
The entire focus on the San Francisco 49ers vs. New Orleans Saints divisional playoff matchup has been how do they stop the high-powered offense led by record-setting quarterback Drew Brees, but the focus should be how do the Saints stop the 49ers' West Coast offense?.
Forty-niners head coach Jim Harbaugh has been building the 49ers offense step-by-step over the entire season. He's been waiting for the day to unleash his entire playbook, in which, he could showcase Alex Smith's passing abilities and neutralize all NFL defensive schemes.
Harbaugh is a mastermind at creating offensive schemes that will neutralize any opponent's defensive game plan.
He's never really liked the label "game manager" that Smith picked up from the media during the season for his conservative play.
Truth be told, that's exactly what he needs Smith to be, a manager of his complex West Coast offense against the Saints.
New Orleans defensive coordinator Greg Williams broke the code in the first preseason game by dialing up blitzes, continuously bringing nonstop pressure on the 49ers quarterback and causing a short memory for the 49ers' offensive unit.
Now, it's payback time. Bring your pressure, dial up the blitzes, and Harbaugh's West Coast offense will have a counter-offensive scheme take advantage of the aggressive Saints pressure.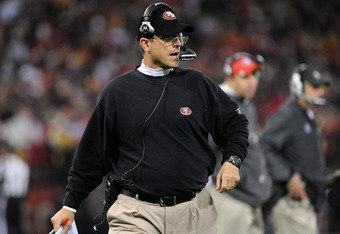 Thearon W. Henderson/Getty Images
Harbaugh is purely offensive-minded, and he believed in Smith because he knew this day would come.
The seven different coordinators, criticism and adversity his quarterback has faced would prepare him for the challenge of leading his team, running his West Coast offense and eventually resurrecting him into the 49ers quarterback for the future.
The West Coast offense is designed for teams that are overly aggressive with defensive-line stunts, blitzes and willingness to leave their defensive backs in man-to-man coverage.
Harbaugh's offensive formations, misdirection plays and isolation of one-on-one linebacker coverage against tight end Vernon Davis could create serious problems for the Saints.
We still don't know if Harbaugh has put in his entire offensive package, but we do know we've seen fly sweeps, reverses, lineman in pass routes, fake field goals and the anticipation has risen toward what we'll see in Saturday's playoff contest.
One thing is for sure, the Saints are sitting in front of Harbaugh like a big fat turkey waiting to be carved up on a platter.
The real question is not how you stop the Saints, but "caveat emptor," because the experts are overlooking the 49ers offense, even considering their outstanding season to be a complete fraud.
If you do a full inspection of  Harbaugh's West Coast offensive playbook, you might find that the Saints defense will have more problems than the 49ers defense, and a high-powered offense can't perform if it's not on the field.