Top 10 Purest Shooters in the NBA
Chris Graythen/Getty Images

One of the most common sports cliches is, "You can't teach speed and athleticism." I totally agree. But one thing about players that solely rely on these two attributes is that over the years that same speed and athleticism that made them effective will diminish due to age and injury.
When that happens, what do those players have to fall back on? Most become relegated to the bench or end up out of the league entirely. But when you are a pure shooter, you will always be needed in the league.
This list consists of the purest shooters in the NBA. It is a mix of superstars, stars and role players, both young and old. One thing about the players on this list is that they do not have to rely on speed and athleticism to be an effective player in the league.
Each of these players rely on a gift that can't be taught.
Begin Slideshow

»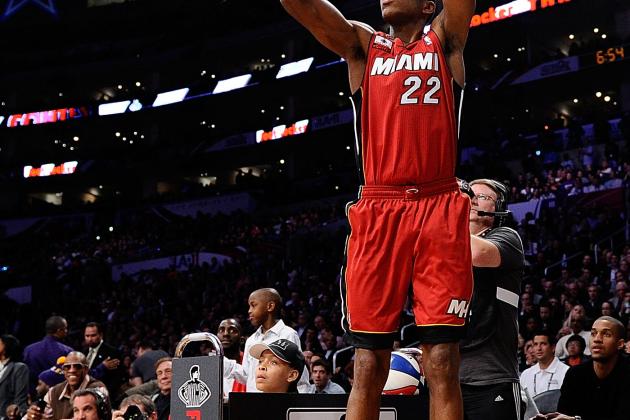 Kevork Djansezian/Getty Images

Last year's Three Point Contest champ is one of the premier shooters in the league. Yes, he is one-dimensional, but when defenses collapse down on Lebron James and Dwyane Wade, that leaves Jones wide open to nail threes left and right.
With career averages of 40 percent from beyond the arc and 85 percent from the free throw line, Jones has consistently shown that he deserves to make this list.
Jones has become a specialist in this league, but unlike the Jason Kapono's of the world, James Jones can be relied on year in and year out.
J. Meric/Getty Images
J.J. Reddick
J.J. Redick was arguably one of the best shooters in college basketball history. He could score from anywhere, but was especially deadly from deep.
His transition into the NBA game has been slower than he would like, but he is still one of the purest shooters in the game.
If Orlando decides to trade Dwight Howard, they would prefer to ship Hedo Turkoglu and his massive contract along with Howard. If that happens, Redick should expect to see his role increase. With his unlimited range, his scoring average is sure to go up.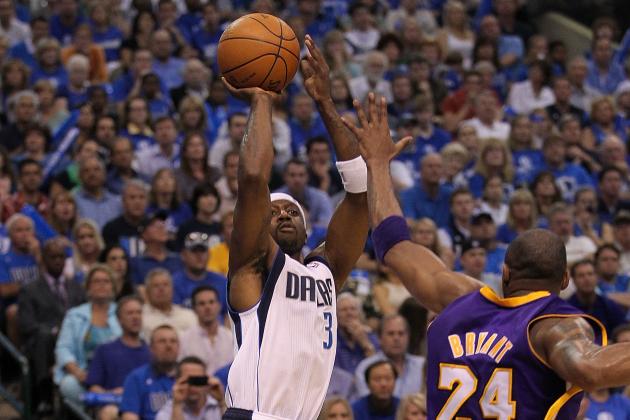 Ronald Martinez/Getty Images

Jason Terry is not only one of the purest shooters in the league, he is also one of the most fearless shooters in the game today.
Most NBA fans probably do not realize that Terry has been near the top of fourth quarter scoring leaders over the past couple of years.
While Terry can go through hot and cold spells, when Jet is locked in, he can make any shot from anywhere on the court. Just ask the Miami Heat, as they watched him drill big shot after big shot last year in the NBA Finals.
Jonathan Daniel/Getty Images
Kyle Korver
Yes, he looks like Ashton Kutcher, but Kyle Korver is an assassin from deep. Over the past two seasons, Korver has stepped up and hit timely triples in close games for the Bulls.
Even though the season is only three weeks old, Korver is already in mid-season form from beyond the arc. He is shooting over 50 percent from the three this year.
Korver holds the NBA single season three-point shooting percentage by shooting 53.6 percent from deep during the 2009-10 season. Korver can also be counted on from the free throw line where he is a career 88 percent shooter.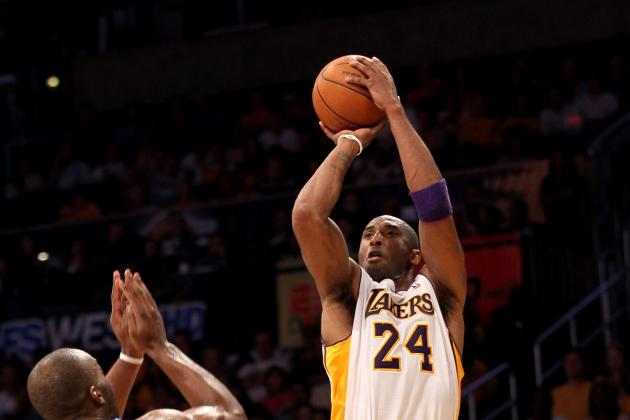 Stephen Dunn/Getty Images

After the past three 40-point performances from the Black Mamba, its hard not to move him higher on this list. But when it comes to pure shooting, this is exactly where he belongs.
Kobe's mid-range jumper is what makes him elite. On the nights that Kobe is on, there is nothing any team in the NBA can do to stop him.
For the past couple of years, Kobe has been hampered by a myriad of injuries which have limited his production.
Even with an injured wrist, Kobe has shown that with relatively healthy legs, he is definitely better than the seventh-best player in the league.
Ezra Shaw/Getty Images
Stephen Curry
Wardell Stephen Curry II is the epitome of a shooter. Shooting 44 percent from three and 91 percent from the free throw line for his career shows why he made this list.
He is only in his third year and will only get better as his game grows and develops. With his skill set, is is possible that Curry could move into the Top 3 Purest Shooters before the end of his career.
Given that Curry is the son of another NBA sharpshooter, Dell Curry, it is only fitting that his shot is so smooth.
The biggest question with Curry is his durability. A nagging ankle injury has already cost him a good chunk of this season.
Regardless, Curry's shot is and will continue to be one of the purest in the league for years to come.
Christian Petersen/Getty Images
Kevin Durant
Two-time NBA league scoring champion, Kevin Durant gets his points from all over the court. He doesn't just shoot threes or just drive in for layups or fouls.
He scores from wherever he wants and there is nothing that anyone can do about it. He can get his shot off on anyone.
The scary thing is that the Durantula will only get better. He is only 23 years old. Once he bulks and improves his low-post game, he will be unstoppable.
Durant is one of the premier clutch shooters in the NBA. He already has multiple game winners this year and is in a neck-and-neck battle for league MVP with Kobe Bryant.
Mike Ehrmann/Getty Images
Dirk Nowitzki
The Blonde Bomber from Germany is the most unique player on this list. Analysts like to say that Dirk is the greatest seven-foot shooter of all time.
I completely agree with that sentiment, but what they fail to point out is that Dirk is one of the greatest shooters of all time. Period.
Dirk is so special because he continues to work and evolve his game to the point where he is unguardable. If you play off him, he will just shoot right over you. (Just ask Pau Gasol all about that.)
If you play him tight, he has the ability to put it on the floor and drive right past you. (Just ask Chris Bosh or Kevin Garnett about that.)
Dirk and his one-legged fadeaway have become the stuff of legend around league. Just like the Kareem's Sky Hook, the one-legged fadeaway is impossible to stop even when you know it coming.
Dirk is still shaking off the rust this year, but if I had to pick one person to take the last shot in the game, there is no doubt, I would pick Dirk over any other player in the league. And, yes, that means Kobe too.
Christian Petersen/Getty Images
Steve Nash
The indelible Steve Nash. He is everything you could ask for in a point guard.
Need him to get everyone involved? Fine. Nash can dish it out with the best of them. Need him to take over offensively? No problem. Nash could easily average over 20 points per game if he needed to.
What sets Nash apart from most in the league is that everything he can do with his right hand, he can do with his left hand just as well. His shot is silky smooth. It is the same every time he rises up.
Nash just supplanted Mark Price as the greatest free-throw shooter of all time. Combine that with the fact that he is a career 43 percent three-point shooter, and it is easy to see why Nash is second on this list.
Elsa/Getty Images
Ray Allen
This was by far the easiest selection to make on this list.
Is there anything sweeter in basketball than Ray Allen raising up to shoot a three? A quick flick of the wrist and you can pretty much bank on the fact the the shot is going in.
His shooting technique and fundamentals are the best in the business. Simply look at the fact that he is 36 years old and leads the NBA in three-point shooting at an absolutely ridiculous 63 percent. This speaks volumes about how great of a shooter he is.
Nothing else needs to be said. I'm sure that there will be lists like this in the future, and I can guarantee you that Jesus Shuttlesworth will top the list on each and every one of them.