Why Gegard Mousasi Doesn't Belong Anywhere Near the UFC Unless He Improves
January 11, 2012
Gegard Mousasi was the future of the light heavyweight division.
Before Jon Jones made it on the scene or Lyoto Machida won a championship, many had earmarked the young Armenian fighter as a future champion.
He still could be.  He has shown the ability in the past to beat better-than-average competition.  At one point he even seemed unbeatable.  He even won the Strikeforce light heavyweight title.
Then he faced his first serious wrestler in Muhammed "King Mo" Lawal for his belt.  It was the first time he had to deal with a grappler who knew how to use his size to eliminate the threat of Mousasi's striking. Without the ability to stop Lawal's takedowns, Mousasi was thrown around the cage with ease.  He ended up losing a unanimous decision.
His wrestling was improved in his fight with Ovince St. Preux, but he was a far cry from the Mousasi of old.  He didn't have the killer edge that he used to.  He just couldn't finish his opponent even though he was dominating him and then struggled in the third round.
It might have been shades of the Lawal fight still haunting him or it might have been his first time using wrestling in such a way that left him drained.
Either way, it showed that the 26-year-old has a way to go.
He could still beat a decent amount of fighters in the UFC if he went over, but he would lose if he stepped up to fight the elite in his weight class.  Wrestlers dominate the UFC at light heavyweight ,and for all of Mousasi's improvement in wrestling, he is no match for them.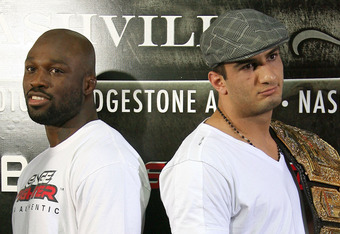 Valerie Macon/Getty Images
With his striking having been put on the back burner, or at least toned down, it would just end up with one result.
Mousasi losing.
He is just learning how to deal with wrestling and needs to incorporate it with his striking and blend the two together.
Strikeforce is the perfect place to test this.  He will be able to take fights against difficult opponents and maintain a high profile while remaining out of the UFC's wrestler-infested waters.  While he is improving he can slowly start winning fans back to his side.
By the time he gets better at wrestling the UFC will want him in its division and he will make the move without getting swallowed up as just another tough light heavyweight.
Mousasi is just starting to feel out a new part of MMA that he hadn't come up against, but will if he steps into the Octagon.  The extra time in Strikeforce might do him good.
It could also help him gain his confidence back.  As young as he is, Mousasi is a veteran and the Lawal fight could have burned him out.
Fighting in a less stressful environment that he is familiar with could help him to regain some of the mental surety the Lawal loss has taken from him.
Mousasi still could be a champion, but he has to take his time and learn.
He has a long way to go.