MLB Free Agents 2012: Red Sox Flirting with Disaster with Cheap Pitching Plan
January 11, 2012
Jim Rogash/Getty Images
More than any team in the league, the Boston Red Sox should know what kind of horrible things can happen when you have thin starting pitching.
Yet, for whatever reason, Sox GM Ben Cherington seems intent on putting together a thin starting staff for the 2012 season. He's already signed Carlos Silva, and over the weekend signed Aaron Cook. Small deals, small upside.
The search for cheap starting pitchers continues however. On Tuesday, Nick Cafardo of the Boston Globe wrote that Cherington and his staff are "still trying to come up with more options" as the club speeds towards spring training.
So who's still out there? Cafardo came up with a nifty list:
Still plenty of low-cost guys out there.

They include, Brandon Webb, Scott Kazmir, Armando Galarraga, Jon Garland, Rich Harden, Clay Hensley, Livan Hernandez, Brad Penny, Joel Pineiro, Jeff Francis and Zach Duke, Bartolo Colon and Tim Wakefield.
In summary, a whole buncha guys that you can't count on to log innings on any given night.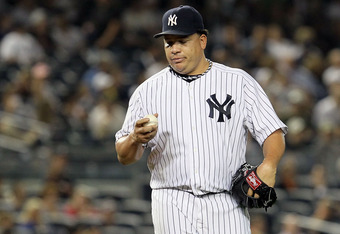 Jim McIsaac/Getty Images
It's clear what Cherington and the Sox brass is hoping for. They saw the New York Yankees get significant contributions from journeymen pitchers Freddy Garcia and Bartolo Colon in 2011. They came in, provided five or six innings every night, and the bullpen took care of the rest.
The acquisitions of Mark Melancon and Andrew Bailey have strengthened Boston's bullpen, so it's conceivable that a Garcia-Colon-type tandem at the back end of the rotation could work for the Sox too.
The catch, obviously, is that the Sox are going to be in a lot of trouble if their low-investment pitchers don't pan out.
If Josh Beckett, Jon Lester and Clay Buchholz all stay healthy, the Sox are going to be just fine at the top of their rotation. In that event, the Sox will take what they can get out of the No. 4 and No. 5 spots in their rotation.
But here's the thing: The Sox really can't count on the aforementioned three pitchers to stay healthy. Beckett is always coming down with some nagging injury or other, Lester had to go on the DL in 2011, and Buchholz missed the majority of the season with a back injury.
Right now, the Sox seem to be treating the signings of Silva, Cook and whoever else as just-in-case moves. If they don't work out, it's no skin off the organization's back.
In all likelihood though, the Sox are going to end up needing their emergency signings to contribute throughout the course of the season. That will put a lot of pressure on them and, by extension, a lot of pressure on stopgap starters like Alfredo Aceves and Daniel Bard. Next thing you know, the bullpen will be feeling it too.
Long story short, the Sox are putting together a deep starting rotation, but they're not putting together a strong starting rotation. They could get away with something like that if they played in the AL West, but going forward with a rotation like that in the AL East is asking for trouble.
We'll know how bad things are when Red Sox Nation starts wondering when John Lackey and Daisuke Matsuzaka are going to be back.