Greg Stiemsma Making a Nickname (or Two) for Himself with the Boston Celtics
January 11, 2012
Elsa/Getty Images
It's the local joke. The Boston Celtics will always have a white player on the roster. No matter how good or bad he is.
The last white player of note was Brian Scalabrine. He was Boston's victory cigar before Gino danced across the TD Garden scoreboard.
Little was expected out of Greg Stiemsma. Why would there be? He's just The White Guy signed out of the National Basketball Developmental League.
The first look at Stiemsma briefly confirmed the punchline. He was a Celtic to reach the quota. Three points in his preseason debut didn't change any opinions.
In the second preseason game, Stiemsma began swaying people. Seven points, five rebounds and two blocks had fans seeing the potential president of basketball operations Danny Ainge saw when Ainge signed the reigning D-League defensive player of the year.
Then Stiemsma opened everyone's eyes with six blocks against the New Orleans Hornets. No one was joking anymore, Stiemsma can play.
The Celtics have a serious problem with depth at the center position. Jermaine O'Neal is the only returning center, but he gave Boston very little in an injury-shortened season last year and is off to a slow start. Free agent Chris Wilcox was signed to provide depth, but is far from the Dwight Howard dreams of Celtic Nation.
So there's no harm in taking a chance on a minor league journeyman to develop for a season to see what Stiemsma can offer.
Stiemsma doesn't need developing. The 26-year-old rookie is making the most of his opportunities.
So when Stiemsma opened eyes in his first start with 13 points, seven rebounds and two blocks, this is what Stiemsma has been working towards in his career.
Stiemsma went undrafted out of Wisconsin in 2008 and then went the Lisa Stansfield route. Stiemsma has been around the world playing basketball in Turkey, South Korea and Sioux Falls, determined to make a player out of himself.
In three years, Stiemsma went from a Badger with career averages of 2.7 points, 2.3 rebounds and one block to nine points, 10 boards and an impressive 4.5 blocks per game, making Stiemsma the Skyforce's sky enforcer.
He continues this role with the Celtics, as Stiemsma is seventh in the NBA with 2.2 blocks in very limited action.
Despite his statement game, Stiemsma hasn't arrived yet. Following his game against Washington, Stiemsma was back to third in the center rotation for the next two games.
Because while Stiemsma was bringing the TD Garden crowd to their feet with every block and swished jumper, his Wizards counterpart, JaVale McGee, kept Washington in the game with 17 points on 8-of-9 shooting, 14 rebounds and three blocks, a lot of it coming at Stiemsma's expense.
Celtics head coach Doc Rivers, notoriously biased towards veterans over rookies, wants better one-on-one defense from Stiemsma before awarding him more playing time. It's the ticket to more playing time on this defense-first Celtics team.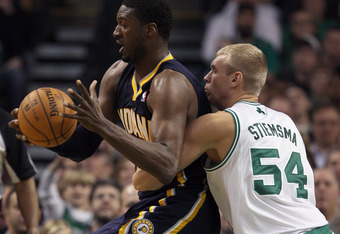 Elsa/Getty Images
The Garden faithful are sold on Stiemsma, though. He gets applause just for entering the game. Every good play draws widespread cheer.
A few nicknames have already been offered to Stiemsma. Paul Pierce got it started, calling Stiemsma "The Steamroller." More organically, "The Stiemah" has support as an affectionate reference to the indigenous Boston accent.
It makes Stiemsma one with the Celtics fans. They hope Stiemsma will be one of us for a while.
Question? Comments? Send to talktome@randolphc.com.