Los Angeles Lakers: Exactly What Do We Have with This 2012 Team?
January 11, 2012
Stephen Dunn/Getty Images
We're now almost three weeks into the Lakers' season, and I just don't know what to make of this team. I can't figure out what their identity is. I kind of suspect that they don't really know, either.
Last year it was easy: Three-peat or bust. We all know how that ended. 
This year, everybody in the league faced uncertainty, primarily because of the labor situation which impacted so much, especially the off-season activities—training camp, trades, etc. To say nothing of the shortened regular season schedule.
So what DO we know? Well, Kobe Bryant is still Kobe Bryant. How Mamba is playing through that right hand injury I will never know, but I learned long ago to never doubt his determination to keep playing, no matter what.
The good news is his magical right knee looks great. But the hand injury is a serious worry and every Lakers fan has their own version of Kobe Bryant Wrist Watch 2012. I personally freak out every time he goes baseline in traffic, worried that someone is going to slam his wrist and cause further injury. 
Pau Gasol looks good and seems to be giving max effort. I think the potential trade deal scared him straight. I do not think we will see another mental lapse from him like we saw against Dallas in the playoffs as long as Pau continues to wear purple and gold. I think he realizes there is no room for that on this team if he wants to continue as a Laker. 
Andrew Bynum looks good, too. Lean and full of energy. But given his injury history, I also hold my breath when he gets into it with defenders down in the post. And he has GOT to get better at the free throw line. Laker fans have already seen this movie with Shaq. We don't need to watch the sequel. You cannot leave those easy baskets on the table. Games can turn on them.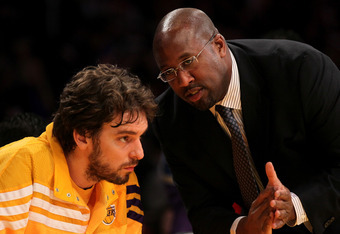 Stephen Dunn/Getty Images
And speaking of which—knock it off with the turnovers already, Lakers! I think the high turnover rate is a by-product of a couple of things: Teams know Kobe is injured and I think are actively targeting steals from him.
I also think the teams' lack of familiarity with each other and Mike Brown's new system is adversely impacting them. Some nights, it's almost like we're watching a game and a practice session rolled into one.
What I do like is the quality defense that is being played every night. When you are a little short of scoring firepower and a little slow like the Lakers, the hustle and effort they've been showing on defense has been good to see. 
Maybe that's the biggest thing: the Lakers look thin to me on scoring playmakers if one of the Bryant/Gasol/Bynum trio gets seriously injured and has to sit out some games. It's also starting to feel like other than Kobe, this team might struggle to score consistently night after night, especially if we start to see evidence of fatigue. 
We're way too far away to speculate about playoffs, but I still think that the front office needs to think about making some moves. I still see some of the same problems I identified in my season wrap up. Namely, where is the three point shooting and the speed? 
I'm not sure why Mike Brown isn't playing the younger players more to see what they've got, but maybe it's a "let's not drop any games if we don't have to" approach and he is working them at practice to see their true potential. No substitute for playing live minutes, though. Especially if you are going to rely on those players down the stretch. 
It all seems to be a work in progress at this point. 
So, let's see what this next week's stretch of games brings and re-evaluate then. It's still early, even in this abbreviated season. 
Meantimebesides non-stop fan longing for Dwight Howard, any other creative ideas who the Lakers could try to get before the trade deadline?