Texans vs. Ravens: T.J. Yates and Players Who Will Fail in Divisional Round
January 10, 2012
Jamie Squire/Getty Images
T.J. Yates managed a great game against the Cincinnati Bengals in the divisional round last week. However, against a better Baltimore Ravens defense, Yates, and these other players, will struggle this week. 
However, not all of these players who will struggle in Sunday's game will kill their team's chances at moving on to the AFC Championship game. 
Houston Texans: T.J. Yates
Yates did a great job against the Bengals in the divisional round by not turning the ball over. He went a modest 11-for-20, with 159 yards, one touchdown and a 97.7 quarterback rating. 
However, while Yates was able to play not to lose against the Bengals, he will not be allowed to play that same way this week against the Ravens. Baltimore has the second-ranked rushing defense in the NFL, compared to Cincinnati who was 10th. 
Baltimore will shut down Houston's rushing attack, which will force Yates to throw more than the Texans will want him to. Yates will struggle, because when he has thrown for 30 or more times he has had more interceptions than touchdowns (four to three). 
Baltimore Ravens: Joe Flacco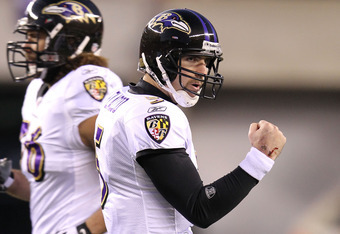 Andy Lyons/Getty Images
Flacco has seen his 2011 season have a number of highs, having a career high in passing attempts (542) and completions (312). He's also seen a number of lows, tying his career high in interceptions (12), while having one of his worst passer ratings in his career (80.9). 
When the Ravens let Flacco throw more than 30 times this year they struggled, only winning six of 10 games. Where as when they kept Flacco to under 30 passing attempts, they were undefeated.
If the Ravens move away from Rice and let Flacco throw the ball more than 30 times, it will be the reason they lose. Last week, Houston was able to shut down Cincinnati's QB Andy Dalton, holding him to only completing 27-of-42 passes for only 257 yards while intercepting him three times. 
Houston Texans: Arian Foster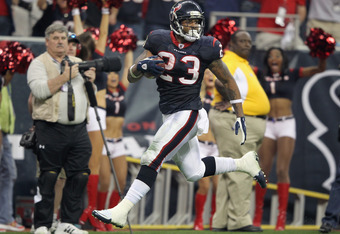 Jamie Squire/Getty Images
Foster exploded against a good Bengals rushing defense for 153 yards, two touchdowns and averaging 6.4 yards per carry. 
However, on the year the Bengals gave up 104 yards per game to opposing running backs, while Baltimore only gave up 92 yards. Plus, the Ravens have had an entire week to get ready for Foster and the Houston rushing game.
When these two teams met in Week 6, with a week off before their game, they were able to hold Foster to only 49 yards on 15 carries. Foster only averaged 3.3 yards per carry, and did not find his way into the end zone. 
This week will be just like that Week 6 game with Baltimore holding the talented running back to under 75 yards and no touchdowns. 
With two of the Texans players struggling this weekend, their season will come to an end. The Ravens will be led by Rice and the running game, as they head off to another AFC Championship game.