LSU Tigers: Was Keeping Jarrett Lee on the Bench Worst BCS Coaching Move Ever?
January 10, 2012
Chris Graythen/Getty Images
Does anyone know if LSU was informed that they were supposed to show up for the 2012 BCS title game? Because it sure looked from a college football fan's perspective like they had no idea that they had a game on Jan. 9.
Without getting into the ramifications of LSU's blown BCS title shot, and an in depth of analysis of the game, the question I'm here to answer is this:
"Was Les Mile's decision to keep Jordan Jefferson in the game, instead of putting in senior quarterback Jarrett Lee, the worst coaching move in BCS history?"
The short answer to that question is a resounding "yes." The long answer is what the rest of this article is about, so if you're interested in reading my opinion, please read on.
I'll start this off by saying that I'm not even sure why Les Miles gave the starting quarterback job back to Jefferson after he returned from serving his four-game suspension while facing assault charges stemming from a bar brawl in the summer.
In nine games, Jefferson threw for 684 yards and six touchdowns while rushing for 263 yards and three touchdowns. Jefferson accounted for all of that while sporting a quarterback rating of 138.7. In 11 games, Lee threw for 1,306 yards and 14 touchdowns on 104 completions, for a quarterback rating of 152.0.   
When you compare each quarterback's production in 2011, I think it's blatantly clear who should have played the majority of the BCS title game at quarterback. When you look at those stats, it's important to know that with Lee as the starter LSU beat BCS bowl talent Oregon and WVU.
Sure, Jefferson played the majority of LSU's previous matchup with Alabama, but the reason LSU won wasn't his "versatile" play, it was their dominant defense.
I'm not even sure that Miles had a good reason for why he kept Lee on the bench. When asked why he kept Jefferson in the game, here's what Miles had to say about it:
"We did consider Jarrett Lee. But we felt like with the pass rush that we were getting that we needed a guy that could move the seat and not sustain that pass rush."
Really Miles? Jefferson's 18 yards passing, five yards rushing and one fumble was really impressing you at the end of the first quarter? Or maybe it was his total first-half production of 26 yards passing and 10 yards rushing that undoubtedly proved to Miles that the Tigers' best chance at beating the Crimson Tide was to keep him in the game.
I'm pretty sure responding to the pass rush wasn't LSU's problem. The Tigers' problem was that Jefferson, who the head coach decided to keep in the entirety of the game, couldn't have thrown the ball into the ocean if he was standing on the shore.
Even someone watching their very first football game would have recognized that Jefferson wasn't doing his job well, and that is why I'm so shocked that the 2011 Coach of the Year couldn't even realize that.
If LSU had no other option at quarterback, keeping Jefferson in the game would have made sense, but the fact that they had a veteran quarterback who led the Tigers to a 4-0 start without Jefferson waiting to get into the game makes Miles' decision absolutely inexcusable.
Lee accounted for 278 yards and four touchdowns without throwing a single interception against two BCS bowl game winners, the No. 4-ranked Oregon Ducks and the No. 18-ranked West Virginia Mountaineers, and Miles for some reason still thought that Jefferson was his best bet under center.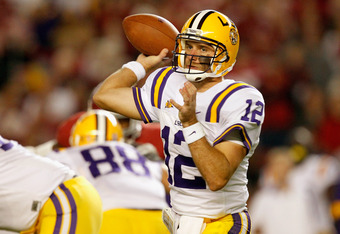 Streeter Lecka/Getty Images
Sure, Miles did an incredible job throughout the season of coaching the LSU Tigers to a 13-1 record and an SEC championship, but his coaching blunder in the BCS title game makes all of that meaningless.
I know Lee could have come into the game and played worse than Jefferson, but if Lee could have completed one pass for 10-plus yards, he would have been doing better than Jefferson already.
One thing I'll never understand why Miles, one of college football's brightest minds, kept Lee on the sideline, and I'll never understand how one of college football's riskiest coaches wasn't willing to take the risk of pulling Jefferson out of the game in favor of Lee with the BCS title on the line.
There's no doubt in my mind that Miles' coaching blunder will go down in BCS title game history as the worst coaching decision, or lack thereof, ever made.