2012 NFL Draft Order: Desperate Teams Who Will Reach for a Need
January 10, 2012
Tom Pennington/Getty Images
Teams reach for a need all the time in the NFL draft.
Even if they are selecting early in the first round, we've seen numerous occasions where teams address a need regardless of the prospects available.
The Minnesota Vikings were a good example of that in 2011, when they drafted Christian Ponder at No. 12 overall.
Here are three teams who I see reaching for a need in the 2012 NFL draft.
Carolina Panthers: Zach Brown, OLB, North Carolina

Some people believed the Panthers reached when they selected quarterback Cam Newton at No. 1 overall last year. We have since realized they made the right choice.
But even after improving their offense in 2011, the Panthers were deplorable defensively, giving up 26.8 points per game.
Some believe the Panthers will focus on a defensive specialist in the top 10, but why add a bunch of specialists when you can grab a complete linebacker in North Carolina's Zach Brown.
Brown isn't a legitimate top-10 pick, but I actually like him a lot and I don't see this as too much of a reach. He can stop the run, is excellent in coverage and would add to the pass rush.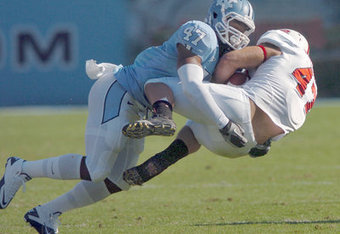 Dallas Cowboys: Stephon Gilmore, CB, South Carolina
I actually like Stephon Gilmore more than Nebraska cornerback Alfonzo Dennard, but I would still agree he's a bit of a reach at No. 14 overall.
Nonetheless, he has the potential to be a solid corner in the NFL, plus his returning ability would allow the Cowboys to use Dez Bryant strictly as a receiver.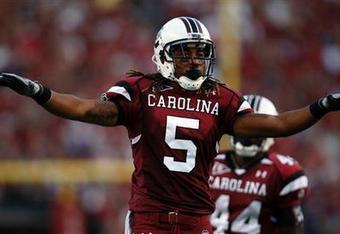 Cincinnati Bengals: Janoris Jenkins, CB, North Alabama
I see the Bengals drafting Miami Hurricanes running back Lamar Miller at No. 17 overall.
At No. 21 overall, I see cornerbacks Stephon Gilmore and Alfonzo Dennard off the board. With the Bengals needing a corner opposite Leon Hall after Johnathan Joseph's departure, I see them "reaching" for Janoris Jenkins.
Jenkins isn't a reach here based on talent alone (he would be a top-15 pick in that regard), but his character concerns have dropped him far (he was arrested for marijuana possession twice in a three-month span and got into a bar fight while at Florida).
Nonetheless, the Bengals have had a history of drafting talented players with character concerns and they need another corner.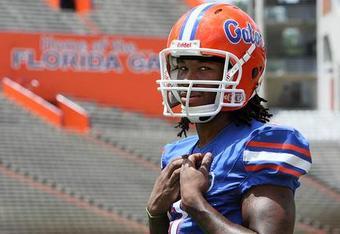 2012 NFL Draft Order
1. Indianapolis Colts (2-14)
2. St. Louis Rams (2-14)
3. Minnesota Vikings (3-13)
4. Cleveland Browns (4-12)
5. Tampa Bay Buccaneers (4-12)
6. Washington Redskins (5-11)
7. Jacksonville Jaguars (5-11)
8. Miami Dolphins (6-10)* 
8. Carolina Panthers (6-10)*
*Decided by coin flip at NFL combine
10. Buffalo Bills (6-10)
11. Seattle Seahawks (7-9)**
11. Kansas City Chiefs (7-9)**
**Decided by coin flip at NFL combine
13. Arizona Cardinals (8-8)
14. Dallas Cowboys (8-8)
15. Philadelphia Eagles (8-8)
16. New York Jets (8-8) 
17. Cincinnati Bengals (from Oakland) (8-8)
18. San Diego Chargers (8-8)
19. Chicago Bears (8-8)
20. Tennessee Titans (9-7)
21. Cincinnati Bengals (9-7)
22. Cleveland Browns (from Atlanta Falcons) (10-6)
23. Detroit Lions (10-6)
24. Pittsburgh Steelers (12-4)
25. Denver Broncos (8-8)
26. New York Giants (9-7) 
27. Houston Texans (10-6)
28. San Francisco 49ers (13-3)
29. Baltimore Ravens (12-4)
30. New England Patriots (from New Orleans)
31. New England Patriots (13-3)
32. Green Bay Packers (15-1)