UFC: Gabriel Gonzaga Talks Taking Time Off, His UFC Return and More
January 11, 2012
Saturday, Jan. 14 will mark the return of UFC legend Gabriel Gonzaga (12-6) after having been out of the Octagon for nearly 15 months.
Gonzaga will be replacing the injured Rob Broughton at UFC 142 in a heavyweight showdown against Ednaldo Oliveira, who holds a record of 13-0-1 with one No Contest.
UFC 142 will take place at the HSBC Arena in Rio De Janeiro, Brazil beginning at 7:00 p.m. PT and 10:00 p.m. ET.
In a recent interview with Bleacher Report's Garrett Derr, Gonzaga shared how his time away from the Octagon was the best thing that's happened to him.
 I believe the time away from the Octagon was really good, as it allowed me to take care of some smaller projects in my life. It also allowed me to regain my focus on my career as a mixed martial artist.

I'm very happy to be back fighting for the UFC. I'm hungry to get back in there and fight. I want to prove that I can make a big run in the heavyweight division. It's time to focus on winning my fights and getting back to where I was before I left.
With Gonzaga's hectic schedule and constant training, he hadn't had the opportunity to hear directly from UFC president Dana White. Instead, Gonzaga was informed of his return by his manager, Marco Alvan.
I actually didn't get to talk to Dana. It was all done and completed through my manager, Marco, and Joe Silva. I just got the great news that I was going to be back in the UFC. The best news was that I was going to be fighting at UFC Rio in front of my home country.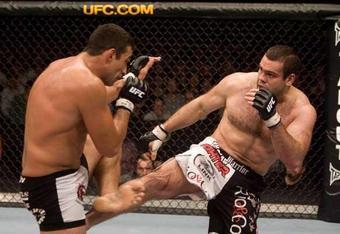 Despite being off for a significant amount of time, Gonzaga is confident he will make his return known to all when he steps foot inside the Octagon to take on Oliveira.
However, while Gonzaga may be confident, he is well aware and respects the fact that his opponent has never lost a fight.
I truly believe that I'm the better fighter. But, I'll need to prove that I'm the better fighter inside the cage, not just by saying it. I'm training extremely hard for this fight against Oliveira, and I'm confident that I will win.
What many fail to realize is that while Gonzaga hasn't fought in the UFC since UFC 121, he's remained active and is coming off one the biggest fights of his career. Gonzaga recently defeated Parker Porter by arm-triangle choke in the third round of action, declaring him the Reality Fighting heavyweight champion.
I had a pretty big fight last October when I decided to come back and pursue my dream again. It was for the Reality Fighting heavyweight title. I was able to win by submission and become the new champion at the Casino Mohegan Sun in Connecticut. I was very well prepared for that fight, and I'll be even more prepared for this one.
Gonzaga will have more than one opportunity to prove to the world he still has what it takes to make a run towards the top of the heavyweight division, as he recently signed a multi-fight contract with the UFC.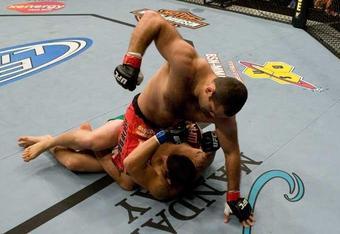 "I just signed a four-fight contract with the UFC, and I'm very excited about my future. I want to focus on Oliveira and go step by step all the way back to the top," said Gonzaga.
A key component to Gonzaga's return was finding the right training partners to maintain his focus on his journey back to the UFC. Gonzaga found the support he needed, as he's currently training with Team Link located in Ludlow, Massachusetts.
I'm very thankful for the support from my team here in Massachusetts. We're having an awesome training camp, and I'm ready to get back in the Octagon. I look forward to representing Team Link in Rio.
To learn more about Gabriel Gonzaga, follow him on Twitter.
For additional information, follow Garrett Derr on Twitter.