12 College Basketball Programs Gaining Ground on Big Boys in Recruiting Game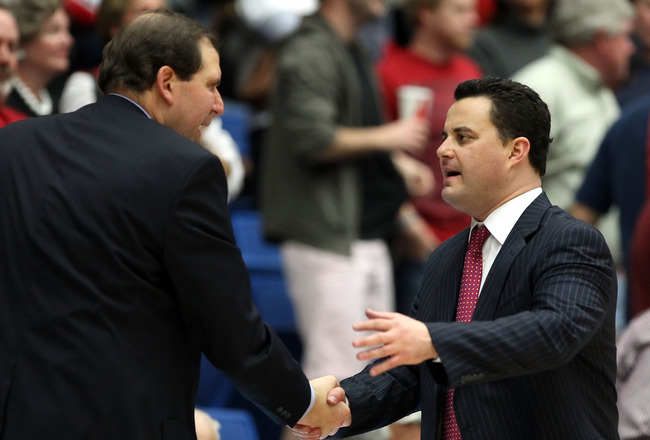 Christian Petersen/Getty Images
Recruiting is a vital aspect of college basketball, as John Calipari's freshmen-led Kentucky teams have proved in recent years. Freshmen play a much bigger role now than they did before the one-and-done rule, and recruiting can turn a sub-standard program into an elite one.
Sean Miller's Arizona Wildcats look to be on the rise because of their recruiting, as he has landed three of the top nine recruits in the 2012 class and four in the Top 25.
Apart from Arizona, these schools are all gaining ground on the elite programs in the country, such as Duke, North Carolina, Kentucky and the rest of the top 25.
Recruiting is the key to consistently being a top 25 team, and these teams are on their way to doing so.
Providence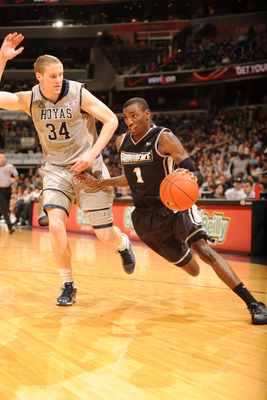 Mitchell Layton/Getty Images
The Providence Friars have had very little success in recent years, but their 2012 recruiting class is going to have them climbing the rankings and surprising anyone who doesn't follow recruiting (telling your friends to watch out for Providence for the next few years is a good way to impress them).
The Friars are bringing in some serious talent with SG Ricardo Ledo, PG Kris Dunn and SG Josh Fortune. Their class ranks 10th in the nation and has been as high as fourth.
Ed Cooley has brought this team some Big East-level talent, and Providence appears to be on the way up behind his recruiting.
North Carolina State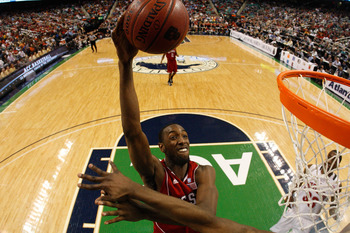 Streeter Lecka/Getty Images
Under new coach Mark Gottfried, the North Carolina State Wolfpack has brought in three Top 100 recruits and has the third-best class in the nation.
Shooting guard Rodney Purvis ranks No. 16 in the country, and he is Gottfried's statement-recruit. SF T.J. Warren ranks No. 23 in the country, while PG Tyler Lewis ranks No. 69 in the country, and these three make up a formidable class.
Two Top 25 recruits make Gottfried's first class a spectacular one, and he is ready to help bring NC State up the ACC-ladder.
Colorado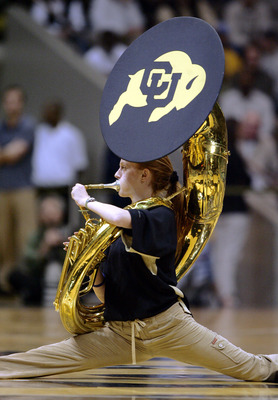 Brian Bahr/Getty Images
The Colorado Buffaloes have had next to no success on the basketball court in recent years, but their recruiting class is one of the top in the country.
The Buffaloes rank No. 24 in the country, with five recruits joining them, two of which are Top 100 recruits. C Josh Scott and SF Xavier Johnson are both in the top 100, with Scott being No. 46 in the class.
Colorado brings in a player at every position except for shooting guard. Freshman Spencer Dinwiddie is one of the team's best players at this point. Having a core of Dinwiddie, Andre Roberson and Askia Booker coupled with their recruiting class can help make Colorado a legitimate Pac-12 contender.
UCLA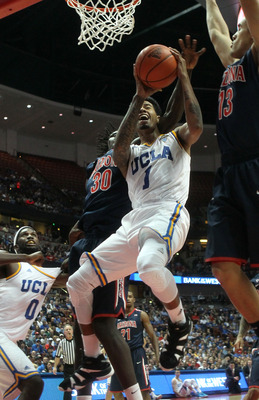 Stephen Dunn/Getty Images
UCLA brings in two Top 50 recruits to help them win another Pac-12 crown. In a wide-open conference, adding No. 5 recruit Kyle Anderson will change their team and could help them jump from No. 6 in the conference to the top three.
UCLA's class ranks No. 9 in the country and second in the Pac-12 behind only Arizona.
UCLA has fallen off the pace a bit after losing Tyler Honeycutt and Malcolm Lee, but bringing in Anderson to add some athleticism to the team will help them move up in the clustered Pac-12.
Wake Forest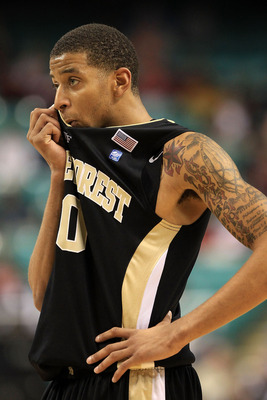 Streeter Lecka/Getty Images
Wake Forest has been in the basement of the ACC for the past few years, but bringing in six freshmen will help turn the program around in a few years.
Jeff Bzdelik is in his second year at Wake Forest, and he has turned this basement-dwelling team into a work-in-progress.
Four forwards, a point guard and a center make up this recruiting class, and they will soon lead this team.
Codi Miller-McIntyre is the point guard—he was an unknown prospect when Bzdelik started to recruit him and has developed into a great player. Wake Forest's class will bring them up in the ACC, and if Bzdelik can get a few more, he can build this program back into elite form.
Purdue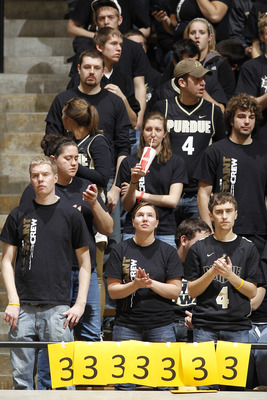 Joe Robbins/Getty Images
Purdue is bringing in a four-man class that resembles the class that brought in E'Twaun Moore, JaJuan Johnson and Robbie Hummel. While the expectations for this class cannot be quite that high, their core of three Top 100 players makes them the No. 14 class in the nation.
SG Rapheal Davis, C A.J. Hammons and PG Ronnie Johnson are all in the Top 100, and they give the Boilermakers a backcourt and a big man for the future.
While this class won't help Purdue climb back into the Top 25 in 2012, but in the following years, this team will be elite as these three mature.
Georgia Tech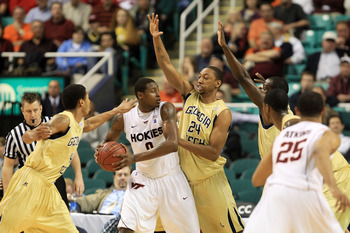 Streeter Lecka/Getty Images
The Georgia Tech Yellow Jackets have the second-worst record in the ACC at 7-8 overall, behind only 5-10 Boston College.
Georgia Tech used to be an elite program, but they have fallen off the pace in the ACC due to their lack of recruiting success. Since 2005, the Yellow Jackets have had only two good recruiting classes. Their 2006 class is now completely gone, and the players in their 2009 class are either gone or disappointments.
Tech needs this 2012 class to pan out and to add a few more to become a great team once again.
Having the No. 20 class in the nation should help the Yellow Jackets. They bring in three recruits, two of whom are in the ESPN Super 60, and one of whom is No. 21 Robert Carter.
Carter should help them in the frontcourt, as he is an elite power forward, and SF Marcus Hunt will bring some athleticism to the team.
Things are looking up for the Yellow Jackets, and a few more classes like this would help them contend for an ACC crown.
Houston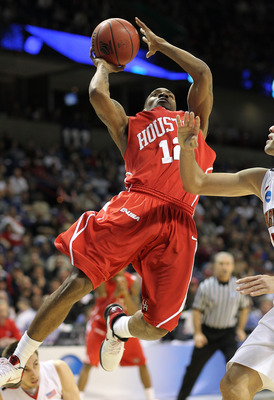 Otto Greule Jr/Getty Images
Case Keenum led the Houston Cougars to success on the gridiron, but the school will have some success in basketball to add to their success on the football field.
The No. 22 class in the nation belongs to Houston, as does SF Danuel House.
House is the No. 15 recruit in the country due to his athleticism. He is a beast in transition and does a good job slashing. House is good on both ends of the floor because of his athleticism, but he needs to bulk up if he wants to maintain his level of excellence in college.
Two Super 60 recruits makes this class a good one, and we could see Houston leave a mark on Conference USA in the coming years.
Maryland
Mitchell Layton/Getty Images
After coach Gary Williams retired, Maryland's program looked in danger of falling off the map, yet they are doing well in the recruiting game.
C Shaquille Cleare leads this class, but he is one of two Super 60 recruits Maryland is bringing in. No. 53 Jake Layman will also be a Terp, but he is not as skilled as Cleare.
Maryland is a sub-par team this season, with all of their wins coming against weak, non-conference opponents. They need to develop a frontcourt to complement sophomore guard Terrell Stoglin, who is one of the best scorers in the country at 21.4 points per game.
Cleare and Layman should help this team become well-rounded, and Maryland will have some success in the near future.
Iowa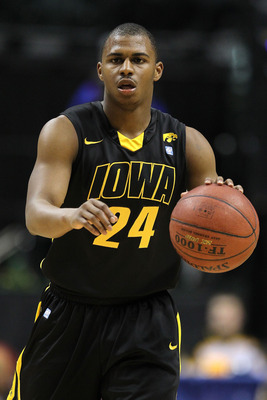 Andy Lyons/Getty Images
Iowa State received one point toward joining the AP Top 25 this week, which establishes them as better than Iowa.
The Iowa Hawkeyes are bringing in five recruits, which make up the No. 21 class in the nation, and should help them flip the world right-side-up.
It has been a long time since Iowa State was better than Iowa, yet this is not unexpected, as Iowa has not recruited well.
Bringing in two point guards, two centers and a shooting guard should help Iowa, as they have a lot of work to do.
Villanova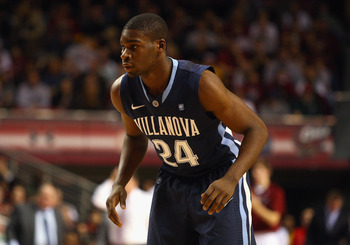 Chris Chambers/Getty Images
Villanova was once a feared program, but they have fallen from making the NCAA tournament last year to 8-8 and being No. 12 in the Big East.
Nova looks to right the ship in the recruiting game, however, by bringing in two top 40 recruits in PG Ryan Arcidiacono and C Daniel Ochefu.
This class was once ranked No. 2 in the nation, and they have enough talent to help turn the tide in Philly.
Arizona
Ronald Martinez/Getty Images
Despite playing in one of the six major conferences and making the Elite Eight last year, Sean Miller's Arizona program is not currently one of the major programs in the country, nor are they in the Top 25.
The Wildcats have a huge haul in 2012, however, and being joined by four stars could potentially make them a Top 10 team next season.
Brandon Ashley, Kaleb Tarczewski, Grant Jerrett and Gabe York are all elite recruits, with York being one of the most underrated players in the class at No. 28, and the other three all being ranked in the top nine in the class.
Bringing in a new frontcourt and an elite point guard will help give this team the star-power they have needed to take their program to the next level this year without Derrick Williams. Did I mention they also have the number one ranked class is the nation?
Look for the Wildcats to be a Top 10 team next season and continue to display excellence.
Josh Schoch is an aspiring sportswriter dedicated to bringing you everything related to college basketball, college football, the NFL, NBA, MLB and much more. Follow him on Twitter.
Keep Reading