7 Reasons Why the Ohio Bobcats Will Be Dancing in March
Andy Lyons/Getty Images
The Ohio Bobcats men's basketball team became a household name in March 2010 when it upset Greg Monroe and third-seeded Georgetown Hoyas in the first round of the NCAA tournament, 97-83. Armon Bassett and D.J. Cooper combined for 55 of the Bobcats' points, effortlessly shooting three-pointers and out-running the Hoyas all night long.
This year, the Ohio Bobcats will not be sneaking up on anybody, as they currently sport a 13-3 record. Here are seven reasons why the Bobcats will be returning to March Madness again this season.
1. D.J. Cooper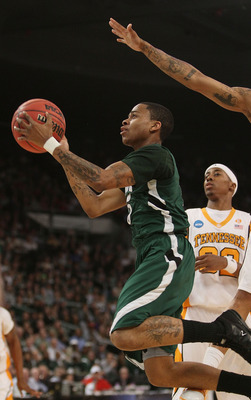 Cooper drives for two in the second round of the 2009 NCAA Tournament
Elsa/Getty Images
Last year D.J. Cooper was second in the nation in assists (7.5) and ranks 15th this year, averaging 6.3 per contest. It's his ability to drive the lane and create easy looks for his teammates that makes him such a consistent playmaker.
Don't let his size fool you either. At 5' 11'' and 165 pounds, Cooper will test his strength against anyone. Just like Allen Iverson used to do it, he can finish at the hoop and absorb contact from any big man that challenges him.
As the team's leading scorer, Cooper isn't afraid to launch the three ball either. He may be more of a streak shooter, but when he is on target there might not be a more feared offensive weapon in the MAC.
Cooper collected his first career triple-double this season in a road win at Portland, and has been the engine behind the Bobcats' strong start.
Ohio will go as far as Cooper can take them, which could be a scary site for whomever the Bobcats draw in the first round of the NCAA Tournament.
2. Ivo Baltic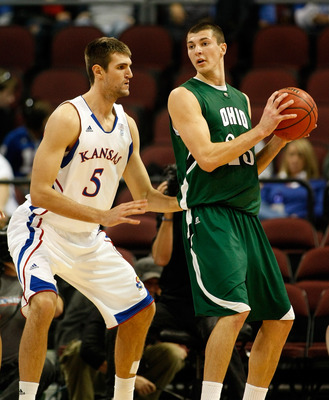 Junior forward Ivo Baltic
Ethan Miller/Getty Images
Ivo Baltic, a 6' 8'' junior forward, is a special offensive threat. When talking about Baltic, it all starts with his footwork. He has an explosive first step and smooth footwork that allow him to use a variety of moves around the basket and in the mid-range area.
Earlier this season, the big man nailed two three-pointers in a road victory at Northern Iowa thanks to his improved jumper. He has the ability to pull up and sink it from anywhere on the court, which makes him a nightmare to guard for opposing big men.
Baltic's strong offensive skill set can take over a game. For example, in last year's contest against Northern Illinois, he racked up a career-high and much-needed 31 points on a night the other Bobcats simply didn't have it. He singlehandily led the 'Cats to victory that night, and don't be surprised if you see it happen again.
Baltic's scoring will play a crucial role in Ohio's ability to win the big games down the stretch.
3. Walter Offutt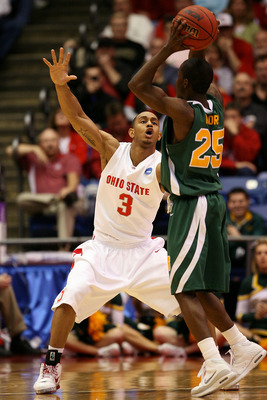 A one time Buckeye, Walter Offutt now suits up for Bobcat nation
Andy Lyons/Getty Images
An Ohio State transfer, junior Walter Offutt is as intense as they come. No doubt about it, he is the team's emotional leader. The Bobcats are young, and many of the freshman and sophomores look up to Offutt.
I had the privilege of being a student manager last year, and watching Walt every day was like watching Kevin Garnett in Game 7 of the NBA Finals. Because of his transfer, Offutt was not eligible to play in any games, but you would have thought he was preparing for the toughest battle of his life by how intensely focused he was for every drill.
The best part is, his passion and worth ethic rubbed off on his teammates and the competition level during practices increased exponentially.
Offutt's hustle is a big reason why this team is playing so well together. It might be worth noting that he's is a heck of a scorer too. He is second on the team in points per game and is one of the more explosive, high risers in the MAC.
4. Depth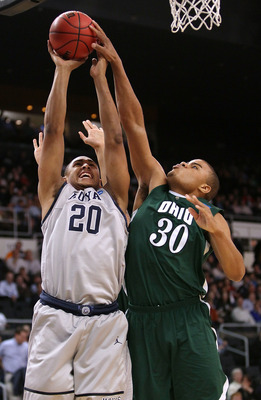 Ohio junior Reggie Keely
Elsa/Getty Images
Nine players average more than 10 minutes a game. The 10-man rotation gives Coach John Groce great flexibility in creating his game plans and allows the starters to stay fresh throughout the game.
The depth often eliminates foul trouble issues as well. This asset could be much needed down the stretch against big men like Akron's Zeke Marshall and any other bigs the Bobcats could challenge in the NCAA Tournament.
Additionally, the number of minutes the younger guys are racking up now will help them down the stretch. Of the 10 players in the rotation, six are freshman or sophomores. Many play a very significant role and their experience will only make Ohio more dangerous come March.
5. Guards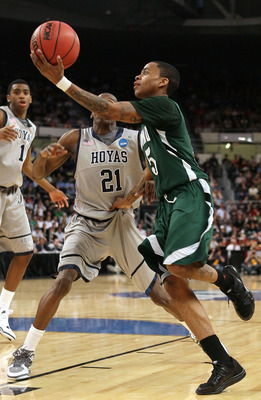 Elsa/Getty Images
Ohio rolls five guards deep, and all five play vital roles.
There's the starting backcourt of D.J. Cooper and Walter Offutt, plus the sweet stroke of sophomore shooting guard Nick Kellogg, who's shooting 47 percent behind the arc, Clark Kellogg's son has become one of the more feared sharpshooters in the nation.
And that's not counting freshman point guard Stevie Taylor, who will be a big reason why the Bobcats make a legitimate run in the NCAA Tournament.
Cooper is arguably the best point guard in the Mid-American Conference, but when Cooper and Taylor are in the game at the same time, Taylor is the one running the point.
Sliding the team's best player to shooting guard to allow a true freshman to run the offense speaks to the potential of Taylor. Furthermore, the switch allows Cooper to stay fresh in crunch time, which will be pivotal late in the season.
Last, Ricardo Johnson is the blue-collar guard doing all the dirty work
Pound for pound, he is the team's best rebounder. He often wins the daily rebounding competition in practices. He sets the tone defensively and provides a spark off the bench. Johnson might not hit the big shot to win a game, but he'll do all the little things that turn close games into victories.
6. Louisville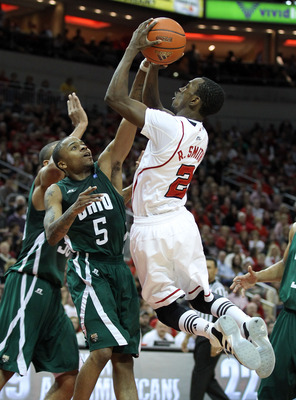 Andy Lyons/Getty Images
The five-point loss at Louisville was a tough one because Ohio was in control the majority of the game. The lead slipped away in the final moments and Ohio came up just short to a talented Louisville team.
While a loss is a loss, the experience at Louisville will only help the 'Cats chances of making a postseason run. Playing tough against one of the Big East's elite teams shows Ohio has what it takes to hang with any team in the country.
7. Coaching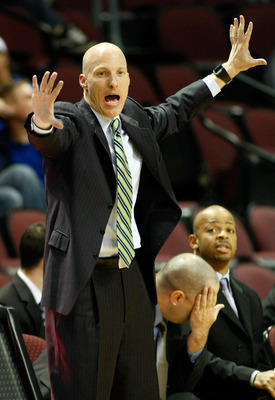 Ethan Miller/Getty Images
While the majority of Ohio's players are young and relatively inexperienced, this isn't Coach Groce's first rodeo. The 2009 MAC Tournament Championship squad didn't have a great regular season, but Groce had them performing at their best when the lights were brightest.
Groce is an outstanding motivator, and as head coach he is not going to let this season slip away. The Bobcats haven't won a MAC regular-season title since 1994.
Groce will do everything in his power to make sure the drought ends this year.
Keep Reading