Erick Silva Discusses His UFC 142 Bout, Training with Team Nogueira, and More
January 11, 2012
On Saturday, January 14th, Erick Silva will look to win his fifth consecutive fight when he takes on Carlo Prater at UFC 142.
UFC 142 will take place in Rio De Janeiro, Brazil at the HSBC Arena beginning at 7:00 p.m. PT and 10:00 p.m. ET.
In a recent interview with Bleacher Report's Garrett Derr, Silva discussed the importance of training with Team Nogueira and how it's changed his life as a mixed martial artist.
"I began my career in mixed martial arts when I joined Team Nogueira in 2008", said Silva. "I started to fight with Jungle Fight, the biggest event in South America. I had a big sequence of victories and it was because of my team."
"I got to train with the Nogueira brothers, Anderson Silva, Ronaldo Jacaré and Rafael Feijão. My coaches Rogerão Camões and Josuel Distak also helped me succeed from the very beginning. I wanted to be with the best fighters in Brazil", stated Silva.
Silva's success in the organization of Jungle Fight translated into success at the highest level of MMA as he was declared victorious in his UFC debut over Luis Ramos at UFC 134.
In fact, Silva's Octagon debut took just a staggering 40 seconds, as he finished Ramos off with a series of strikes.
"The win over Ramos meant a lot for me. I needed to win in my debut with a different style to get attention. I think with that victory I got a lot of attention. Now, I'm on the pay-per-view card and I'm very happy", stated Silva.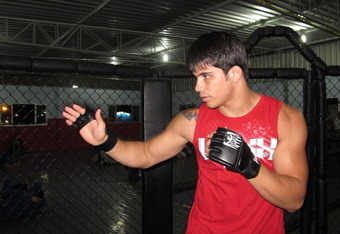 While Silva is ecstatic to have earned a victory in his UFC debut, he'll be even more pleased with a win over Prater on January 14th.
Even still, Silva has the utmost respect for Prater as a UFC fighter and MMA veteran.
"He's in the UFC for a reason. It's the biggest MMA organization in the world. I want to learn from this fight and get experience as I move forward in my career," said Silva.
With UFC 142 quickly approaching, Silva is focused on defending against the submission, as Prater has recorded 16 victories by way of tap-out over the course of his career.
"I'm 100% heading into this fight. I'm ready and well-trained. I have been working my submission game as well. I like to work all my styles," said Silva. "But most importantly, I feel confident in my striking."
While many of the fighters on the UFC 142 card will be competing in Brazil for the first time, it won't be anything out of the ordinary for Silva as he's spent his entire life fighting in his home country.
"I've fought 15 fights in my career and they've all been in my home country of Brazil. I love to fight in Brazil. All my life I've fought here and feel comfortable with the fans," he explained.
Also joining Silva on the main card is fellow Brazilian José Aldo, who will look to successfully defend his featherweight title when he takes on number one contender, Chad Mendes.
Silva believes Aldo will defeat Mendes in the final bout of the evening in Rio De Janeiro, Brazil.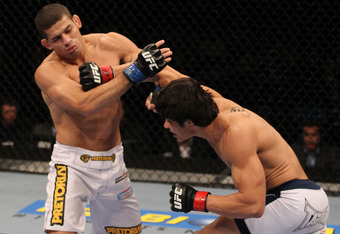 "I believe José Aldo will win the fight. There's no wondering why he is the featherweight champion. I think he will prove this again. Aldo will have more resources than Chad Mendes," said Silva.
If the 27-year-old has taken one thing away from training with Team Nogueira, he's learned to appreciate each phase of his career.
As a result, Silva truly enjoys the opportunity to fight for the most prestigious organization in the world.
"I only want to win this fight. After I win, I will worry about my next fight. And then the next one. I'm not worried at all about any rankings," said Silva."I'm only worried about the victories."
"Anyone can have feelings and goals. But, to get mine, I have to train a lot. It's what I'm doing every single day. My advantage is that I'm evolving all the time and learning new things," stated Silva.
While Team Nogueira has certainly developed Silva into a legitimate force in the welterweight division, he's most thankful for his family and, specifically, his father.
"I'm very grateful for my family, my wife and my little child, Kalleu. My dad has always been there for me. If my father hadn't helped me in the beginning of my career, I wouldn't be in the UFC. He always paid for my trips to fight along with other things", said Silva.
"My dad has always believed in me."
To learn more about Erick Silva, follow him on Twitter.
For additional information, follow Garrett Derr on Twitter.