Chicago Blackhawks: Deadline Targets for Needed Improvements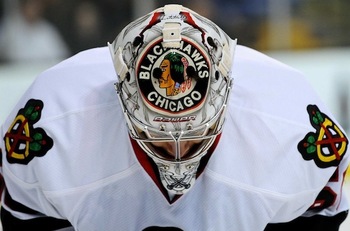 Is this the man that will backstop the Hawks to another Cup?
The 2011-2012 Chicago Blackhawks have turned in to one of the more mercurial teams in the NHL this season.
At times, they have had the most points in the league, yet few analysts have placed them at the very top of their power rankings. While they have put together some nice winning streaks (namely a five-game streak in December and a four-game streak in November) that included victories over Vancouver, San Jose and Minnesota, they also lost four in a row and five of their last six before a victory over the current NHL doormat Columbus Blue Jackets.
The one-time leaders of the NHL in points are currently in a tie with the surging St. Louis Blues and only two points ahead of the always competitive Detroit Red Wings (who have a game in hand) for the lead in the Central Division.
While a dogfight in early January might not seem like cause for concern, as fans continue to compare this team favorably to the 2010 squad that won the Stanley Cup, the recent fall off is symptomatic of some greater issues that need to be addressed if the Hawks are to have any hope of advancing far in the playoffs, much less winning it all this year.
1. the Bottom Six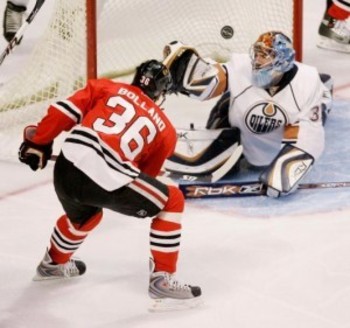 It's easy to look at a Hawks team that has talent like Patrick Kane, Jonathan Toews, Patrick Sharp and Marian Hossa and say that Coach Joel Quenneville has more on offense to work with than most other teams in the NHL.
Unfortunately, after the big four, the Hawks offensive depth takes a serious nosedive, and nothing makes this more apparent than the third line and the bottom six in general.
Once a strength of the Blackhawks, the 3rd line that consisted of Andrew Ladd, Dave Bolland and Dustin Byfuglien, so vital in the defeat of the Vancouver Canucks en route to their first Stanley Cup in nearly 50 years is nothing more than a fond memory.
With Ladd and Byfuglien currently thriving in Winnipeg, Bolland now finds himself centering a third line that has seen its share of ups and downs the last two years. The 25-year-old is still solid defensively, even if his offensive output leaves a bit to be desired for a player that makes $3.5 million per season.
Bolland will certainly be needed come playoff time, but it would be nice to see jim turn up the volume with Patrick Sharp out for up to a month with an upper body injury. Regardless, as pedestrian as Bolland's stats appear this season, the real culprits in the bottom six are as follows:
Brian Bickell: After tallying 37 points in 78 games during his rookie season last year, many were expecting Bickell, a rock solid contributor on the 3rd line in '10-'11, to take the next step this season. Though he's been in both the top six and bottom six this year, many believed that he'd make more 3rd line magic with Bolland and Michael Frolik this season.
At worst, many hoped he would be as reliable as he was last season. Unfortunately, expectations can also breed disappointment, as illustrated by Bickell's staggeringly low 37-game output of 9 points to go with an equally disappointing -8 plus/minus rating.
Daniel Carcillo: Some fans feel vindicated for knowing it would end this way all along, and some feel suckered in to thinking that a guy brought in to mix things up in the bottom six had blossomed in to reliable protector on the 2nd line but, in the end, the man known as "Car Bomb" was exactly as advertised.
A loose cannon whose dirty hits routinely put his team at a disadvantage on a regular basis, and with his last vicious hit on Edmonton's Tom Gilbert netting him a 7-game suspension, one has to wonder if Stan Bowman took a much greater risk than Carcillo's small contract might have initially indicated.
Michael Frolik: This one is perhaps the most confusing (and frustrating). Call Bickell a one-year fluke and Carcillo a risk not worth taking, but Michael Frolik seemed to have all the promise in the world heading in to this season. $2.3 million on a three-year deal following a solid 38 point season seemed reasonable for a former 10th overall pick who, at 23 years of age, already has two 40+ point seasons under his belt.
Once thought to be on the verge of breaking out with more talent surrounding him in Chicago than with his previous team, Frolik nears the midway point of the season with five goals and six assists in 41 games played. Coach Quenneville and company must be tearing their hair out trying to figure out what line combination or coaching tactic will finally get the young Czech forward rolling again.
The Bottom Six: Solutions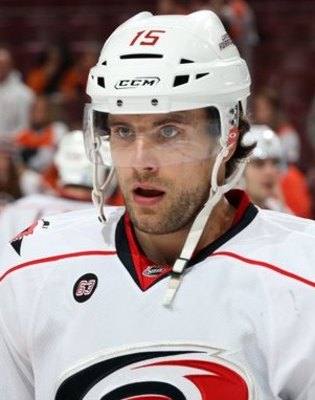 Solutions:
Tuomo Ruutu, Carolina Hurricanes: The first choice is probably the easiest. Many Hawks fans will remember Ruutu as "the best player not playing in the NHL" as he was dubbed within a year of being drafted by the Blackhawks in the summer of 2001.. Back then, the Blackhawks needed a savior. What they got was a solid, albeit unspectacular support player.
Currently, Ruutu is a top line talent with a weak and depleted Hurricanes team, but on the Blackhawks, he'd probably be a better fit on the second or third line as a shut down player with Dave Bolland. He's capable of potting over 50 points in a season and he's still young at 28, but the main attraction here is his two-way playing ability (300+ hits last season).
Steve Downie, Tampa Bay Lightning: Perhaps this is the guy that the Hawks were hoping they'd get when they took a chance on Dan Carcillo. He might not be enormous, but he can hit, drop the gloves, and put up 30 or even 40+ points in a season.
Though Downie is a restricted free agent at years end, the tough power forward comes at a cap-friendly price tag of 1.8 million, most of which will be eaten by the Bolts. That said, it still might require more than the Hawks would be willing to move in order to acquire this hard-nose 24 year old power forward.
Travis Moen, Montreal Canadiens: It's a bit strange to consider the Habs sellers this early in the season, but with one coach already fired this year and a boat that's sinking fast, a 4th liner with Moen's skills might be available sooner rather than later.
Though Moen doesn't come with the skill sets that Ruutu and Downie possess, he also comes at a lower price. He won't score a lot, but he'll put up a few points, lay a few hits and make a few blocks as well. In other words, he's a solid, steady 4th line player who could potentially fit in well with Marcus Kruger and Jamal Mayers.
2. Goaltending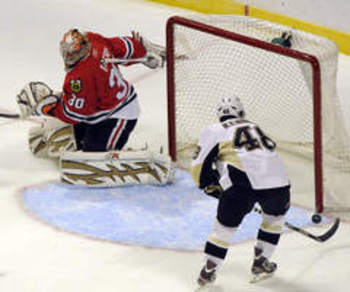 It would be both inaccurate and irresponsible to put the blame for the Hawks' goaltending issues solely on the shoulders of the once up-and-coming Corey Crawford and his more-than-capable backup Ray Emery.
But consider these statistics: Currently, the Blackhawks sit in12th in the conference in terms of goals allowed. Fans looking to draw comparisons to that great 2010 Stanley Cup winning team, and the goalie shenanigans that took place involving Christobal Huet and the upstart Antti Niemi should know that during the cup year, the Hawks were 2nd in the conference in goals allowed.
Corey Crawford: Blame defensive lapses until the cows come home, but at some point, one must consider the idea that perhaps Crawford might not be the guy to take this team to the promised land.
Though he had a very solid season last year after wrestling the starter's job away from Marty Turco, Crawford, a 27-year-old Montreal native, is currently the not-so-proud owner of a 2.83 Goals Against Average (good for 20th among NHL starters) and .903 Save Percentage (tied for 21st among NHL starters)
Ray Emery: Fortunately, after a brief battle that saw Emery briefly earn the starting job, Crawford appears to be Coach Quenneville's top choice again, but even if the position is somewhat stabilized, the recent streak of losses has some fans looking at other options.
Emery's brief period of solid play belies the fact that his season stats are only slightly better than Crawfords (2.72 goals against and a .906 save percentage). Stats like this from both a starter and a backup won't take the Hawks far into the playoffs regardless of any improvements made to the defense.
Goaltending: Solutions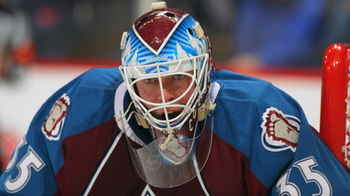 Solutions:
Jean-Sebastian Giguere, Colorado Avalanche: At some point in the not-too-distant future, the Avs are going to have to decide if they want to try and push for a playoff spot this year or continue the rebuilding process for next year. Should they decide to go the latter route, Giguere would be a very intriguing option for teams looking to shore up their goaltending for the stretch run.
Though it has been a few years since his days as the Ducks franchise netminder, Giggy is currently putting up stellar numbers this year in 17 games played (2.08 GAA and a .924 SV% to go along with nine wins). Though it might be a small sample size, his $1.2 million a year contract that runs through next season plants him firmly in the low risk, high reward category.
Al Montoya, New York Islanders: Though recommending a goaltender that is currently recovering from a concussion might sound like a hard sell, this 2004 6th overall pick by the New York Rangers should absolutely be on Hawks' GM Stan Bowman's radar.
Never given the chance to take the ball and run with it for the Rangers thanks to the rise of Henrik Lundqvist, Montoya's bad luck continued as he was traded to a Phoenix Coyotes team that saw little need for him with Ilya Bryzgalov firmly entrenched as their starter at the time. Now on the Island, with a goalie in Rick DiPietro that will be 5,000 years old by the time his contract runs out, Montoya has performed more than admirably when given the opportunity.
3. the Top Six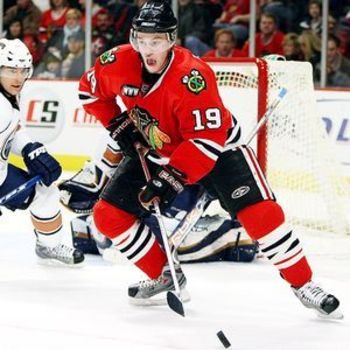 How much of the burden can Captain Serious continue to shoulder?
I agree whole-heartedly with Andy Campbell's recent, well-written article stating that Patrick Sharp's injury should not cause Hawks fans to hit the panic button.
However, without Sharp for the next three to four weeks, the Blackhawks now officially have three top six forwards. Why only three? Because the fourth is injured and the remaining two slots have yet to be filled with any type of consistency.
Some of the failed attempts include:
Viktor Stalberg: Some will point to Stalberg's hat trick against Columbus and say that it might have been his coming out party. However, those people should also look at a few other facts, most notably the six games prior to that scoring outburst where he was held off of the score sheet entirely. Or the first half of December that saw him put up two points in the first seven games. Or the entire month of October that saw him net a total of four points.
Much to the chagrin of Hawks fans, this has been Stalberg's calling card throughout his tenure with the Blackhawks. He dazzles with his speed and the occasional scoring touch before disappearing for several games at a time. For a team looking to win now, a top six player with a few solid performances during the whole season simply won't cut it,
Andrew Brunette: It's hard to judge which move turned out worse for Bowman; giving Dan Carcillo a contract at all or giving Brunette two million of Rocky Wirtz's money to sit on the third or fourth line with 16 points and a team-worst -9 rating.
Unfortunately, after 43 games played, it would appear that age has finally caught up to the 38 year old Brunette. Though it's possible that he'll get another crack at the top six with Sharp's injury, he's clearly lost a step and has become more of a liability at this point.
Top Six: Solutions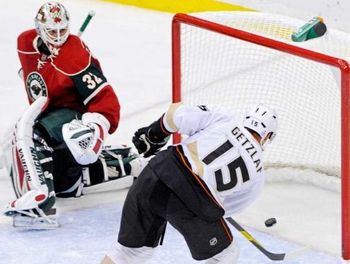 Dare to dream, Hawks fans. Dare to dream.
Solutions:
Ryan Getzlaf, Anaheim Ducks: This would be the least realistic, off the wall pick out of these suggestions. However, at 26, the 6'4 Ducks centermen is a superior two-way player that has two 80+ point seasons under his belt. Plus, he would finally solve the Hawks 2nd line center issue.
At 5.3 mil per year, he'd be rather expensive, plus it would take a lot to pry him out of Anaheim, though he is available if the rumors are to be believed, even if the price tag probably falls somewhere in the range of "kings ransom" and "first born child." Given his skill set, his age, and the Hawks all around needs, this would clearly be the home-run trade scenario.
Sam Gagner, Edmonton Oilers: If Getzlaf is a home-run, then Edmonton Oilers centermen Sam Gagner might be a hard-hit double. A lock for 40+ points per year on a relatively weak team that has fallen back to Earth after a fast start to the season, Gagner's numbers might not sound overly impressive, but many Hawks fans would still love to see him reunite with his 2006 OHL running-mate Patrick Kane, as the two created magic for the London Knights to the tune of 263 combined points.
One should also note that Kane, while not struggling, has been slightly less than elite so far this year, setting a pace well below his career high of 88 points. Perhaps reuniting him with Gagner could help both of them take their careers to the next level?
Shane Doan, Phoenix Coyotes: Like the Avalanche, the Yotes are a rebuilding team that still stands in the thick of the playoff hunt, but will most likely fall from the pack of 8th seed contenders by the time the deadline rolls around. If that turns out to be the case, expect Doan, a 35-year-old veteran in the final year of his contract, to become available.
While his 25 points in 43 games are less than impressive, it's his style of play and his intangible qualities that should make Bowman take notice of the gritty, 6'1 winger. While Stalberg can disappear for several games at a time, Doan's superior 2-way skills ensure that he's still a good player to have on the ice even when he's not on the score sheet.
4. Defense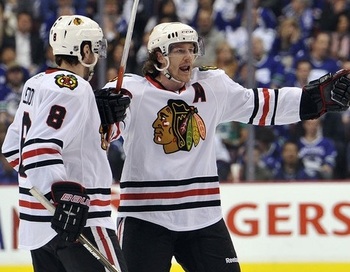 Perhaps the biggest fly in the Hawks ointment has been left for last. While Duncan Keith hasn't performed at the level that won him the Norris Trophy in 2009 as the league's best defender, he has still been solid and capable of playing the insane number of minutes that are expected of him each night.
Along that same vein, Brent Seabrook has had what must be considered a bit of a down year, as he's on pace for slightly over half of last year's point production. Of course, when it comes to Seabrook, it's a bit less about the point output.
Regardless, while Nick Leddy seems to have taken the next step in his progression, other defensemen have failed to deliver the goods:
Steve Montador: Brought in for his typically strong defensive game and paid $2.7 million for four years, the former Buffalo Sabre has seen limited success thus far with the Blackhawks. Though he appears to be on his usual 20+ point pace, Montador has been out of position on several occasions and has seen his ice time cut down dramatically as the season has progressed.
While one would have to figure that Montador will see more chances to redeem himself in the eyes of the coaching staff, one has to wonder if it won't be because putting Keith, Seabrook, Leddy and Hjalmarsson out there for so long each night hasn't finally taken its toll.
Sami Lepisto: Brought in to be a 6th/7th defensemen, Lepisto has looked totally lost at times on the ice, which could certainly be the reason why he's accumulated a total of zero points in eleven games played for the Hawks. Though he certainly doesn't make a large amount of money by league standards, most Hawks fans would rather see the team go in a different direction.
Sean O'Donnell: While it's somewhat unfair to expect the world from a 40-year-old defensive-minded defensemen, at this point he isn't even filling out the title of roster depth anymore. Between O'Donnell, Lepisto and Montador (who was probably meant for the 2nd pairing), the 3rd defensive duo has been extremely weak this year.
Defense: Solutions
Solutions:
Mark Streit, New York Islanders: At $4.1 million per year and another season of that amount remaining on his contract, Streit probably isn't a realistic option, but if the Hawks are looking for some more offensive production out of their defense, as well as little bit of veteran leadership, the Islanders captain should be the guy to go after.
Though some might wonder why a player like this would make sense given the Hawks defensive issues, having another offensive weapon on defense could take some of the burden off Keith and Leddy and perhaps allow them to be a bit more rested once the playoffs come around, while it never hurts to have another player that has averaged 50+ points over the last three years suiting up on D.
Ladislav Smid, Edmonton Oilers: At $2.25 million going into 2013, the Hawks could do a whole lot worse. Smid, a top ten overall pick in the 2004 entry draft is a solid, defensive-minded defensemen with some good size at 6'3, 220 lbs. He won't score a whole lot, but he takes the body and perhaps most importantly, he eats minutes.
Though words like "solid" and "consistent" might not sound like words that Blackhawks President John McDonough could use to put fans in seats, attendance isn't the issue right now, and Smid would be exactly the kind of player the Hawks could use on the back end.
Francois Beauchemin, Anaheim Ducks: At 31-years-old, Beauchemin has become a solid top 4 D-man who is a good all-rounder. He can put up 30 points in a season, but asking for more than that would likely be expecting too much, even if the teams he's played on in recent years probably haven't helped his cause in that category.
Though his cap hit is somewhat high at $3.8 million, most of that will have been eaten by the Ducks throughout the season and his contract is up at the year's end, making him a low-risk, mid-level reward proposition.
Conclusion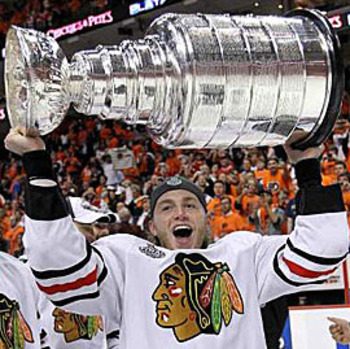 Do the Hawks have what it takes to get here again right now?
Obviously, the Blackhawks don't need full scale changes in order to have a leg up in the ultra-competetive Western Conference. They have a solid core that will be the envy of most NHL teams for years to come.
Yet, while some people might scratch their heads at the idea of a team that has hovered near the top of the league in points also being a team that's hovering near the ragged edge, complacent Hawks fans that see no reason to improve this team at all need only look at the Cup winning roster and compare those players and their performances to the jobs done by several current players that clearly aren't working out this year.
The depth on this roster, while not a complete mirage, has relied entirely too much on the top four offensive players and their ability to outscore opponents on nights when the defense and goaltender put in lackluster performances.
As several players are under performing, while showing little signs of what made them so valuable to the team in prior years, or of being a worthy target for acquisition this past offseason in some cases, there are still several lights at the end of a tunnel that may grow increasingly dark in the near future as Sharp's injury takes its toll.
With around $5 million in cap space (and the assumption that at least one, if not multiple roster players could get moved in potential trades), a bevy of high-caliber prospects in the system and a window for winning it all that's clearly open, the Blackhawks are in an excellent position to make some deals that could provide the improvements that must be made to this team if they have any hope of advancing beyond last years first round exit.
Keep Reading

Chicago Blackhawks: Like this team?