Baseball Hall of Fame 2012: The Case for Curt Schilling
January 10, 2012
Jed Jacobsohn/Getty Images
If this was the year 1992 and Curt Schilling's name was one year away from being placed either into or out of the Baseball Hall of Fame, the debate would be somewhat muted. 
After all, Schilling's resume 20 years ago would have still been good—very good.  Most baseball pundits at that time probably would have felt Schilling would get in, but not on the first ballot. 
Twenty years later, the prospects for his first ballot induction look quite a bit brighter. 
Schilling is a curious case.  He never won a Cy Young Award, but he finished second in the voting three times.  He didn't win 300 games, but he did crack the 20-win barrier three times. 
He was a five-time All-Star and won the 1993 NLCS MVP as well as the 2001 World Series MVP Awards.
Schilling also has the whole Willis Reed thing going for him. 
Reed, of course, was the bruising center for The New York Knicks who dragged his injured body onto the court to the surprise of the Madison Square Garden crowd at the beginning of game seven of the 1970 NBA Finals.
Reed's inspirational performance spurred the Knicks to a game seven win and their first World Championship.
In 2004, with the Yankees leading the Red Sox three games to two in the ALCS, it was Schilling who endured a gruesome pregame surgical procedure on his ankle in an effort to pitch in Yankee Stadium with the season on the line. 
Schilling's bloody sock during the game became nearly as legendary as his dominant performance that night.  
Schilling is clearly NOT Steve Carlton, Nolan Ryan, Greg Maddux or Randy Johnson.  His career numbers just don't stand up to those guys'. 
Schilling was, however, one of the first pitchers whose name would be rattled off from the early 1990s until 2005 if the question was: "You've got one game to win all the marbles, who is your starting pitcher?"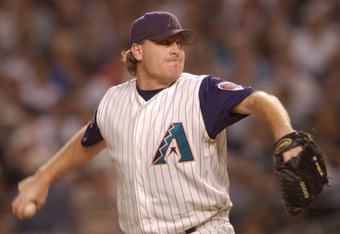 Harry How/Getty Images
There are a few men who would be named ahead of Schilling.  Maddux and Johnson have already been mentioned, and Pedro Martinez and John Smoltz would certainly be named as well. 
That's really about it though. 
The single biggest issue that will surround the voting on Schilling is going to be the issue of steroids. 
There were two prominent and at-the-time current players who testified vocally and enthusiastically against their own use as well as use by their peers in front of Congress in March 2005—Schilling and Rafael Palmeiro. 
Palmeiro's testimony would make him one of the steroid era's most infamous characters.
Schilling's testimony—and his subsequent lack of any sort of evidence linking him to the use of performance-enhancing drugs (PED)—may end up putting him in the Hall of Fame on the first ballot.
Schilling pitched in an era of prolific offense that was fueled by illegal drug use.  That's one of the most important aspects surrounding the PED debate. 
Regardless of Major League Baseball's policy surrounding those drugs, the vast majority of them were still illegal. 
While the lack of concrete rules against those types of drugs was clearly a major shortcoming, it should not have been interpreted as a tacit endorsement of breaking the law.
Clearly, for some players, it wasn't.  Pitchers like Tom Glavine, Smoltz, Maddux, Schilling, Martinez and Mariano Rivera have no evidence of drug use on their records. 
Similarly, there are hitters like Derek Jeter, Frank Thomas, Ken Griffey Jr., Edgar Martinez, Chipper Jones and Ichiro Suzuki who don't have any evidence of drug use on their very impressive resumes.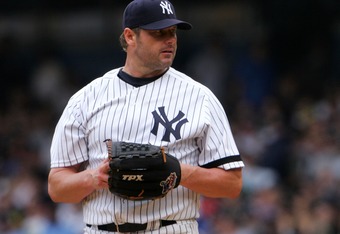 Chris McGrath/Getty Images
Will these players get a higher share of votes from the Hall of Fame voters?  It seems fairly reasonable to think they will.
According to the Baseball Writers Association of America the rules for considering a player's Hall of Fame induction are as follows:
"Voting shall be based upon the player's record, playing ability, integrity, sportsmanship, character, and contributions to the team(s) on which the player played."
Clearly, the numbers and stats that fans love to pour over play a key role, but they also are not the end-all, be-all of a given player's status with regards to induction. 
The players who came out of the "steroid era" clean are going to get some extra votes, and there's nothing wrong with that at all. 
Baseball can't go back in time and remove awards, confiscate championships or alter history, nor should they. 
Pete Rose probably wasn't the only player or manager to bet on baseball, the 1919 White Sox probably weren't the only team to orchestrate throwing a game or two and the players of the last 20 years who have tested positive for PED use, or have had their names mentioned in investigations like the Mitchell Report, probably weren't the only players to either experiment or habitually use PEDs. 
The question of whether or not the players who were implicated, or tested positive for drug use, deserve punishment in the form of being kept out the Hall of Fame will be debated for years.
But the question of whether or not the players who did not use shouldn't be given credit for that seems fairly simple to answer.