Anaheim Ducks: What Corey Perry Needs to Do to Win the NHL Hart Trophy Again
January 10, 2012
Jeff Gross/Getty Images
When Corey Perry won the Hart Trophy last year as the league's MVP, it wasn't until the second half of the season that he was able to play his way into the discussion and eventually capture the trophy ahead of Daniel Sedin and Martin St. Louis. Both of these players had higher point totals then Perry.
The Hart Trophy isn't for those who simply tally the most points, but for those who are the most indispensable to their particular team. It goes without saying that being at the top of the score sheet of both your own team and the league is a major indication of that, but not the only determining factor.
You need to help your team accomplish something, and make their season better then it ever could have hoped to be without you.
Corey Perry did this during the 2010-2011 season.
His play during the second half of the season (and even more specifically during the team's last 15 games) propelled them into playoff contention and eventually to the No. 4 seed in the Western Conference. Without the play of Perry, the Ducks would not have had nearly as successful a season as they did.
Coupled with the fact that the team around him wasn't as strong as the Vancouver Canucks or the Tampa Bay Lightning, Corey Perry was the easy favorite at the end of the season.
What would it take for him to win it again this year?
At this point in the season, it's a long shot. Then again, his name wasn't in the mix at this point last year either. We'll take a look at a few things that need to happen in order for Corey Perry to claim his second Hart Trophy.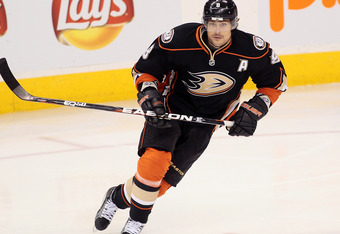 Marianne Helm/Getty Images
Outplay Teemu Selanne
In order to be the league MVP you first need to be your team's MVP. At this point in Anaheim's abysmal season, that credit would have to go to Teemu Selanne, who leads the team in total points with 39. Perry is a close second at at 35 points on the year, but he's not on pace to beat Selanne. Simply put, if Corey Perry can't be the Anaheim Ducks' MVP, he can't be the league MVP.
Be Among the League's Top 5 Goal Scorers
At 18 tallies Perry is currently in a six-way tie for 11th in the league in goal scoring. He'll need to move up in this category, and not just with pure numbers but with timely goals.
Simply put—he needs to win his team some games.
Nearing the halfway point of the season, Perry has only three game-winning goals. Though it's enough to lead the team in this category, he totaled 11 last year. Eleven game-winning goals means 22 points for your club, and that 22 points can be the difference between making the playoffs or not.
Perry needs to get back on pace for 10 or more game winners. If he doesn't, it's going to be hard to consider him Anaheim's most valuable player, much less the league's.
Lead His Team in a Return to Playoff Contention
Perry has a golden opportunity to prove why he's the reigning Hart Trophy winner and put himself in a position to repeat.
If Perry can take hold of the offensive reigns for his team like he did last year and propel them into playoff contention, he'll undoubtedly be well on his way to re-creating the story line of last season.
There's no question that this year will be much more difficult for him and his team, as Anaheim sits 18 points out of a playoff spot with only 44 games remaining on their schedule.
Difficult, yes, but not impossible.
If Perry can catch fire the way he did last year and lead his team offensively, then the Anaheim Ducks will have a shot at crawling back into contention for a playoff berth, and Perry will again be considered to be one of the most valuable players in the NHL.