NFL Playoffs 2012: Defensive Stars Who Will Steal the Show
January 10, 2012
Ezra Shaw/Getty Images
The NFL playoffs are a time for players to step up and make a name for themselves. These three defensive players have already had a huge game in the Wild Card Round, or will explode with a great performance in their first game in the Divisional Round. 
San Francisco 49ers: Patrick Willis
Willis is the Ray Lewis of the NFC, in that opposing teams try to plan their blocking schemes and offensive game plan around where Willis may be on the field.
On the year, Willis missed three games because of being injured, but still finished second on the 49ers in tackles (97). Despite missing three games, WIllis had a career-high in forced fumbles (four), and was picked as a starter for the NFC in the Pro Bowl. 
In Willis' first ever playoff game, he will be a dominant force for the 49ers against the New Orleans Saints. He will finish the game with eight total tackles and a forced fumble, helping this 49ers team advance to the NFC Championship Game. 
New York Giants: Jason Pierre-Paul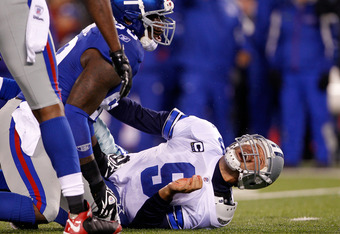 Rich Schultz/Getty Images
The Giants have seen their second-year defensive end emerge as one of the top players in his position in the NFC. Pierre-Paul made his first Pro Bowl game, after having a career year in tackles (80), sacks (16.5) and stuffs (eight). 
Last week, Pierre-Paul had a monster game, stopping the Atlanta Falcons in every aspect of their offensive game plan. He finished near the top in tackles with eight, with six of those being solo tackles. 
This week against the Green Bay Packers, Pierre-Paul will be a dominant factor in shutting down their passing offense. 
With the Packers offensive line having to stop the other defensive ends—Justin Tuck and Osi Umenyiora—it will allow Pierre-Paul to sack Rodgers twice, and finish with eight total tackles. 
Baltimore Ravens: Terrell Suggs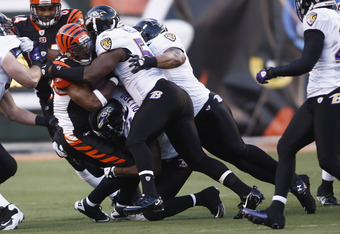 John Grieshop/Getty Images
Suggs had his best year as a Baltimore Raven that helped them to the No. 2 seed, and a 12-4 record. His 70 tackles, 14 sacks and seven forced fumbles led him to his fifth Pro Bowl. 
Suggs has made the postseason in six of his nine seasons at Baltimore and has been a big factor in a majority of those games. His career stats for nine postseason games have seen Suggs total 31 tackles, 10 sacks and three forced fumbles.
That postseason experience will help Suggs become a nightmare for Houston Texans rookie quarterback T.J. Yates. Suggs will have at least one sack, with six tackles against Houston in the Divisional Round. 
These three players will help their teams prevail in their Divisional Round games this weekend. It will be interesting to see if they can continue their dominant play in their Conference Championship games the following week, leading them to the Super Bowl.