2012 NFL Draft: Justin Blackmon and St. Louis Rams a Perfect Match
January 10, 2012
Donald Miralle/Getty Images
The St. Louis Rams have a franchise quarterback, a great running back and a decent offensive line.
However, the team only won two games in the 2011-12 season and only scored 12.1 points per game, locking up the No. 2 seed in the upcoming NFL draft in the process.
So how can they address their scoring woes and add a dynamic playmaker with that pick?
He would immediately step in and contribute as Sam Bradford's favorite target and finally make the Rams a real threat again.
The Oklahoma State receiver had another excellent year, recording 121 catches for 1,522 yards and 18 touchdowns. In 2010, he hauled in 111 receptions for 1,782 yards and 20 touchdowns.
Those numbers are insane and there is no doubt that he is going to succeed at the next level.
While his size, 6'1", 215 pounds, isn't the stuff scouts salivate over, his production is absolutely amazing and he is as sure a thing as they come as a pro prospect.
ESPN's Adam Schefter responded to a tweet asking if the Rams were interested in selecting the two-time Biletnikoff winner with their No. 2 pick.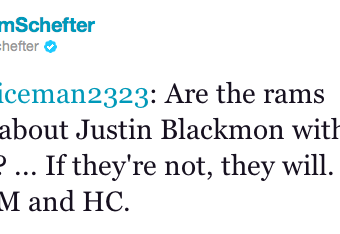 They definitely should be interested, especially considering their No. 1 receiver this year, Brandon Lloyd, is going to be a free agent this offseason.
The Rams rented Lloyd from the Broncos in a midseason trade and watched him catch 31 passes for 396 yards and four TDs, but he had three different quarterbacks throwing him the ball and had his offensive coordinator walk out on him after coach Steve Spagnuolo was fired.
There is simply no way he will be sticking around, and his potential has already been reached while Blackmon has the sky as his limit coming into the league.
St. Louis needs a lot of help, especially on defense, but they simply cannot pass up getting a potential once-in-a-generation talent like Blackmon.